What It's Like Living In The Middle Of Gentrification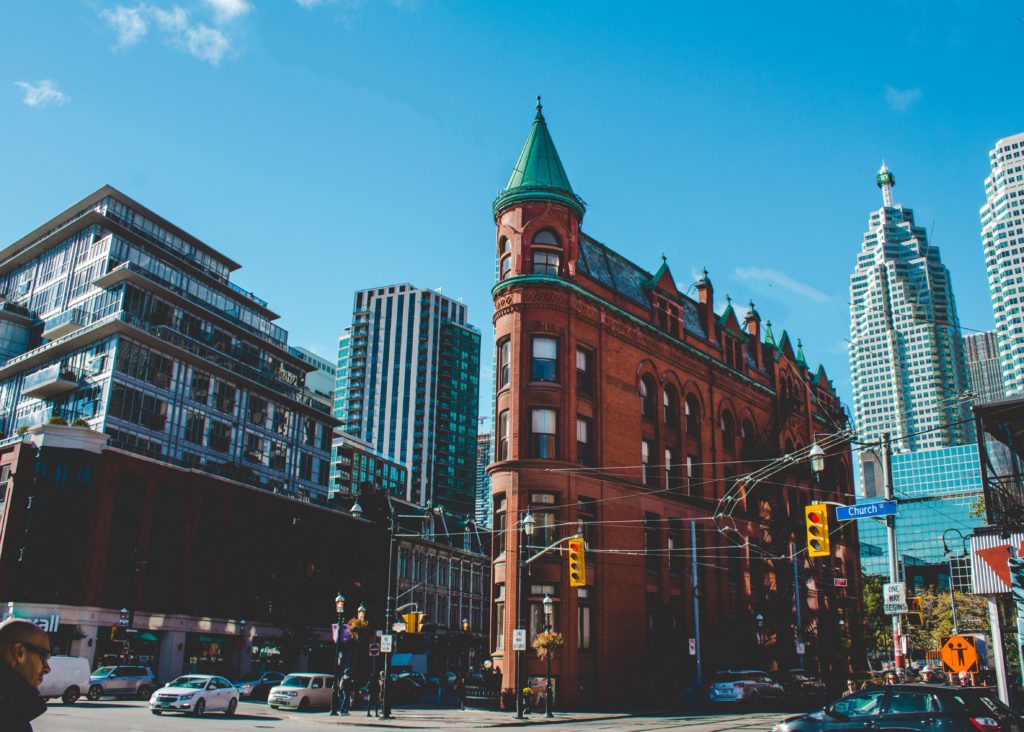 I live in a pretty uncool neighborhood. I'm not embarrassed by that.
It's a middle-class, established and quiet neighborhood, about a 15-minute walk from Toronto's Greektown district. Greektown is nice, but it had its moment of hipness 25 years ago. These days, it's mostly filled with family-friendly restaurants, chain pubs, and retail locations targeted at older women. The whole area shuts down at 7 PM.
When I first moved to the city, I didn't fantasize about living in such a wholesome area. Sure, I have a solid roof over my head, a very adult-looking kitchen, and polite neighbors I chat with in the elevator. But when I was 22, I romanticized about the idea of living in a musty bachelor on top of a shop, a cramped fixer-upper with tacky 70's laminate floors, sitting on hand-me-down furniture, drinking beer out of mason jars, eating greasy takeout from a dim little Thai place down the street (before you roll your eyes too hard, it was 2012, and I hadn't yet become exhausted by my own hipsterdom).
I went down a different path, but on the other side of town, my childhood friend Luke was settling into that kind of existence himself in the downtown neighborhood of Parkdale. In the last decade, Luke and his partner Tish have had a front-row seat to the highs and lows of a neighborhood that has become the poster child for Toronto gentrification. And for those who have never experienced it firsthand, it may change the way you look at these neighborhoods.
The history behind the hipster haven
For most of the twentieth century, Parkdale was known for a lot of things, and not all of them flattering. It's always been a dense neighborhood — in the 40s, 62% of the neighborhood's single-family dwellings housed multiple families, twice Toronto's average. In the 50s, the construction of an urban highway nearby led to Parkdale's population density increasing even more, while its park and green space was essentially cut in half. In the 70s, the Government of Ontario ordered the release of thousands of patients from a nearby psychiatric facility into the community, and without enough approved group homes, this led to even more rooming houses being created, as well as a sizable homeless population.
That meant Parkdale was cheap. It also meant you got what you paid for. Parkdale was, and still is, known as the bedbug capital of Toronto, particularly on Jameson and Tyndall Avenues.
But for all its bad publicity, anyone who lived there will tell you that Parkdale has always been special. Affordability meant that Parkdale was often the first place people new to Canada called home. In fact, for a fashion, Parkdale was nicknamed "the landing strip" for this reason. Luke told me he'd never seen a community so vibrant, and when he was looking for a new place to move in 2012, Parkdale seemed perfect.
A neighborhood in transition
"Things were very precarious for me back then," Luke, an audio engineer and producer, tells me. "I was working in the arts — I was on staff at the time, so job security was more than others in my industry, but it was still financially precarious."
He worked in the neighborhood, and the price was right, so the move made sense. But Parkdale made sense for a lot of people — especially business owners.
It was central. It was well-populated. It was hip and young. And it was cheap. When Luke moved into the neighborhood, there were already signs that things were changing. Taqueria Grand Electric, where you can pay $18 for ceviche and $15 for a pork sandwich, had opened six months earlier, and its companion restaurant, BBQ joint Electric Mud, which named its buttery rolls "crack rolls," was gearing up to launch. Luke wasn't living a "$15 pork sandwich" lifestyle back then, nor is he now.
Today, Luke works in production on a freelance basis while also working as a developer on the side. He's worked on albums for artists like Drake and A$AP Rocky but still isn't a high earner. Tish works as a bartender and server at a high-end hotel.
She's lived in Toronto all her life, and tells me Parkdale is the first place she lived that ever felt like a real community. "I know and actively hang out with my neighbors, who all come from different backgrounds and different stories. There's a variety of different places to go to all across the price scale, and different types of cuisine."
But in recent years, finding things of all different price points has become increasingly difficult. Prices of goods, services, and rent have gone "up, up and up."
It's not uncommon to hear stories about well-established, independent businesses (often started by immigrants) getting priced out of the area. Even Katharine Mulherin, the art dealer who established a slew of galleries on Queen West credited with helping turn the area into the hipster hotspot it now is, eventually found herself unable to afford the rent for her spaces.
As for what's coming into those vacant spaces, for the most part, they're not cheap. There's a "farm-to-table" Italian restaurant that serves steak tartare, a French cocktail bar and restaurant where you can order a $56 whole stuffed chicken, or an $89 New York Striploin, a vegan boutique where you can spend $795 on a winter coat. All that is sprinkled in with the family-owned Tibetan and Indian places that Tish and Luke love to grab take-out from, but those places are disappearing one by one.
Beyond the businesses
It's not just the great local hotspots that have been forced to flee. It's people as well.
Over the last decade, both private landlords and property management companies have seen the potential of Parkdale and have been quick to snap up property in the area. All of the mid-rise buildings in the "bedbug district" of Jameson and Tyndall Avenues are now almost entirely owned by two different property management companies, with renovated one-bedroom apartments listed for $1,800 – $2,000 CAD ($1,380 – $1,534 USD), which is more than $1,000 higher than some of the longtime tenants in older units reported paying as of 2017. In one building community, longtime tenants took issue with the fact that critical problems — like frequent water shutdowns and pests — weren't being dealt with even as landlords were maxing out rent increase to pay for upgrades. That particular conflict led to a rent strike, which eventually ended with the increase being dialed back. But new units are still getting rented out for exorbitant prices; this building on Tyndall rents out two-bedroom units for more than $2,500 CAD ($1,917 USD).
Luke and Tish don't live in an apartment building, but rather on the second floor of an old Victorian place. They pay a total of $1,600 CAD ($1,227 USD) in rent, which they admit is "very manageable," but only because they have another roommate. They're currently in the process of moving to another place down the street, another private suite in a home, where rent will be $2,000 CAD ($1,534 USD) a month for the two of them (that's more than my husband and I pay for a fully renovated two-bedroom unit, including heat and gym access). But it's still cheaper than living in one of the buildings, Luke says.
Ontario's rent control laws mean landlords can only raise rent on currently occupied units by so much (1.8% per year on dwellings built before 1991), but empty units can be priced however the landlord pleases. That means landlords have incentive to get new tenants in, and that when a tenant has to move, odds are they can't stay in the neighborhood. Just recently, one of Tish's colleagues lost their unit to fire damage — and they couldn't afford a new place in the same area. "They pretty much had to leave entirely," she says.
It's hard seeing the effects on people, says Luke. "There's a lot of marginalized folk here that look out for each other. You see them on a regular basis, you get familiar with them. There's a sense of comfort there."
Tish says it's great knowing that people see Parkdale as desirable, but she doesn't want stories like the infamous "crack house" piece to be how others see the neighborhood.
"It's an extremely fun and exciting place to be. It's homey and welcoming." The neighborhood is more than a real estate opportunity, she says, and it's much more than the sum of its problems.
A community's resilience
Even amidst all the changes, Luke sees Parkdale as a neighborhood holding onto its identity as much as it can, thanks largely to the citizens' wills to organize. Organizations like the Parkdale Community Legal Services and Parkdale People's Economy have helped with things like representing rent-striking tenants and fighting against condo creep from the neighbouring Liberty Village. "[High-rise] developers have not been able to push past Dufferin, essentially. We have one new development [in Parkdale] that's going to specifically be for affordable housing, which is entirely because of the community stepping up."
Neither of them think of all outsiders or newcomers as interlopers. After all, they were new to Parkdale once, too. But there's a difference between supporting a neighborhood and being a gentrification tourist. 
Tish says if people want to cash in on the popularity of a neighborhood, they also need to check their own internal prejudices and privileges. "Some people who might not be [from nearby] tend to be, for example, really afraid of the visible homeless population. But they're allowed to exist in public space."
In other words, don't come to a place because it's cheap and then be offended by the things that make the neighborhood what it is.
*****
I'm relatively lucky. By moving in and locking into our rent when we did, we've somewhat avoided the skyrocketing costs of living in the city. My area had its boom already, meaning displacement is not a looming threat.
But say things were different. Say developers were to get a hold of some land and plan a big 36-story high-rise nearby, jacking up the value of homes all around and making our landlords see dollar signs. Would my community band together? What would happen to the sweet little Greek coffee bar a few blocks away? What would happen to my neighbors who are single parents? What would happen to us?
I'm a risk-averse person, so I sacrificed excitement in my life for just exactly this kind of predictability. But no one signs up for that kind of anxiety, not even people in "cool" neighborhoods. Yet, as I write this, thousands of people are facing that very crisis: rent costs are rising, wages are not, supply is (allegedly) running out. It makes me think twice before patronizing the opportunists who capitalize on it, and it makes me silently thankful for my boring, uncool neighborhood.
Bree Rody is a full-time business journalist and part-time dance teacher based in Toronto. She covered Toronto City Hall during the Rob Ford era before transitioning to business journalism. Her areas of specialty include the influencer market, advertising, media buying, and technology. Follow her on Twitter.
Image via Unsplash
Like this story? Follow The Financial Diet on Facebook, Instagram, and Twitter for daily tips and inspiration, and sign up for our email newsletter here.