What Living In A Million Dollar Apartment Taught Me About Happiness
By Emma B.
|
Tuesday, November 10, 2015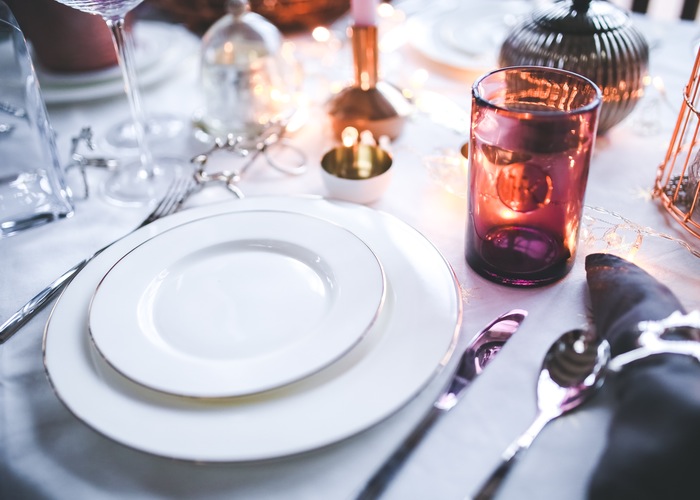 I love my home. This is partly because it only costs me $500/month in rent, but it is partly because it suits me, though my home is far from perfect. There are occasional roaches, my oven barely fits most of my cooking pans, and there's an active freight train track in my backyard. I love my home because it suits my needs and my budget. It's not some aspirational statement about who I am or how I want others to see me; it's just me right now, making the best of my life.
I've lived in some wonderful places because my parents were officers for the State Department. When we were posted in foreign countries, our homes were owned, decorated, and maintained by the U.S. government. Our entire home was designed to reflect a particular image of the United States to the many foreign dignitaries, and cultural figures, who dined at our table or sipped tea in our living rooms. It sounds glamorous, and sometimes it was. We were, of course, very fortunate. But it was also really bizarre and made it impossible to ever really feel "at home."
The first house I remember was the one we moved into when I was four or five years old. It was a four-bedroom, two-bath bungalow in an upper middle-class suburb of Johannesburg. It had a laundry room, and adjacent household staff quarters, a pool, a garden, a covered front veranda, nine-foot walls trimmed with barbed wire, barred windows, and an electric gate with an intercom. I have good memories in this house, but it was also 1989 and apartheid was in full effect in South Africa, and we were cut out behind our electric gate from the reality of it all.
Looking back, my life in that house was sweet because I was young and (quite literally) walled off from the external world where terror was going on just beyond our porch. My memories were of Halloween parties, and going to my private school, and going to friends' houses, which were equally secluded. After I studied African politics, I returned to South Africa to volunteer at several NGO's and drove by the house I once lived in. From the outside, it was just a drab 1970s bungalow with even more barbed wire. I am told it is still owned by the U.S. Government.
It wasn't until I left South Africa, when I was young, that I realized how truly surreal our homes were. When we moved to Paris, we lived in an apartment in the sixteenth arrondissement, which, to me, is the equivalent of the Upper East Side. It was over 2,000-square feet, with courtyard parking, views of the Eiffel Tower, and a whole separate apartment complex on the top floor. We could literally ride bikes and roller skate in our apartment. Our neighbors were the Countess de Champagne (that's right, the champagne countess), a Saudi princess (who was only there one month per year to shop), and a law firm. It was the grandest place I lived or will ever live, and it was also one of the unhappiest. My mom and dad worked late. This house didn't feel like ours (because it wasn't) and we were always called upon to host complete strangers who were friends of so and so. My parents had to host five-course dinner parties with bars and wait staff. I was told to stay in my room, and out of the kitchen, during these events.
I feel privileged to have lived in these cities — and many other gorgeous homes in far-flung places — because my parents served the United States government. But, at the end of the day, we were a two-breadwinner, civil servant family with the same problems as many other families (with some quirks and situational differences). Living in these homes took the pressure off paying rent when we were overseas, but it came with other pressures, like death threats from terrorist groups, or awkward dinner conversation with political donors who wanted a free place to crash in an expensive foreign city. Using our home to represent something that they weren't definitely hurt my parents' marriage, and it gave my brother and me some issues as well.
In my opinion, we often get caught up in the notion that the home needs to show off an aspirational version of ourselves, but that isn't always an accurate representation of the people living in that house. So much of our life was spent in surroundings that did not reflect who we were at all. After a childhood of living in dream homes, I can safely say that I have no interest in taking out a monster mortgage to fund a dream home. I would so much prefer a home that is suited for me — the real me, not the aspirational version of me. My home should be a place to be myself, not a place to sink a small fortune into being something I'm not.
My house makes me happy now because it's just as imperfect as I am. It's a place where I can live happily and simply, instead of stressing about home maintenance or improving it to fit some social standard. That being said, I pin the hell out of DIY shit, clip World Market coupons, and tend to my compost like it's my child. I still want to make my space beautiful, but I want to do it for me, on my own budget.
Emma is an attorney who moved from NYC to Nashville for law school and decided to stay.  She will never again live North of the Mason Dixon line or pay more than 1/3 of her salary in rent. Follow her blog or her Instagram.
Image via Pexels