What You Need To Know About The Abuse No One Talks About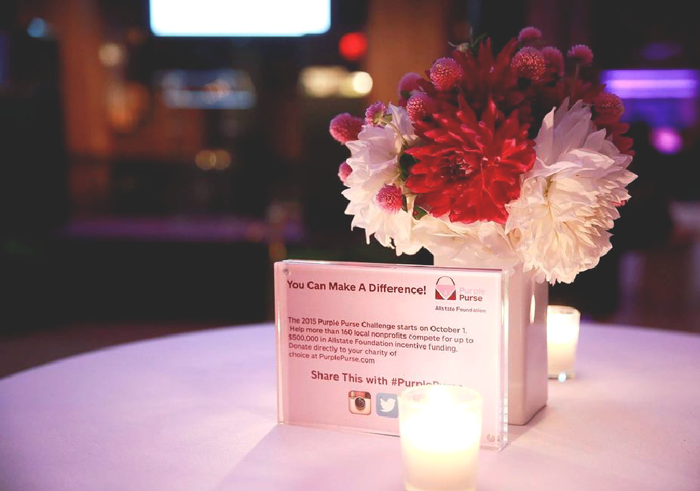 Since starting TFD last year, we've received a handful of stories from readers that weren't about budgeting for bills, spending less on food, or paying off student debt. When these women have written to us, it's always on condition of anonymity, and their stories – though full of different details and situations – had one thing in common: they had never been shared with anyone before. All of these women had been financially abused at one time in their lives, and most of them admitted that, for a long time, it was hard to even recognize financial abuse for what it was: equally damaging, in its own way, to any other kind of abuse that society talks about more openly.
Recently, Lauren and I attended an event for Allstate Foundation Purple Purse that focused on raising awareness and funds for domestic violence and financial abuse. For most of us, financial abuse is probably something we haven't thought of – let alone talked about – but in 98% of domestic abuse situations, financial abuse is an aspect of the control, and often constitutes the biggest reason why the abused party can't leave. Women who have lost control of their metaphorical "purse" – their finances, their ability to save, earn, or plan ahead – have lost their freedom to choose their destiny, and to leave a situation that they may be perfectly aware is dangerous.
At the event, Kerry Washington unveiled the actual purse, a beautiful violet clutch whose sales will benefit these women, and also be a tangible, beautiful symbol of something that its usually so vague, or not discussed at all.
Since The Allstate Foundation Purple Purse Challenge began this month, we've decided to do our part at TFD and talk about this issue, with one of the women who had written to us about her own history of financial abuse. Sarah* is a 31-year-old marketing professional living on her own in New York City, something she could not have imagined when stuck in a financially abusive relationship with her college sweetheart.
TFD: Can you tell us a bit about this relationship?
Sarah: I had been dating this person for two years when we graduated college and both got jobs, him in a very high-earning position. […] He had always been what I consider "emotionally needy," but I would say that it became "abuse" when we started working and our power dynamic shifted. The abuse in my relationship was always emotional and financial, because he was extremely controlling of me (I couldn't leave the house without checking in with him every 30 or so minutes, and if I did something he didn't like while out, I would get berated for hours), and since he made about four times what I did, my entire life depended on him. I was an entry-level employee paying back my loans at a really high rate, and he took care of pretty much everything else. Every bill went through him, every lease, every aspect of our financial lives was in his name.
TFD: Do you feel that the money was a huge part of why you stayed?
Sarah: Yes, and the fact that he would often break down after being especially cruel and cry, and tell me how much he loved and needed me. Now, I can clearly see that this is classic abuser behavior, but at the time my love for him clouded my judgment and all I wanted was for him to feel better, and safe with me. I wanted to be the girl he wanted me to be. But the money was a big part, too. I didn't even know how to use the bank app on my phone, and my parents didn't have much money, so they couldn't help me out. I felt like I couldn't go to anyone, because everything I had he paid for, basically. I thought they would think I was a spoiled brat.
TFD: When did you eventually leave?
Sarah: I left him at 25, after being with him about five years.
TFD: How were you able to do that?
Sarah: It was a combination of factors, but the biggest things for me were saving a lot of money and "planning my escape," so to speak, by planning to move in with a friend in her spare room when her roommate was moving. It took me another six months after living with her to explain the situation in my relationship – I had to default on my student loans to save up enough to move and buy everything I needed, while still keeping an emergency fund. My credit is still bad from that.
TFD: Did you talk to him a lot after that?
Sarah: He would call and message me dozens of times a day at first, but eventually it trailed off. He told me all the time "You could have had a perfect life with me." He meant money.
TFD: What would you tell to someone in the situation you were in, with a financially abusive partner?
Sarah: No matter what you have to do to save money, save money. Get a private account and save as much as you can, even if you can only put away 10 dollars a day. Seeing that number in your account (whatever it needs to be for you) will give you so much courage and strength. Read about how to manage your finances online. Realize that even if you have to scrub toilets, it's better to scrub toilets on your own than be taken care of by an abuser.
_____
There is a good chance that someone you know has been financially abused or controlled in their life, or that they are currently in a situation like the above. And while it's not always possible for us to save our friends and family, the biggest thing we can do, for ourselves and the millions of victims of domestic and financial abuse, is to talk about it. The longer we keep this huge element of control and terror taboo, and the longer we forget that money is often the biggest way to ensure someone cannot leave, the more our own purse strings will be used as weapons.
Visit purplepurse.com for more information, and help take financial abuse out of the dark.