Why And How I Live By The "Say Yes First" Rule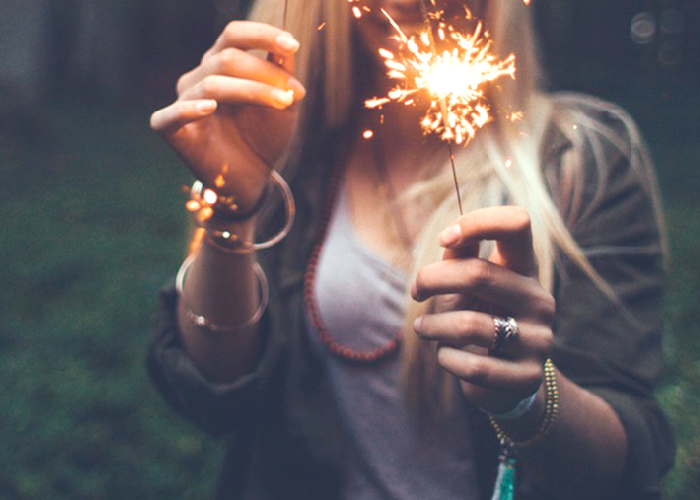 The other day, I found myself looking at flights to go visit a good friend I don't get to see more often than once or twice a year these days. We all have those friendships, so unfairly broken by geographical distance and filled with promises (sincere if often unfulfilled) that we have to visit soon. I have several friendships like this, and as with most things in life, the frequency with which we are able to see each other largely depends on professional and financial freedom. This is unfair, sure, and being able to see one person more often doesn't necessarily mean you're closer — I have acquaintances who pass through New York several times a year, with whom I always grab a drink or dinner. That doesn't mean I love them more than the friends I rarely get to see, because the logistics are much more complicated.
But as I looked at these particular flights — and agonized over the hit that my checking account would take to make it happen — I realized that the best thing I could do would be to say yes now, and work doubly hard with a renewed sense of pressure in the intermediate time. If there is a decision before you that you can technically afford without jeopardizing your savings, or which will bring great financial or personal benefit to your life (even if it takes a bit of work and organizing), I generally believe in living by the rule of "say yes first," and I did even when I had much less disposable income or professional freedom. And I'd argue, in many ways, that operating by this rule has led me to have what I consider to be an ideal job, a (fairly) well-traveled life, and a close web of friends who make it a point to see one another often, even across great distances.
So what is the rule of "say yes first?" Essentially, it's the idea that committing to something (within reason) ahead of time forces you to make things work, to figure it out, and to adjust your life accordingly to compensate for the decision. For example, buying tickets for an important trip six months ahead (while they're cheap, particularly) forces you to do what needs to be done to make that trip a reality in that time. Agreeing to a side job or project with a relatively medium-or-long-term deadline means you will have to adjust your regular work schedule to fit the work in. Setting a firm date for yourself to leave a job, or start a new one, ensures that you will figure out an exit strategy in that time. Putting the money down for all of the administrative and legal hoops to start your own business will force your ass into gear to start working on it.
You're essentially investing in a near-future version of yourself, and as the Sharks on Shark Tank might say, it ensures that you have enough skin in the game. You are putting your foot down on something that is ultimately a good decision for you, instead of taking the one of two alternate paths that we often find ourselves in if we don't say yes first. Usually, we either say to ourselves (and possibly others) that we're going to do it at some indeterminate point in the future, and never actually follow through because there is always some reason that you can't. Or we decide at the last minute that we actually did want whatever it is, and agree to it at the last, panicked minute. (This often results in things like super-expensive tickets, un-ideal departures from jobs, hastily finished work, or the inability of others to plan around you.)
Saying yes first, as a rule, depends on a significant faith in yourself, and the idea that you are capable of getting whatever shit needs to be done accomplished before your deadline. But it's also an incredible motivator to get things done you might otherwise never have, and it is often the key to doing all of those spontaneous, exciting things we're told we should be doing while young: traveling, following professional dreams, moving, etc. And while I'm not a big believer in the YOLO, travel blog, Pinterest way of life, I do think that we can all name a few things in life that we'll forever kick ourselves if we don't do: for some it might be travel, but for others it could be any number of personal or professional adventures that won't come to fruition without some significant prior planning. And giving yourself a significant runway — while having a very clear edge of the cliff you'll fall off of if you don't get your wings together — is the best way to do that coherently.
All of the things I'm most happy that I did — pursue a full-time career in writing, live abroad, travel frequently — happened because of this rule, either completely or at least more so than financial flexibility. When I moved abroad, I was broke as shit and taking a job as an au pair. When I pursued a full-time career in writing, I was still nannying and tutoring all along that runway, barely covering myself as I took the plunge and quit my other jobs. When I've made the decision to go visit beloved (but faraway) friends, it was often done when I had to choose between that and having anything resembling spending money for several months.
But I always made those choices, closed my eyes and clicked "buy" or sent in my application or gave my notice. I always made that "no-going-back-without-losing-a-ton" decision that forced me to make it all work in a way it wouldn't have otherwise. And because of abiding this rule, I've almost never found myself in the situation of making these kinds of decisions at the last minute, because I've trusted myself enough to know that a few months was enough to figure things out.
There are some decisions we can't make this way, but there are many times in life when we need to capitalize on our temporary courage and lock ourselves into what we truly want. There is a way to make the scary decisions that are hugely important to your career, personal development, and relationships, without risking everything you have. Part of that is knowing, intimately, what you can and cannot afford to do at any given moment, but part of that is also giving yourself permission to take a plunge. And if you believe in the rule of saying yes first, you'll often be surprised at what you're able to make come together out of necessity as that deadline approaches.
I'll have to seriously hustle my buns off to replenish those tickets, but I know that near-future me will be infinitely thankful that I worked a little harder and paid it forward to myself. The temporary financial hit will hurt, but it will hurt nowhere near as much as the pang of a missed opportunity.
Image via Pexels