Why I Didn't Post A Picture Of My Engagement Ring On Social Media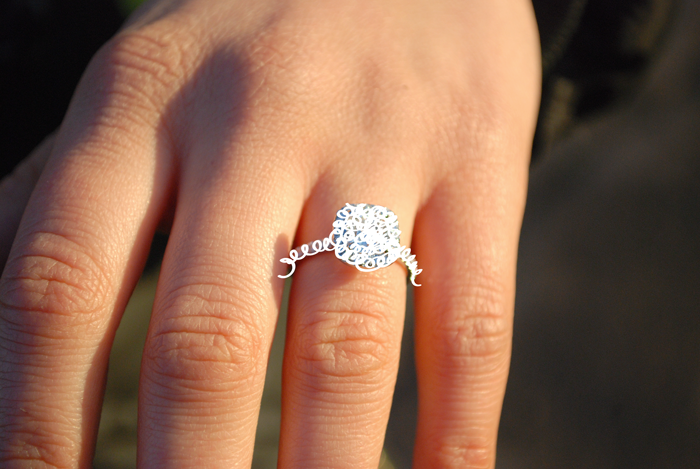 Having spent the larger part of a decade quite literally growing up with my now-fiancé, I had always expected his proposal (and our engagement) to be immensely exciting, but also profoundly manageable — as natural as our feelings for one another. Each decision would be made with ease, and without hesitation, because I was so sure of myself, my partner, and all that we had talked about wanting during this period in our lives. However, I had rarely thought about my social media presence, and what it would look like when it was my turn to say "Yes."
With all the prestige that our society has placed upon the Big Day
, it has inevitably become an integral part of the online identities so many of us spend our 20s and 30s crafting. We make heavily-curated online collages, comprised of engagement announcements, photo sessions, showers, rings — even the down-on-one-knee photos — posted via every social media outlet to build up and reinforce our idea of how that one perfect day should look. Knowing that I would not be immune to it all, I wanted to unpack my feelings about unveiling my own engagement to the world beforehand so that I would not be distracted from what should be an effortlessly blissful moment.
I had considered how I felt about it ahead of time and told myself, "I won't post a photo of the ring to social media," because I never liked how that announcement was directly tied to the size, shape and gleam of The Rock — the symbol so often elevated above the undying promise it is supposed to represent. I reminded myself that it is only a small, materialistic gesture that can't come close to representing the significance of the decision made by two people who have chosen to spend the rest of their lives together. I had honestly never expected to be tempted to post The Ring when the time came.
But before I knew it, there was the proposal, seemingly out of nowhere because it was always something we were vaguely discussing…"one day this" or "one day that." And along with all the excitement and genuine surprise — and despite my efforts to predetermine what would and would not be shared — I was left turning over those questions as though considering them for the first time. My previous reflections felt like the kind of tough-minded advice you so decisively provide to a friend in a bind, but then find so hard to follow when in the same situation yourself.
When he did propose, we were a six-hour plane ride away from our closest friends and family, and this distance alleviated a lot of the initial pressure of announcing it. We were alone, just the two of us, in a foreign city where no one knew our names, enjoying this insanely happy moment and celebrating for hours afterwards before calling anyone back home to tell them the news. We knew that once we did, it would mark the beginning of The Engagement, and we simply wanted to be together and enjoy the way the two of us felt, on our own for just a little while longer. No fussing, no smiles or tears or bouncing up and down on our toes because that's what others expected of us. Just the authentic connection between two people who have just made an incredibly important decision together about where their lives are headed.
However, once the initial excitement subsided and the decision to announce on social media loomed closer, I felt pressured to give in to some of the wedding fever I had previously stood against. Despite our distance, and the demands of our family and friends (who, could not text "POST A PHOTO OF THE RING NOW" fast enough) proved to be more difficult to ignore than I would like to admit. A small, very human part of me felt tempted to oblige and display my ring for all of social media's viewing. I wanted to harvest those likes on IG, Facebook, and Twitter and revel in 15 minutes of the ~wE gOt eNgAgEd~ fame. I was shocked at how I seriously contemplated a decision which I had previously opposed so adamantly. But there I was, scrolling through a couple of photos we had taken earlier with the ring on my finger and thinking, "If they are asking for it, why not give it to them?"
However, after a few minutes of contemplation, I remembered my mindset before the engagement, and felt re-affirmed in my previous decision to NOT post a photo of it. I wanted to save it for people who I would see in person, not depriving both them and us of the opportunity to have the kind of sincere and authentic experience of congratulations that cannot be captured via the comments section of my Instagram feed — the barely contained excitement, the bright smiles, the (warmly) suffocating hugs.
Assessing why I felt the way I did at that point helped me truly understand the mindset that our wedding-obsessed culture instills in us, that you SHOULD be sharing every detail because that's just what you do. Don't think, just post. And we must understand that by posting and over-sharing every detail, we only perpetuate the myth of the flawlessly-orchestrated, cookie-cutter wedding. Those of us who have the burden (and blessing) of getting hitched in the haze of social media ubiquitousness have to work towards feeling comfortable with planning a wedding that feels authentic and personal to us, no matter how that translates to social media. If more of us acted on what felt right for our financial situations and personal taste, it would break up the monotony of the same dresses, poses and invitation designs — while reducing the pressure to do the same — and we would all be happier for it.
In the end, I posted a simple photo of us from a distance where you could tell I had a ring on, but it was in no way up close and personal. I felt like I had done my duty by announcing it to the world without posting a glamor shot of the ring, even if there were still moments where I had to fight the temptation to over-share, because I felt like that's what I should do. When you're caught up in the emotion of handling something so intimate and private, yet very worthy of public displays of joy and excitement, it's more difficult than I ever thought it would be to resist sharing it all.
I understand that an engagement is a joyous time of celebration, but I believe (now more than ever) that it's meant to be intimately shared with loved ones and family, not the world. Posting pictures of your ring only fuels the desire and expectation that people get a giant diamond ring, so that their photos are worthy of being uploaded and "liked." I feel like we all need to be more selective and consider more carefully what we share and post. Maybe then we'll be able to bring the discussion back to what 30 years of marriage looks like, instead of cuts, carats and fairly tale stories that distract us from the person with whom we have made this important decision — the only person whose opinion about that incredible moment should matter.
Feel like you'll never save enough money to be a real person? So did Steph Georgopulos. Read about it in Some Things I Did for Money.