10 Dollar Store Finds That Upgraded My Home & Work Life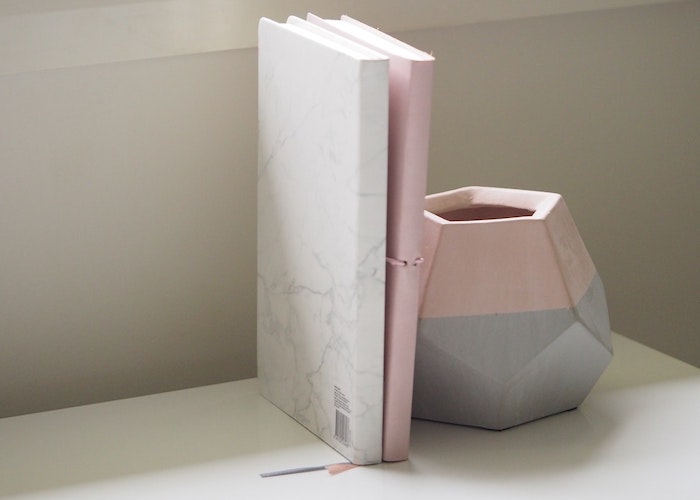 When you're on a very limited budget, sometimes the only place you can afford to shop is at the dollar store. 
While they may not offer the most sustainable or ethically-sourced products, the fact remains that for many low-income people, budget shopping is their only option. (Plus, shopping at a more expensive store doesn't automatically mean you'll get sustainable products — but that's a whole other article.)
Especially when I was living solely off of social assistance, shopping at the dollar store became a real necessity. Even now, with only slightly more money from freelance income, I still shop there as my first choice for basically everything. Lip balm? Tissues? Small gifts? Snacks? Business supplies? I almost always check Dollarama, a popular Canadian chain, first and visit more expensive shops only if absolutely necessary.
And throughout the past few years of relying heavily on the dollar store, I've snagged some surprisingly nice finds — here are a few of them.
1. Plastic succulents
Although it may not be as nice as a real plant, having a little plastic succulent on my desk has been a pleasant addition. 
As I'm living with my parents right now, I don't really keep any plants in the house. Since my room is my only "private" space right now, I like the convenience of a fake plant instead. I only paid a few dollars for the small succulent, and it helps keep my little "home office" area looking cozy.
2. Basic makeup organizers
These aren't the most revolutionary products, but they get the job done. Over the past year, I've purchased a few basic, plastic makeup organizers — and they've been genuinely useful. 
Rather than having my lipsticks, palettes, and miscellaneous cosmetics scattered around, those little organizers have helped me keep things tidy. 
There are slightly more expensive versions available from places like Amazon or Walmart which are more elaborate, but those small dollar-store ones have been fine for me. I paid about $2 CAD ($1.50 USD) per organizer, for a total of approximately $6 CAD ($4.50 USD).
3. Weekly pill organizers
This is my absolute favorite item on the list. I don't know how I survived without it!
I'm on several daily medications, some of which need to be halved with a pill cutter, so having a weekly pill organizer has been a total game-changer. Since I take my meds right before bed, I'm usually pretty tired and don't feel particularly motivated to divide them up and prepare my doses at that moment.
With this organizer, all I have to do is devote 5-10 minutes every Sunday afternoon to cutting my pills for the week. I organize all of my bedtime doses ahead of time so that when bedtime rolls around, I can take them without much thought or effort.
4. Trendy keychains
It seems pretty inconsequential, but I managed to find a really cute keychain at my local dollar store. It's got one of those big pom-poms that are trendy with more expensive brands. 
It was only a couple of dollars, and the bright pink pom-pom makes it super simple to find at the bottom of my purse — a small victory.
5. Pretty stationery
Despite embracing a minimalist philosophy with most of my shopping habits, buying stationery is my one weakness. I'm a sucker for a cute notebook or set of pens.
Again, if you're willing to pay $3-4 CAD ($2-$3 USD) at the dollar store, you can often find genuinely high-quality stationery — often the exact same brands as an office supply or drug store — for a fraction of the price.
I've found several really nice notebooks which look way fancier than they are and plenty of pens and highlighters.
7. Small, craft-sized plastic baggies
This is kind of a random product, but small plastic baggies have been another extremely useful dollar-store find. 
I originally purchased some from Amazon, but after discovering that my local dollar store carries them in the craft supply section, I've been able to get them for only a dollar or two.
I like to use them for carrying around small amounts of medication, vitamins, or other odds and ends in my purse or when traveling. It's a lot easier than carrying around full bottles while on the go, and you can also use them for miscellaneous cosmetic products, like fake eyelashes or lip balms.
8. A nice pen holder
Like my cute little fake succulent, this helps brighten up my desk. It's a light-pink, metal pen holder with floral designs. 
It looks like something you'd pick up at any regular office supply store, but it only cost me a few dollars. It keeps everything organized and aesthetically-pleasing. Again, a small, affordable win.
9. A catch-all dish
Another handy organizational tool: a small catch-all dish from my local dollar store. It's a sturdy, round little dish that I use to corral small items like lip balm or hair ties, which I use multiple times per day.
It fits in really well with the general color scheme of my room (neutrals), and looks more expensive than it actually was. It only cost a few dollars and I use it every single day!
10. Small glass jars
Another great find has been some small mason jars with little ribbons around them. They came in a pack of four jars for about $2 to 3 CAD ($1.50 to $2.30 USD). I love to use them for storing my DIY cosmetics, like coconut oil-based lip scrubs. Bonus: They look Pinterest-ready.
By the way, making basic beauty products at home can save you a lot of money — from homemade salves, creams, lip balms, and more. And they usually only require a few basic ingredients like coconut oil, honey, or brown sugar. Buying some cute mason jars can serve as nice motivation to try out those affordable projects.
*****
When it comes to decorating your home, the dollar store may not be the first destination that comes to mind. However, I've been able to find some high-quality items at my local dollar store — you might be surprised at what you can find at yours.
Mercedes Killeen is a Toronto-based freelance writer and editor. You can learn more about her work, and order her freelance services, at mercedeskilleen.com. 
Image via Pexels
Like this story? Follow The Financial Diet on Facebook, Instagram, and Twitter for daily tips and inspiration, and sign up for our email newsletter here.