The 10 Best Alison Roman Recipes To Put On Your Kitchen Bucket List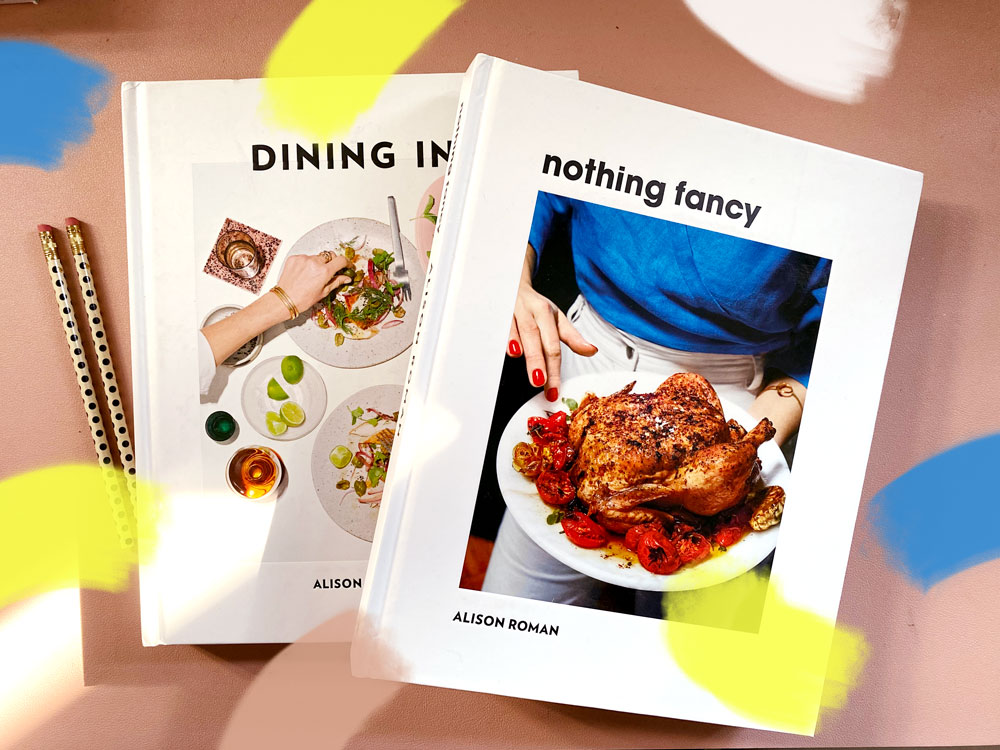 Hello all! It's been a while since I've written anything for TFD, but here I am! I'm alive and well, and currently (like everyone else) at home all day every day, but with a new puppy! Over the past month of being socially isolated, Joe and I have been doing more cooking than we've ever done in our lives. I've whipped up some of the most truly delicious and flavorful dishes, and the common thread underscoring what I've been making is that it comes from the brilliant mind of one Alison Roman. Unless you've been living under rock, I'm sure you've heard of her already, but it's only until recently that I've spent some quality time flipping through her cookbooks that I got last year, and begun cooking my way through them. I had seen photos all over my Instagram and Twitter before I got the books and was so excited to see what the craze was for myself. Since I already owned both of Roman's cookbooks — Dining In, and Nothing Fancy, I was all set to get cooking.
I've been an Alison Roman fan ever since her recipe for salted chocolate chunk shortbread cookies first appeared in the cooking section of the NY Times a few years ago. I proceeded to make them about 5 times in the course of a single month as I rotated them amongst my different friend groups and family claiming, "you have to try these!!!!" Since then, I, along with thousands of others, have come to adore Alison's unfussy approach to food, her recipes packed with flavors (herbs and turmeric chicken for the win!), and the cool confidence she exudes. She's made me fall in love with preserved lemons and anchovies, which is no small feat. On a separate note, she also has some serious style, a killer cherry red manicure, and cooks out of a totally normal-looking kitchen that feels equal parts attainable and aspirational — something we can all get behind here at TFD.  You could say I'm a fan. 
Below, I've rounded up my 10 favorite Alison Roman recipes that I've discovered since embarking on a culinary tour of both her books and online articles/recipes. Most of the recipes for which can be found online. I've included a mix of both sweet and savory recipes so you're set for any occasion, whether it's making a bowl of salty chocolate pudding for one, or making a chicken dish for your next Zoom date with girlfriends. Enjoy!
1) Salty Chocolate Pudding 
This recipe is perfect for when you're looking for a truly stand-out dessert that makes for an impressive addition to any potluck or celebration, and compliments almost anything else the host is serving. The whipped sour cream is decadent and unexpected, and pairs perfectly with the sweet chocolate texture. My mouth is watering as I type this, and I think I must just have to make a mini version of this for tomorrow's movie night. It's heaven, please go and make this now. I'll wait.
2) Crushed Blackberry and Cornmeal Cake
I made this cake two Sundays ago and was thrilled with how quickly it came together for a perfect breakfast treat. The blackberries were expensive, but what the hell. With the continued isolation, I'm saving so much money by not going out and buying food or drinks, that I'm okay to drop $8 on a large container of blackberries. This cake is divine right out of the oven and drizzled with honey and a smear of softened butter. A hot cup of milky coffee alongside it makes for an ideal way to start the morning. Note: The cake doesn't last all that long and should be eaten within 48 hours of baking, but honestly, you'll be hard-pressed to resist devouring it all in one go.
3) Salted Chocolate Chunk Shortbread Cookies
This is perhaps one of my all-time favorite Alison Roman recipes, and it's always a hit at BBQs or holiday parties, where I inevitably find people milling around the tray claiming "just one more!" The snap on them is addictive as the exterior of the cookie, which is rolled in sugar before baking, provides a really nice texture that you just can't get out of a regular chocolate chip cookie. Roman herself claims that these cookies far outstrip the traditional chocolate chip cookie, saying:
"I've always found chocolate chip cookies to be deeply flawed (to know this about me explains a lot)," Roman writes. "Too sweet, too soft, or with too much chocolate, there's a lot of room for improvement, if you ask me. But no one asked me, and rather than do a complete overhaul on the most iconic cookie known to man, I took all my favorite parts and invented something else entirely."
I'm thankful every day that she went where her instincts led her and produced this insanely delicious cookie for all the world to enjoy.
4) Vinegar and Turmeric Chicken
So I'll admit, when I first saw this recipe, it didn't excite me. I thought, "oh cool, another chicken recipe" mulling over the fact that I probably eat chicken four times a week already, and Ina Garten's perfect roast chicken recipe is king. So, why would I bother cooking chicken any other way? Right? Wrong. The flavor explosion that results from the combination of turmeric, crushed olives, and vinegar is delightful and checks all the boxes on "comfort" food for me, while still being pretty healthful. Just looking at this photo brightens my day. I'll usually serve this with garlicky broccoli rabe and fresh bread (Joe makes some each week), and I'm a happy camper. Oh, and if you didn't read the caption on the Instagram image above, let me restate that this was the most popular recipe of NYTimes cooking for all of 2019. And, as the recipe notes at the bottom, this dish pairs perfectly with a sharp Italian white wine, and I can confirm that it does, indeed, pair beautifully.
5) The Stew
Ahh, The Stew. So simple, yet so complex. The color of it looks most appealing, and the recipe is easy to customize — I add shredded chicken to mine, spinach some weeks, kale other weeks, etc. etc. I saw this recipe pop up on my Instagram explore feature in early 2019, and I felt like it was haunting me, begging me to take a chance and make it, despite my reservations that it wouldn't be as good as people said. One caveat is that I think this dish is infinitely better served over buttery white rice, as opposed to eaten on its own, straight out of a bowl. I also firmly believe it requires a dollop of sour cream or greek yogurt + a sprinkling of herbs to hit peak The Stew status. Those toppings aren't there for show, folks.
6) Pot of Pasta With Broccoli Rabe & Chorizo Bread Crumbs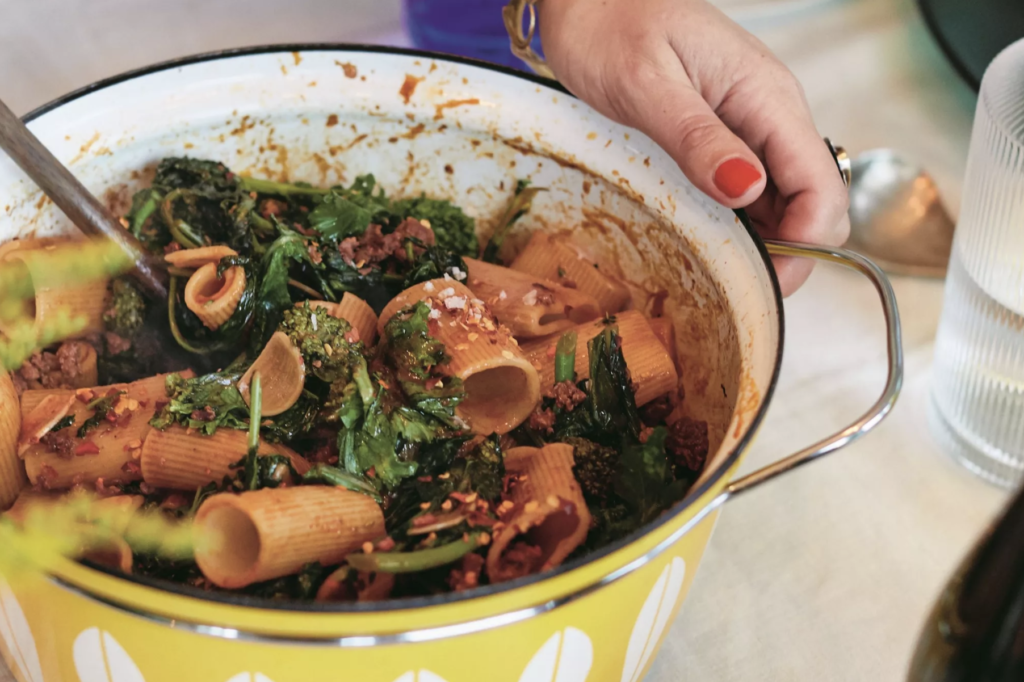 Photo Credit: Michael Graydon and Nikole Herriott.
Another super comforting recipe that I've made more than any other pasta dish in my life is this one above.  The different textures and flavors at play here do a wonderful job at providing a dish that's well rounded and a perfect addition to a dinner party (whenever we can have those again). If you can't find those giant oversized rigatoni, the regular-sized ones will do just fine — that's what I use. This dish reminds me of my childhood spent eating a ton of Italian food, but feels leveled with the addition of the fancy toasted breadcrumbs.
7) Labne with scallions and sizzled onions
When I read this recipe in Nothing Fancy, I kid you not, I walked upstairs 10 minutes later (it was 11:30 AM) and made this dip because I just had to try it. I proceeded to sit there and eat what amounted to about a cup of this dip as my "second breakfast" as hobbits say. This is a great thing to make for a movie night snack board or to bring over to friends house on say, the Super Bowl.
8) Hibiscus Fizz Tea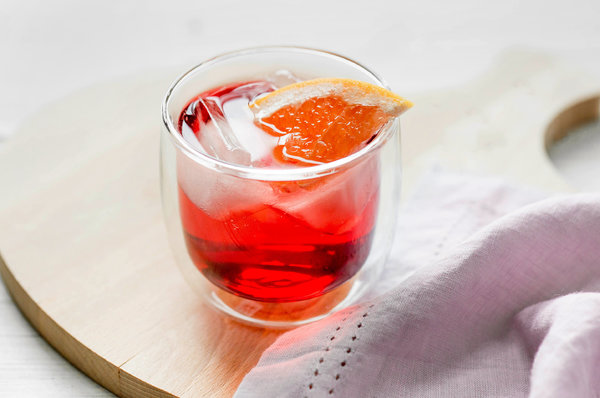 Rikki Snyder for The New York Times
Drink recipe ahead, curveball! Not much of a recipe, but it's really lovely to sip on and a nice thing to trade in for an alcoholic beverage. As the weather's been getting warmer, Joe and I have taken to spending the dusk hours outside whenever possible. We'll usually make a drink and take a walk, or sit outside on the front steps to watch the early evening light hit the trees around us. (These are simpler times, people!) This fizzy drink uses tea as the base and produces a color that's so pretty to look at.
9) Overnight focaccia, tonight
https://www.instagram.com/p/B_BGnTupyXe/
Bread recipes can be daunting, and even though I bake, I typically avoid making bread. But, this overnight focaccia, TONIGHT!, is perfect for anyone since it's simplified and easier to execute than a traditional bread recipe (which takes several days).  It doesn't require the bread to proof overnight, and instead uses two 1-hour proofing windows. This means you can impress your dinner party guests with homemade focaccia without the fussiness of a multi-day recipe.
10) Spicy marinated anchovies with potato chips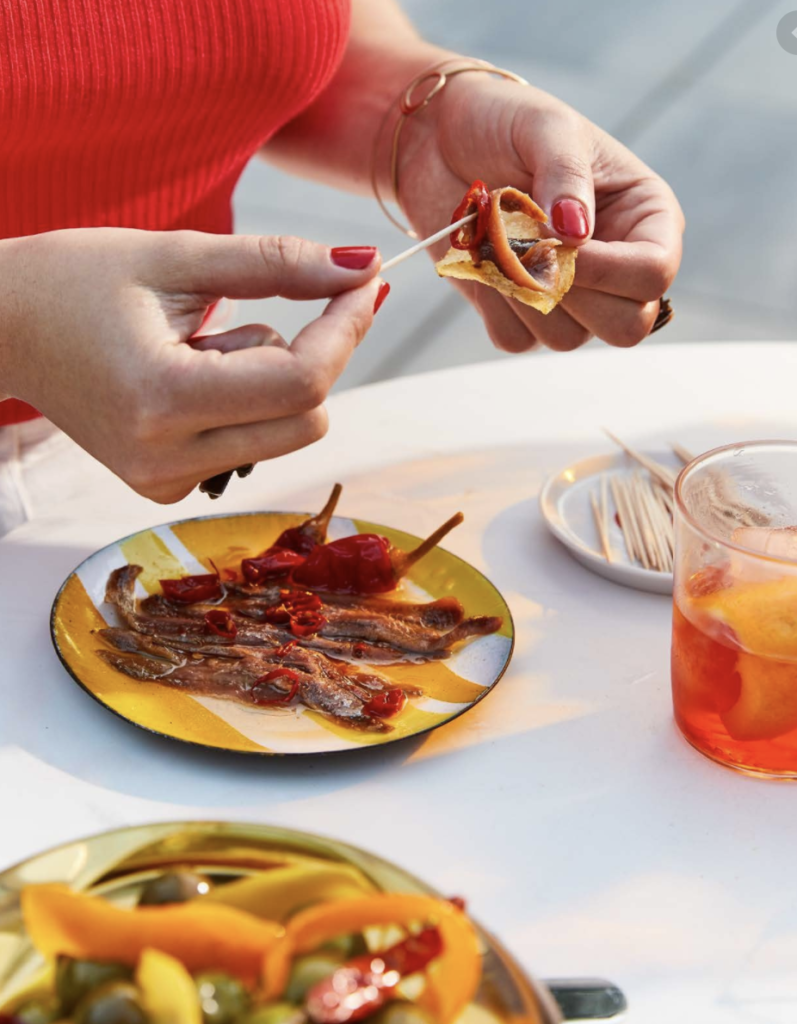 Photo Credit: Michael Graydon and Nikole Herriott.
I don't know if you could really call this a recipe at all, but it's featured in Nothing Fancy, and successfully got me on board with eating anchovies. Joe has been trying to convert me to an anchovy lover for years now, but I always found them repulsive. But, what can I say, something about the way Alison described sitting in Italy, sipping an Aperol spritz, and munching on a plate of these alongside super crispy potato chips made me want to recreate the same experience. And so that's just what I did in Joe's parents' basement (where we're currently riding out the pandemic), and it was soooooo good.
Since there's no recipe online, I can tell you that all you're meant to do is: open a can of anchovies and let them drain, marinate them for at least 10 minutes in 4 thinly sliced chiles (she recommends Calabrain chiles, pepperoncini, or guindilla peppers,  + 1 /4 distilled white vinegar, and then eat one over a potato chip. Voila!!!
UPDATE — I had to add this one in here after this post went live (I cooked it after I wrote this and the post was scheduled), but the last entry on this list is my latest AR recipe obsession.
BONUS) The Caramelized Shallot Pasta
My friend Charlotte, who lives in Dublin,  introduced the concept of wine-tasting-at-lunch Fridays because in the era of Covid, there are no rules. Well, one cannot drink wine on an empty stomach, so we decided on a recipe to cook separately and then come together to enjoy via FaceTime. Well, it was my turn to pick the recipe and I had heard so many insanely effusive reviews of this Caramelized Shallot Pasta recipe. Again, I couldn't ascertain whether all the fuss was justified, so I selected it for wine Friday lunch, and holy sh*t. This dish packs the most insanely satisfying flavor combination, and results in a sauce recipe that coats every ounce of the bucatini pasta in heavenly tangy, sweet, and salty sauce. My Sicilian father-in-law ate a bowl of this in silence (always a good sign), and then proceeded to clear out the leftovers for lunch AND dinner the following day, so ladies and gentlemen that is only seal of approval I need. Thank you and enjoy. GO COOK THIS NOW.
Image via Pexels
Like this story? Follow The Financial Diet on Facebook, Instagram, and Twitter for daily tips and inspiration, and sign up for our email newsletter here.