10 On-Trend Home Decor Pieces You Can Feel Good Spending Money On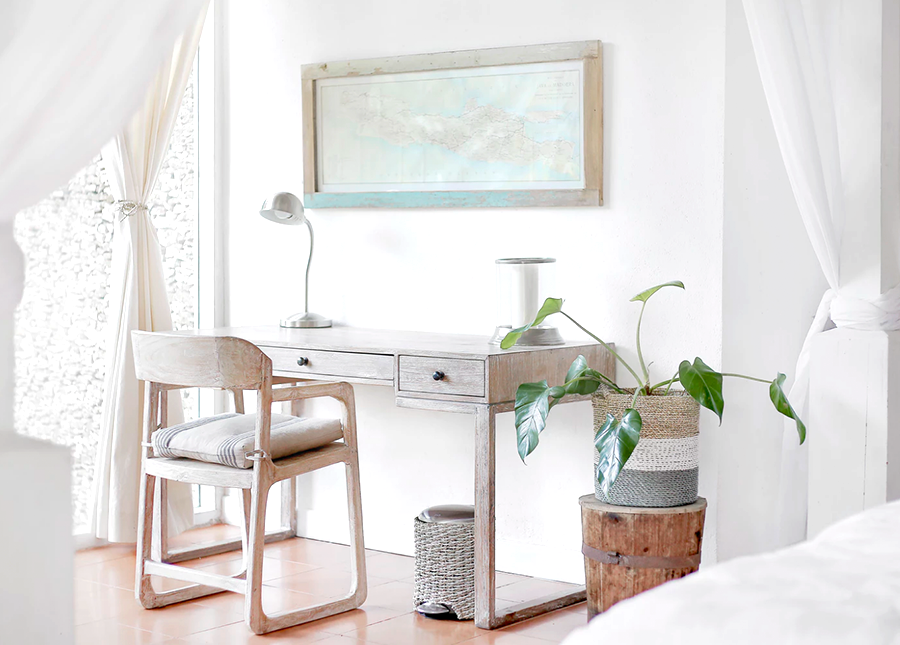 I grew up in relative poverty, and we did not have nice things. Our house was not the prettiest, nor was it the most comfortable. We moved from house to house and even spent five to six months in a homeless shelter. Some of my family now live in nice houses with all the bells and whistles of new furniture, the latest appliances, and themed decor in every room. While things have gotten better, I still struggle to make ends meet sometimes, especially as a freelance writer.
Right now, my home is not decorated. It's a living space that looks disorganized. But I have a goal to eventually decorate my house and give it some personality. So, I decided to do what I call "pre-shopping," and make a list for when I do have the money to purchase a few home decor items. I might have to start a savings fund to actually be able to purchase anything, but it will be worth it when I do. When I do have the money, I might only be able to splurge on one or two "nice" things — but even if I just buy one investment item, I want it to specifically benefit an artisan, or be good to the environment in some way. It's nice knowing that any money I spend is going to creators, who, like all of us, deserve to be paid well for their work and talents.
I searched for fair trade and handmade shops, as well as eco-friendly stores, to make a list of items that may find their way into my living room at some point in the future. Gorgeous home decor pieces that are good for the environment or empower women around the world are worth splurging on, in my opinion, because it means that we are supporting one another. These items are not only beautiful and unique — they uplift artisans, particularly women, all over the world.
[Note: We are not advising anyone to drop several paychecks on home decor all at once. This list is merely meant to provide a little inspiration for the next time you're thinking of splurging on a home item — consider making it one that supports your community or benefits the world in some way!]
Tier 1 Splurges
These home decor items may be a bit more than one might usually spend, but totally doable with that extra paycheck or overtime you earned last week.
1. Oh! Fox Square Pillow
Raven + Lily provides more than 1,500 at-risk women with fair trade wages, sustainable income through a stable job, healthcare and education by partnering with artisan communities around the world. Even cooler? Every purchase from Raven + Lily also helps fund microloans for women in need. This handwoven pillow features tassels and edge detailing from artisans in Oaxaca City, Mexico in partnership with Oh Fox! Creative. Super-cute and stylish, I'd love to see it in a living room or as a decorative accent on a bed. $92, ravenandlily.com
2. Ceramic Vase – White & Gold
Lauren Conrad and Hannah Skvarla founded The Little Market, an online fair trade shop, as a nonprofit to empower women artisans around the world. This ceramic vase adds golden glamour to your kitchen table or windowsill. Yes, the strands of gold throughout the vase are actual 12-carat gold. This little vase is a great way to make your home look like a million bucks and provide a meaningful income for the women who handcraft each item. $72, thelittlemarket.com
3. Shadow Garden Mood Lamp
Ten Thousand Villages is well known in the fair trade space. Any purchase from them means you're giving back to the artisan who created the item. This particular lamp was handcrafted in Bangladesh. Branches and birds dance across the cutout bamboo and translucent silk paper, casting beautiful shadows around the room. The mood lamp was created by the Shuktara Handmade Paper Project. $49.99, tenthousandvillages.com
4. Raccoon Fabric Mismatched Coat Rack
Raquel Wallace founded Ethical Market after watching the documentary The True Cost and transformed her online shop into one of the United Kingdom's largest ethical and fair trade markets. Purchases can only be made in GBPs (British Pounds) and are processed through PayPal, according to the Terms & Conditions. Raccoon faces peek out from this mismatched coat rack for a colorful addition to your coat room. It definitely beats throwing coats all over the sofa! £37.00 ($52.65), ethical.market
5. Vintage Mismatched Fine China Dinner Plates
Want to help the environment? Buying vintage items keeps them from going to the landfill. Chairish is based in San Francisco with the mission for people to buy and sell chic vintage furniture, all of which is pre-screened by Chairish curators. There's something new added every day! If you've been looking for a set of fine china to splurge on, this set of four plates is perfect for display or entertaining. Bright pink flowers pop in splendid color against the white china. $48, chairish.com
6. Spring Kantha Throw
Fair Trade Winds sells fashion and home decor made by artisans in developing countries. By providing a steady income and stable job, artisans are able to improve their lives and their communities. These spring Kantha throws are hand-stitched from soft recycled saris in the traditional Kantha quilting form. Each colorful throw is unique and beautiful. $65, fairtradewinds.net
7. Gold Lines Wood Tray
Based in Raleigh, North Carolina, the husband-and-wife team Em and Chris partner with over 40 brands from all over the world to sell handmade items from artisans in vulnerable communities in their brick-and-mortar store and online. This gold lines wood tray is made from reclaimed wood from artisans located in the Himalayan Mountains in Northern India. $52, theflourishmarket.com
Tier 2 Splurges
These pieces would require some additional financial planning, but they'd be totally worth it in my opinion. Squirrel away some money every pay period for your "splurge fund" so that bigger purchases like these won't get in the way of your bigger financial goals.
8. Atlantic Sculptural Bowl
Founded by Dave Bolotsky after being inspired by the handcrafted items at the Smithsonian Museum craft show, Uncommon Goods has grown from a small space in Bolotsky's apartment to an office in Brooklyn, New York. This Atlantic sculptural bowl would be a major splurge, but it's so gorgeous that I couldn't resist including it. Glass artist Mira Woodworth created this bowl from reclaimed glass and silver. $350, uncommongoods.com
9. Baya Lumbar Pillow
Sourced from local materials all over the world and through sustainable partnerships with artisans, The Citizenry brings stylish home decor right to your doorstep. You can shop by country or by room to discover beautiful pieces that you can feel good about splurging on. Decorative pillows can brighten a room, and this one is made by the Women of Oaxaca in Mexico. The brightly colored geometric pattern is inspired by the Zapotec tribes of the Oaxaca region and their designs. $195, the-citizenry.com
10. Felted Wool Pebble Stool
We only have one Earth. Shopping from an eco-friendly store like Vivaterra means that you can make your apartment look beautiful without having to sacrifice your principles (or break your pocketbook too much). This adorable stool has hand-felted wool pebbles for the seat and raw mango wood legs. I love the warmth and coziness it adds to a home, perfect for a night of reading. $149, vivaterra.com
Roxanna Coldiron is a freelance writer for various websites and publications. She has been published in Cleveland Magazine, MarthaStewart.com, and TheThings.com. She also ghostwrites blogs for different companies. When she's not working, she is spending time with her five rescue cats, reading a book or daydreaming. Follow her on Twitter here.
Image via Unsplash