10 Unexpected Things I Learned When I Stopped Buying New Clothes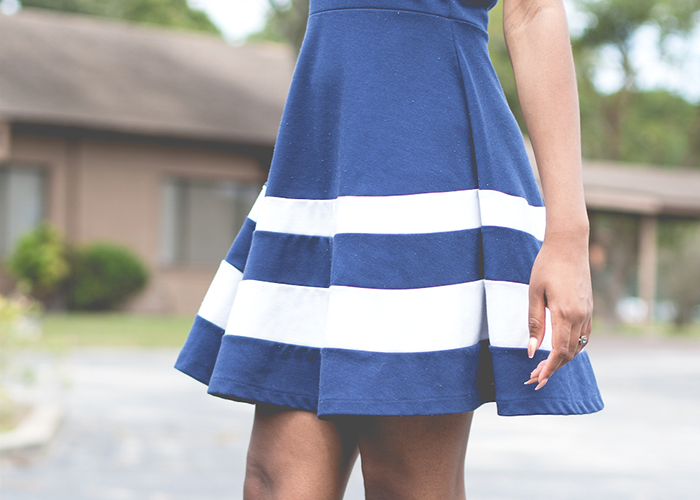 During my last year of college, I gave up buying new (as in, non-secondhand) clothes. I did this for several reasons. The first was that I was sick of my dependence on fast fashion
, and sickened by the environmental and human consequences. The second was that I was pretty broke, being that I was a college student, and one who had just returned from a costlier-than-expected study abroad program. And the third was that it was easy and convenient for me to do so: I lived in a city and was surrounded by thrift stores of many price points, so it was easy to get access to quality secondhand clothing.
All that considered, I decided I would commit to buying all my clothes secondhand from January 2013 to January 2014. The timing was tricky; I graduated from college in May of that year, so I needed clothes for commencement activities, plus job interviews and office life in general. But I was confident I'd be able to re-stock my shabby college wardrobe with quality secondhand pieces.
And to my surprise — and everyone else's, probably — I pulled it off! For twelve months, I basically reinvented my wardrobe for adult life, using only secondhand pieces. I caved just once, buying a new pair of everyday jeans after my old (and only) pair ripped in the crotch, and I couldn't find anything in thrift stores that fit me right. But other than that, I held fast. Not only did it save me money in the short-term, it also changed the way I shopped, forever and for good. In the years since, I still buy secondhand whenever possible. And on top of it all, I learned plenty of skills during that year that have served me well and made me a better, more conscientious thrift-shopper.
1. Know your measurements. Of course it's good to keep track of your shirt and pants sizes — that's kind of obvious. But in thrift stores, sometimes sizing can be missing, misleading, or unknowable altogether. (For some reason, people seem to enjoy ripping tags off their shirts before they donate them?) That's why I like to know my waist, hip and bust sizes at all times, because "Size 4" can mean anything, but inches and centimeters don't lie. And if you, like me, are uninterested in carrying a tape measure with you every time you shop, here's a shortcut: know the measurements of your handspan. Hold your hand flat on a ruler, fingers splayed as wide as you can. Measure the distance from the tip of your thumb to the tip of your little finger in the unit of your choice. Memorize that number, and voila — now you've got your own built-in approximate measurement instrument. Knowing my handspan has made it easier to eyeball just about everything, from furniture to clothes. Nifty!
2. Hit up your favorite higher-end stores beforehand. Committed as I was to being thrifty, I also did want to look okay, if not trendy. Outfit envy is real and brutal, especially if you spend your days at a fashion-forward campus or office. The best cure for this, I found, is planning. Nowadays, I visit stores I like but generally cannot afford to get a sense of what color palettes, silhouettes and styles I'll be seeing (and wanting). That way, when I go to the thrift store later, I can shop for pieces that reference those styles for a fraction of the price. Envy, be gone.
3. Have a game plan before you go in. Every time I enter a thrift store, I mentally repeat a calming phrase to myself, such as "today I will buy a pair of high-waisted shorts" or "today I will buy shirts for work" or "today I will buy a denim jacket." Going into a thrift store can be overwhelming, and while I do like to browse, it's always important to keep some perspective, and hone in on one specific area. It allows me to pay careful attention to what I'm looking at, and see the potential in each item in a small set, as opposed to vaguely considering a great deal of items. Saves me time, saves me money.
4. For the best finds, go beyond your hipster 'hood. A Goodwill in a college town or area full of twenty-somethings tends to get picked over. I've found that I'm less likely to find cute, interesting pieces in my size, because although these shops get more donations from fashionable types, they also serve a fashionable clientele. But go a little bit beyond, to a sleepier neighborhood with an older demographic, and there the treasure be. The best thrift store I've ever been to is the Savers in my hometown, full of the handmade midi skirts and vintage pea coats of the memeres and nonas that were my neighbors growing up. I get compliments on everything I've ever bought from that place.
5. Know what you wear. Also known as, "To thine own self be true." Be conscious of who you are and what you like. When you go to a store, especially if you're looking at something kitschy or funky, be honest about whether you're looking at a piece that fits in with your current wardrobe and life, or whether it fits in with some other life you'd like to at some point have. Case in point: last January, I went to a cute thrift shop in Bushwick, where I bought a black velvet skirt. I wanted to become the kind of person who wore a black velvet skirt. I am not one of those people — I am not cool. The skirt remains unworn, to no one's surprise.
6. Want to buy a piece? Think of three different ways to wear it. As is illustrated above, I still fall into this trap: see something cute or funky in the Goodwill and shell out $10 for the novelty, only to have it languish in the back of the closet or drawer before eventually being sent back to the same thrift store from whence it came. So I've started forcing myself to obey the Three-Wears Rule: if I can't think of three different outfits or situations in which I can wear the piece, I won't buy it. It's saved me unbelievable amounts of money and closet space. It also forced me to create a bit of a uniform, which makes getting dressed every morning easy. Double-yay!
7. Understand the price of alterations. Last summer, I thought I struck gold at Buffalo Exchange when I bought two nice dresses for just $18 and $14 dollars a piece. However, I am two sizes larger on the bottom than I am on top, which means no dress fits me off the rack, which means I needed alterations. I assumed this would be an easy feat. But I learned that getting alterations in a city can be expensive — nearly double the price of what tailoring would have been at my parents' home in the suburbs. I would up paying $60 total for the alterations, more than doubling the price of each dress. I am now learning to sew.
8. Inspect, inspect, inspect. How's the zipper looking? Any pilling or pulling? Are the buttons all there? Any non-obvious stains? How about the tags — are the wash instructions something I can realistically accomplish? Is the collar itchy? How do the seams look? These are all questions I ask myself when I buy something from the thrift shop. Because I don't want any surprises.
9. Be patient with basics. Gonna be honest — it can be really, really difficult to find basics in good condition at a thrift shop. Even something as simple as a plain black cardigan (without stretching, ruching or shoulder spikes) can take multiple trips to find. If you go into a thrift shop looking for one specific item, you could run into problems finding it, which is why I always try to be conscious of the cornerstones of my wardrobe so I can anticipate the basics I need when I'm looking for something else. I recently scored a pair of black skinny Levi's
with the tags still on while I was looking for a spring jacket. It can happen! And to that end…
10. You don't need to go into a secondhand store to get secondhand shops. As long as you've got an internet connection, you can go thrifting. I am absolute trash for ThredUp. I'm on the site all the time, forever placing things in my cart (before eventually taking them out, if they don't pass the Three-Wears Rule). They have an incredible referral program that's gotten me almost $50 in free store credit. And ThredUp is not the only name in the game — TheRealReal and Poshmark also feature impressive items for competitive prices.
Image via Unsplash
Kelly Catchpole is a writer living in Brooklyn. Her favorite animal is the pigeon, but any bird will do. You can follow her on Twitter here.