11 Impressive Holiday Party Recipes That Are Secretly Cheap & Easy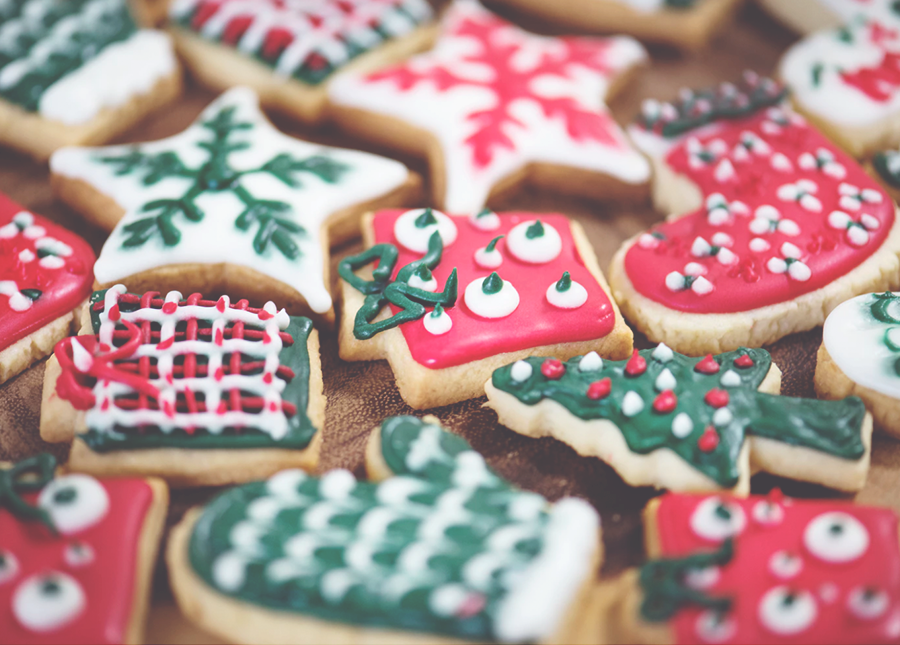 From work dinners to obligatory family gatherings, December is a month filled with a rotating roster of people-place-food combinations. While it's often wonderful to catch up with friends old and new, it can be quite exhausting to constantly consider transportation logistics, the social dynamics of gift-giving, and what weather-appropriate outfit to don night after night. That's why, in a season like this, I lean more towards the underrated job of holiday hostess and let the people come to me!
While elements of hosting a holiday shindig can be quite enticing (your own bathroom being one of them), the planning, preparation, and clean-up often overshadow the convenience of entertaining in your own abode. Not only does hosting your own yuletide meal take up time before and after the event, you're also often left with the majority of the food bill. Luckily, I've collected a bounty of cheap and jolly recipes available to make your holiday hosting much more relaxing and affordable. Hopefully, the below list will convince you to Scrooge the Uber ride to the bar across town and invite your friends over to join you in a delicious, and wallet-friendly, feast!
Appetizers: Stick with Classics
Appetizers are the pre-game entertainment of the food world, and luckily, people are often so hungry that almost any snack will satisfy their cravings. The key to keeping it budget-friendly is to opt for quality over quantity (you don't want full stomachs before the main meal, anyway) and focus on a collection of simple snacks that also requires little effort to prepare.
1. A classic appetizer trick is to create a charcuterie board and let guests nibble away at a variety of cheeses, cured meats, and bite-sized delicacies. Unfortunately, such cheeses and meats can often be expensive and so to ease the financial pain it's wise to bulk up your board, or platter, with a variety of equally yummy low-cost foods. Try peeling purple carrots into long ribbons for a Pinterest-worthy visual, or pile green olives high in a small bowl, let a bunch of grapes spill over a mound of homemade crostini and gather thinly sliced red bell peppers in small bunches. Stick to a holiday color palette of your choosing (like deep reds, purples, and green — quite easy) and look for accouterments on sale. Creating an appetizer board is a great way to flex your creative plating muscle and ensures that every guest, no matter the dietary restriction, has something to munch on.
2. If all else fails, just whack a bowl of homemade guacamole sprinkled with ruby-red pomegranate seeds in the middle and watch your guests devour everything in minutes flat.
Sides: Complementary but Statement-Making
When it comes to choosing which side dishes to serve at a dinner, it's best to envision your meal like the cast of a TV show with the sides as the supporting cast. It's characters like Gunther, Richard, and Janice (especially Janice) that help elevate the core storylines of Friends to such iconic comedic and romantic heights. That's why it's important to select sides that are not only affordable and easy to make, but also help the main dish shine. If you have a heavy (i.e. meat or cream-based) main course, then opt for a crisp and acidic light side salad. Alternatively, if your main dish is something light like fish or soup, then choose a heartier and carb-friendly side.
3. One classic side dish that supports just about any main course is a platter of roasted vegetables. Not only is the cut-toss-bake method practically foolproof, but the utilization of root vegetables like carrots, potatoes, and parsnips is an incredibly cheap way to create a stellar dish. So long as you stick to ingredients that you can easily handle (i.e. maybe skip the troublesome butternut squash), this is also a fairly stress-free dish. If you prefer step-by-step instructions, then try making Yottam Ottolenghi's roasted vegetables with caper vinaigrette for a memorable side.
4. Salads are another go-to side that can be modified to accompany a variety of main dishes. The key to making a great salad is to keep it simple and focus on utilizing fresh and high-quality ingredients. Take this green apple salad, for example: It uses only five ingredients to create a sweet and crisp side. Besides being incredibly easy to make, this salad also capitalizes on the inherent festive feel of dried cranberries.
5. Another great salad that utilizes this cheap and sweet ingredient is this simple goat cheese and cranberry farro salad. The use of farro is a fantastic cheaper alternative to quinoa and helps lend an earthy tone to the otherwise festive-looking dish.
Main: Festive but Low-Pressure
To avoid the pressure of creating a Michelin-worthy main course, stick with a dish that is unexpected during the holidays in order to create a memorable menu for your guests. Try focusing on recipes with fewer ingredients, especially vegetarian options, as they will often be less stressful for you and your budget. Save the roast turkeys and hams for someone else to make — this holiday party is on your terms!
6. One alternative main that's sure to rouse your guest's interest is this Lemon Rosemary Lentil Soup. It takes advantage of a slow-cooker (you can also just use a large stock pot) which means you can spend the majority of your time outside the kitchen enjoying your guests' company. Not only is this soup a filling and warming main course, it can easily be adapted to account for any dietary needs.
7. If soup is not your style, but you still desire a vegetarian-friendly dish, then consider Jamie Oliver's stunning Rustic Gnocchi with Asparagus. Gnocchi is one of those kinds of pasta that always tastes so indulgent regardless of what it is topped with. While this recipe calls to make your own gnocchi, and it's pretty simple to boot, you can always just buy a wonderful batch of fresh pre-made pasta for cheap. It's simple, inexpensive, quick, and gosh-darn delicious!
8. For the penny-pinching meat-lovers, a great alternative to a whole roast chicken is these Maple-Mustard Chicken Thighs. This is an incredibly affordable dish, thanks to its reliance on pantry staples and a cheap cut of meat (bone-in and skin-on poultry always decreases the price). I also think it's a more reliable recipe than a whole chicken, which has a tendency to dry out if not cooked correctly, and in general packs way more flavor with less work.
Dessert: Make-Ahead Decadence
To cap off a night of entertaining, you need to go out with a bang — and that's when dessert is called in. It's best to avoid desserts that you have to fiddle with during the evening, like fresh pies or cakes, so instead, go for sturdy treats that can be made the day before. A big bonus with the below recipes is that the leftovers can easily be packaged up and given as gifts to friends and family. After all, there's nothing more festive than re-gifting!
9. For the baking-averse, this peppermint bark popcorn is a quick dessert that is beyond cheap to make and completely deserving of an Instagram shout-out. Utilizing just popcorn kernels, chocolate, and candy canes, it's a kid-friendly combination that absolutely nails the sweet-and-salty spot.
10. If you want to make something a bit more elegant than popcorn, then try your hand at homemade chocolate bark. Its methodology is easy: melt down good quality chocolate, add a bunch of toppings (the more the merrier), let cool, and break into eye-pleasing shards. Jamie Oliver has a great guide on how to tackle chocolate bark and gives fantastic topping suggestions like chopped pistachios, dried cherries, and chili flakes. Just don't forget the eye-catching swirl!
11. If you prefer your desserts to be baked, but still opt for a no-fuss recipe, then try these eye-catching chocolate-dipped macaroons. These coconut-based treats are incredibly simple to make, store really well, and are perfect for those on a budget (shredded coconut is often less than $5). To add some holiday cheer, try sprinkling the chocolate-dipped side with crushed candy cane, chopped nuts, or some colored sprinkles before cooling. No matter how you decorate they are guaranteed to turn out tasty!
What about you — do you have any go-to holiday recipes that always impress, but are also super affordable? Let us know in the comments!
Maggie Clark is a 26-year-old Canadian situated in Toronto, Canada alongside her wonderful golden retriever Cali. A nutritionist by trade, Maggie has spent the past four years working abroad in the food and healthcare industries and can be currently found cooking up a storm on Instagram @omnivoresdelight.
Image via Unsplash