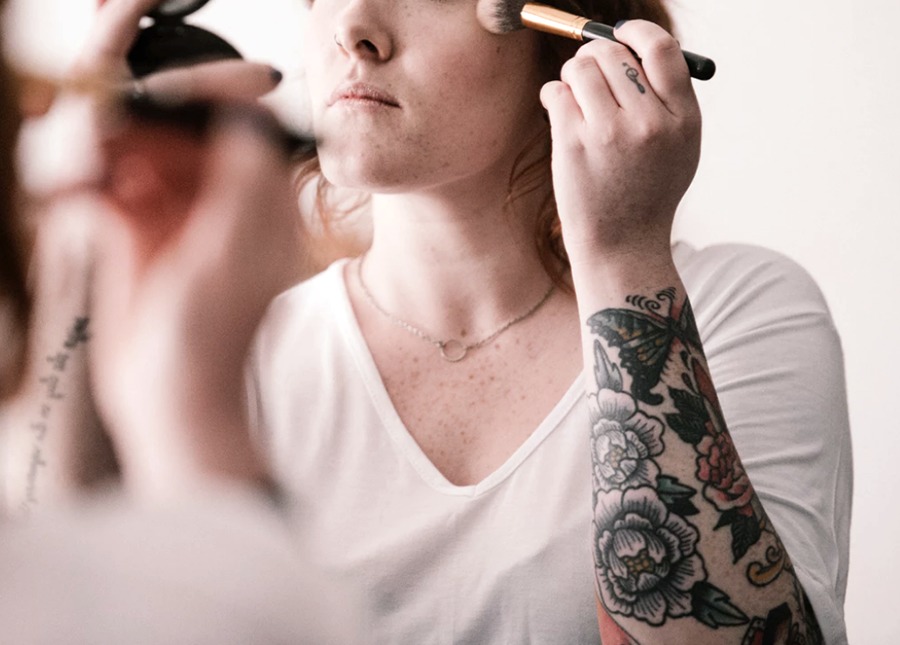 Earlier this year, I spent an afternoon cleaning out my backpack and the two purses I use regularly. Among the restaurant business cards, smushed notes, pens, and loose change, I also found about 13 different lipsticks. I have never been the most experimental makeup person — I have one foundation, blush, eyeshadow palette, and mascara that I never stray from — except when it comes to lip color. I am more than happy to drop pretty much any amount less than $15 on a new lipstick color, regardless of whether it's close to one of the many shades I already own. And I'll do it anytime, no matter how many sticks I still own that have months and months left before they actually run out.
Until that big bag clean-out, I never considered this to be a problem. Lipstick was just one of those fun things I'd pick up at the drugstore when I was there to stock up on Theraflu and Band-Aids — the kind of impulse spending that's much easier to perform than actually keep track of. Looking at the dozen-plus tubes laid out in front of me, I thought, okay, no biggie, I'll just be sure to keep these out in my bathroom so I actually remember to use them! And then I saw it: the shiny, spiky Kat von D tube holding a very specific shade of electric purple.
It's not like this was the most I've ever spent on a beauty or personal care product (I think it was around $20), but I still can't believe I spent a higher-than-usual amount on that particular lipstick. I actually like the color on me, but it is far too "out there" to go with the kinds of things I wear on a daily basis. It would be much more fitting for a music festival or high-fashion event — you know, the kinds of things you never find on my personal social calendar. I bought it with a gift card because I knew it was a good brand and I didn't want to get yet another dark rose or berry lipstick…but I just should have. I wear each of my $3 shades from e.l.f. way more than I even consider reaching for that bright purple. Maybe in the future, I'll decide I actually do feel like wearing it out in public, but as of yet, it just sits there.
I know many of us have similar stories of buying a trendy or high-end makeup product, only to see it gathering dust a few months later. So, in an effort to help anyone who needs to stop themselves from making the same mistake in the future (*raises hand*), I decided to reach out to the greater TFD community. Here are 13 women on the most they've ever spent on a beauty product they don't actually use:
1. "Probably my $129 Lila palette from Natasha Denona…but I don't regret buying it because it's stunning…on my shelf [grimace emoji]" – Nicole
2. "Currently $80 with ipsy. I use probably 10% total of all the items from eight glambags I've received since January. I should probably unsubscribe…but there's MAYBE one item I like each month." – Sam
3. "I bought $32 Fenty foundation in a fit of excitement and have used it exactly once." – Jill
4. "I spent $40 on a Tarte blush palette, thinking I'd be creative with all the colors. Two years later, I've used one color and I haven't even hit pan on it!" – Lauren
5. "I once spent $45 on a Smashbox contour palette. I've used it maybe 20 times and I hate it. It looks moldy and gross. When I tried to return it, they said it was just 'like that.' I wish I'd bought wonderful bronzer and highlight separately instead of a bad set." – Katie
6. "£19 for Smashbox's color correction crayon — too creamy and not effective at all." – Antoinette
7. "I'll drop $30-$60 in an eyeshadow palette but still use my old one and not the new one every day." – Amanda
8. "Probably the promising Tarte Liquid Matte Lipstick phew. Texture too thick and somehow there were 2 distinct layers formed yet it wasn't exposed to sunlight AHHH THERE GOES MY MONEY." – نور
9. "$28 on a red Mac lipstick. I want to wear red so bad but it always looks so orange on me." – Guera
10. "To be fair, I spend A LOT of money on makeup. I have easily spent more money on makeup this year than clothing and cleaning products combined, but I do use *most* of it. The one item I 100% regret buying is a $38 Pat McGrath lipstick that I've used a total of one time. Actually, okay, it's two $38 Pat McGrath lipsticks…one in a horrible color for me and one beautiful one in faulty packaging…" – Megan
11. "$20 on a Beauty Bakerie lipstick that looks like I smeared a melted crayon on my face." – Angie
12. "I bought foundation from Sephora a few years ago. Maybe used it twice? I don't remember the cost." – Jasmine
13. "100% the highlighter from Becca that I never wear ever. I was like over $50." – Hailey
Image via Unsplash