Keep These 14 Ingredients On Hand For At-Home Lunches That Taste Like Takeout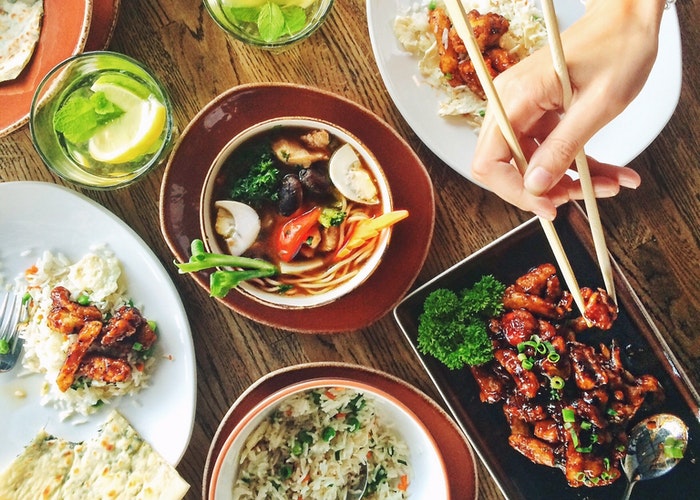 This piece originally published on July 14, 2020.
Chances are, if you've been working from home these last few months, you're probably going to continue doing so. Given the alarming spike in COVID-19 cases across the country, it won't be that surprising if states close back up again. A lot of us have no idea when we'll be back in the office.
A tradition you might miss from ye olde office days is going out for lunch during the week. But if you're looking to cut back on the expenses of takeout and strive for healthier choices, you can easily make your own lunches at home. You just need a handful of ingredients. A fancy no-takeout takeout lunch also requires that you step away from your laptop for at least 30 minutes, an added bonus. Give yourself that time to enjoy the tasty meal you made yourself.
1. The "fancy" lettuce
The one thing that restaurant salads pretty much all have in common is that they're made with fancy lettuce (i.e. red-leaf or butter lettuce, and usually some arugula thrown in there). When you stick to just romaine, you're limiting yourself and it's no wonder you feel like your salad is lackluster. When you build your salad at home, try to toss a variety of lettuces (kale or chard is a bonus!) and you'll immediately taste the difference.
2. A really good multi-use dressing
Target has a great fig-balsamic, and I personally love the Panera Bread fuji-apple dressing they sell at stores. You can also make your own dressing (which is super cheap to do — you usually only need a few ingredients like oil, vinegar, honey, herbs, and salt and pepper ). If you're putting something that tastes special on your salad, protein, or sandwiches, then that meal will feel more special.
3. Premium salad toppings like dried cherries, sunflower seeds, nuts, cheese, and sprouts
When your salad is made of just lettuce, tomato, and cucumber, it's no wonder you're tempted to open your Doordash app and order a proper meal. Get the next-level salad toppers that add more flavor and dimension to your salad. Also, try to include some kind of protein (like legumes, if you don't eat meat) so that the salad actually fills you up and you're not reaching for chips and salsa twenty minutes later because you're hungry again. 
4. Frozen French fries
If you have an air-fryer, you can make yourself fries that taste exactly like they came from a restaurant (and spoiler: most restaurants use pre-made, pre-sliced fries anyway — they just have an industrial-sized deep fryer that makes them taste so crispy and delicious). But you can make yourself the same thing using your oven, too. Just make sure you've sprayed the sheet pan with oil and, if you want, sprinkle your fries with cajun seasoning or extra salt and pepper.
5. High-quality deli meat
Restaurants make really great sandwiches because they usually buy really good deli meat (and cheese). Even if you don't eat meat, it's really all about using high-quality ingredients and layering them with the right amount of condiments and good bread. But if you do eat meat, get yourself some sliced turkey, chicken, or ham from the deli at the grocery store (the kind they actually slice for you, versus the thin slices of Oscar Mayer meat in a plastic container). It's so much more flavorful, and you end up using less per sandwich because the slices are thicker.
6. Sturdy sandwich bread or tortilla 
Your sandwich or wrap is going to suck (or just be really soggy) if you use plain, soft white bread. Get a French baguette, sliced wheat, or a spinach tortilla (if you're making wraps) — something hearty that's delicious on its own but that's also a reliable vessel for all those chopped veggies and slices of meat you're gonna pile in.
7. Avocado
You can literally elevate any meal with some sliced avocado — and I'm not just talking about avocado toast. Slice avocado in your salad, sandwich, rice bowl, breakfast sandwich, or burger. 
8. All the basic condiments (mayo, mustard, ketchup)
Sure, basic condiments are basic. But if you don't have at least mayo and mustard hanging around, you can't make egg, chicken, or tuna salad. And everyone needs some ketchup for those fries. If you love spicy food, this should include your favorite hot sauce of choice as well.
9. Wonton wrappers
Make Cheesecake Factory-worthy meals and appetizers with pre-made wonton wrappers. Pack in your favorite ingredients (like sun-dried tomatoes, avocado, and cheese), fold, and either air-fry or bake 'em. 
10. Pre-made Indian sauces for Tikka Masala or Butter Chicken
You can find great pre-made Indian sauces at a lot of grocery stores, but Trader Joe's and Costco have the best, in my experience. You can also make these sauces from scratch, but it can be time-consuming, and if you just want to throw something together in less than ten minutes, just do yourself a favor and have one of these jars in your cupboard. You'll need a protein of choice (like chicken or tofu) and some rice.
11. Basil
Basil can upgrade your Italian food or level up one of your favorite Thai food meals. I love Chrissy Teigen's Thai basil chicken recipe — it's super simple, and the basil leaves give it a complex, extraordinary flavor. You can also add basil to soup, salads, sandwiches — even your cocktails. I'm a big basil champion. (Other great fresh herbs include cilantro and rosemary!) 
12. Eggs
Eggs are so humble! But they're the true heroes of our fridge. They're the perfect protein to add to just about anything and they're *so* versatile. Of course, there's the egg breakfast sandwich, which you can make with your fancy bread and avocado (scrambled, poached, sunny-side-up — you get it), but there's also boiled egg you can toss in your salad, eggs for egg salad, egg for egg wash, eggs for baking, and more. Always have eggs on hand.
13. Cornstarch 
Cornstarch is how restaurants make their sauces so thick. If you're making yourself a Panda Express Orange Chicken copycat meal (it's so easy! And so much healthier!), you'll need cornstarch to get that consistency. Just make sure to follow directions — you can't just toss it in. 
14. Fish, oyster, hoisin, and plum sauce
For any Asian takeout-esque meals you want to make yourself, have these sauces on hand. Fish and oyster sauce don't exactly make your food taste "fishy" per se, but rather, they give them a more complex saltiness, FYI. Hoisin and plum sauce are tangier than soy sauce, which works well with meats and tofus. 
Gina Vaynshteyn is an editor and writer who lives in LA. You can find more of her words on Refinery29, Apartment Therapy, HelloGiggles, Distractify, and others. If you wanna, you can follow her on Instagram or Twitter.
Image via Pexels
Like this story? Follow The Financial Diet on Facebook, Instagram, and Twitter for daily tips and inspiration, and sign up for our email newsletter here.