21 Free (Or Cheap) Things To Do Around NYC This Weekend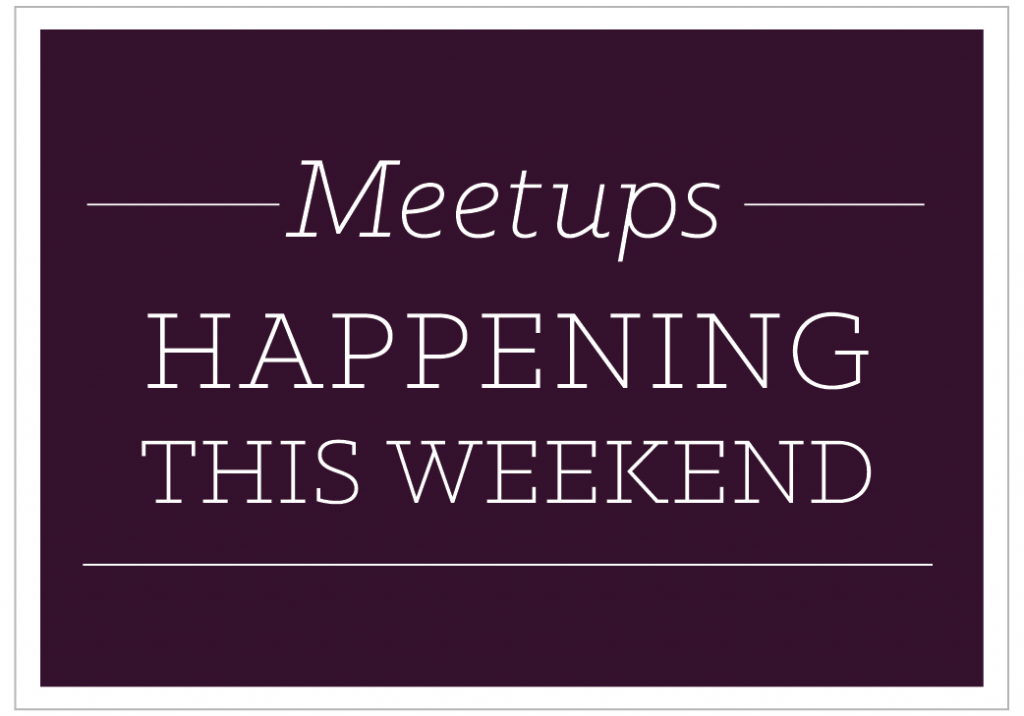 The weather around the NYC area these past couple of days has been beautiful, and it appears that the warmer weather is finally here to stay. One of the activities that Chelsea and I enjoy doing most on days when the weather is nicest is going for long walks outside. There are few things more pleasant than taking an hour to exercise, chat, and enjoy the outdoors, while spending no money. This weekend, I plan on enjoying the warm weather to the fullest by spending a majority of my time outside, staying active.
Below is a roundup of 21 selected weekend activities which cover a wide variety of tastes and topics that I found using Meetup, a site to find your people, and connect socially. All the activities are either free or cheap, and are a great way to explore the city and meet new people who share your passions and hobbies. Let's make the most out of these next few days and try something new!

9:00 AM / Mindful Running 101
If you're a casual runner like I am, someone who is OK at it but wants to be better, consider this Meetup. It's a way to, "discover how to run lighter, easier, and with less chance of injury while learning how to quiet the mind, get in the zone, and get the incredible benefits of mindfulness, all while running or walking."
10:00 AM / Run + Brunch
A meet-and-greet for casual runners that offers varying distances to run depending on your comfort and skill level. Brunch at Whole Foods follows.
10:00 AM / Ultimate Frisbee
For Frisbee lovers to play amongst their own at Morningside Park in Manhattan.
11:00 AM / Learn Spanish
An opportunity to learn real Spanish conversing with real people.
12:00 PM / The Great NYC Subways and Station Art & History Scavenger Hunt
Where teams of five come together to explore the city and hunt for answers to clues they've been given. The event is followed by drinks and general merriment as results are tallied.
12:30 PM / Spring Workshop 2015: Manual Mode — The Holy Trinity of Photography
Where photographers come together to learn the ins and outs of aperture, shutter speed, and ISO. It is described as a, "great opportunity for our newest members with DLSR / SLR settings to take more control of their cameras."
1:00 PM / Ping Pong
An outing for singles to meet up for a friendly game of Ping Pong.

1:45 PM / Small Dog Playdate
Because who doesn't want to spend an hour frolicking around in a sea of tiny playful pups?
2:30 PM / Yoga In The Park
A free yoga class outside in Central Park where beginners are welcome. Bring your own yoga mat and enjoy the fresh air.
3:00 PM / Springtime Tour Of Brooklyn Heights & Brooklyn Bridge
A two-hour long walking tour of the neighborhood that ends with a bite to eat at the Seaport.
7:00 PM /  Salsamania Saturdays — Salsa Dura & Bachata Night
A chance to show off your Salsa dancing skills and meet others with whom you can partner dance.
7:15 PM / Drinks & Comedy Show
Head to The Grisly Pear in Manhattan for drinks and a comedy show. Hosted by LeClerc Andre (Fox TV's Laughs) and features various comedians.

8:00 AM / Soccer Sunday
A meet-up for more advanced soccer players to come and play soccer at Queens West Sportsfield.
10:15 AM / High Line Walk To Central Park (5 Miles)
Asian NYC meets to celebrate Japan Day with a long scenic walk along the High Line to Central Park.
11:00 AM / Shodaigyo Meditation
To set yourself up for a week of ~zen~.
12:30 PM / Play Go At The FatCat
For Go lovers! Bring your own board if you can, but there will be two available for use. Listen to jazz music and have a drink as you play.
1:00 PM / Mother's Day Picnic In Central Park Conservatory Garden
Celebrate Mother's Day with a picnic in the park to snack on potluck style nibbles and wine, and meet new people.
1:30 PM / Fort Greene To Williamsburg Walk
Enjoy a scenic four 1/2 mile walk around the neighborhood which is led by a knowledgable tour guide, to see sculpture gardens and Gilded Age mansions.
2:00 PM / Upper West Side Hang Out
A weekly meetup for everyone who lives on the UWS to explore and hang out in the neighborhood.

3:30 PM / Wine Tasting, Hors d'oeuvres & Film Screening
For only $15, spend the afternoon drinking, snacking, and enjoying a screening of the newly launched NYC Documentary Festival.
4:00 PM / Language Exchange + Picnic
For language and culture enthusiasts to practice conversational language, and enjoy a mass picnic.

Take your pick! There is a plethora of great social meetups to choose from. Go out of your comfort zone this weekend, and try something new!