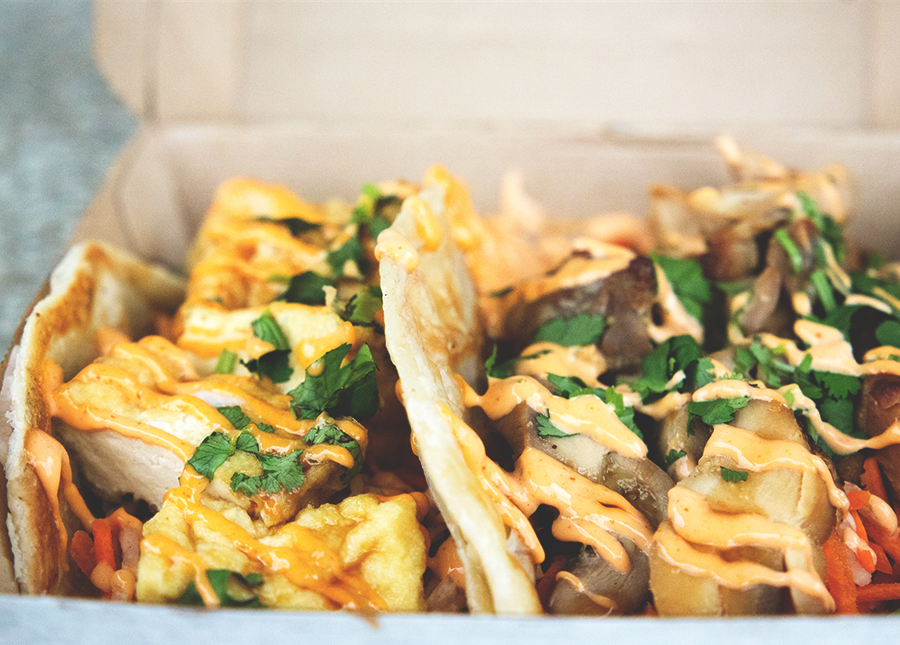 We talk about food a lot here at TFD. Not just on the site or YouTube channel — even our Slack random room is filled with food talk. "What's everyone making for dinner" is a regular topic of conversation. We often trade anecdotes about our favorite happy hour specials and places to work in the city. Recipe swapping is commonplace.
Recently, we were discussing some of our go-to meals when we're extremely not in the mood to cook, which can happen for a lot of reasons. (Our answers ranged from the inevitable Chinese takeout to more creative options, like melting string cheese in a ramekin and eating it with Triscuits.) Spending money on food is inevitable, and even though we highly recommend learning to cook for yourself generally (for the health of both your body and wallet), avoiding indulgences altogether sounds both un-fun and unrealistic. Some workdays are so long that the thought of standing over a hot stove for even half an hour at the end of it sounds like hell on earth. Sometimes, you're too caught up in your feelings to muster the strength or willpower to make yourself a wholesome meal. And sometimes, you just know that indulging in a few one-dollar pizza slices while catching up on TV is going to be the most relaxing thing in the world — why on earth would you completely deprive yourself of such an inexpensive luxury?
Food is so personal. Having specific dinner plans to look forward to always makes me happy during the workday, and some of my best memories revolve around shared meals with loved ones. But food is also something we need on days that are decidedly not special — days that are physically or emotionally draining, where the task of deciding what to eat (and making that decision a "healthy" one) is almost too much to bear. What we turn to in those moments is so specific, but it's also universal. "Comfort food" means the same thing to all of us, even if our own personal definitions of it vary.
When I'm feeling on edge, stressed, or generally just down, the food that makes me feel the best isn't necessarily the best for me — it's a giant bowl of mac and cheese, plain old cheese and crackers, my favorite takeout order from the noodle shop down the road. Scrambled eggs on toast with a bunch of hot sauce if I'm hungry and don't mind just a bit of manual labor. I'm not interested in only discussing the food we eat and spend money on when it's a perfectly healthy and responsible choice, because that's just not realistic. I also think hearing about other people's "indulgences" is cathartic and straight-up fun; we're all human and just looking for a little more joy, so let's talk about it!
So I decided to do a little something different today, and I asked the greater TFD community (via Twitter and other Internet Avenues) about their go-to indulgence meals when cooking is off the table. It's interesting to see where there was overlap, and where there wasn't. Read on for their answers, and be sure to leave your own in the comments section 🙂
1. "Sushi. For sure." – Jennifer
2. "Cheese filled pasta (tortellini or gnocchi) from the deli section. Sauteed greens for #balance [smirk]." – Ella
3. "Cereal. Without fail." – Bree
4. "Sushi. It's light — not as guilt-ridden as pizza. I can eat it as leftovers in the morning and it never disappoints in quality when delivered." – Taryn
5. "Pad Thai with a bubble tea on the side." – Shannon
6. "Gorgonzola truffle fries from Recovery Grill (seriously, they're the best) or sushi." – Gianluca
7. "Mac and cheese. Guilty as charged." – F.O.
8. "Popcorn with extra butter." – Jessica Anne
9. "First of all, Kraft mac and cheese — has to be cartoon shaped or else it isn't worth it. Extra cheese and even crumble some Cheez-Its on top if you're feelin' an au gratin situation. Also, Tyson frozen chicken nuggets with feta cheese sprinkled on top. Slice cucumbers, put in a tub of hummus, eat with spoon. I feel like this is where I should stop." – Mary
10. "Trader Joe's Orange Chicken." – Molly
11. "Hot dogs. Tyson chicken tenders from a bag. Or a bone-in ribeye cooked with a shit-ton of butter and garlic." – Colin
12. "Oh, mine isn't really indulgent. It's just Cup Noodles lol. I do, however, order a big, juicy cheeseburger from a diner close by if I'm stressed out." – Shammara
13. "Instant Ramen will do…" – Lyn
14. "There's a McDonald's on the way home from work and when I have a really bad day I get a quarter pounder with cheese or chick tenders." – Joyce
15. "Mac and Cheese!" – Samantha C.
16. "Chips and salsa." – Samantha S.
17. "Freshetta frozen pizza." – Mackenzie
18. "My lazy/comfort food is basically always a sandwich with two nice toasted pieces of bread and pretty much everything that's in my fridge in the middle. Sandwich Saturdays, Sandwich Sundays, Sandwich Everyday." – Hailey
19. "Two bowls of special K chocolatey delight." – Natalie
20. "Velveeta Mac n cheese!" – Erin
21. "Pasta with whatever is in my fridge." – Jessica
22. "Fried rice or an omelet." – G.G.
23. "7-Eleven taquitos, three for $5." – Megan
Holly is the Managing Editor of The Financial Diet. Follow her on Twitter here, or send her your ideas at holly@thefinancialdiet.com!
Image via Unsplash