Exactly How I Stuck To A $25 Weekly Grocery Budget In An Expensive City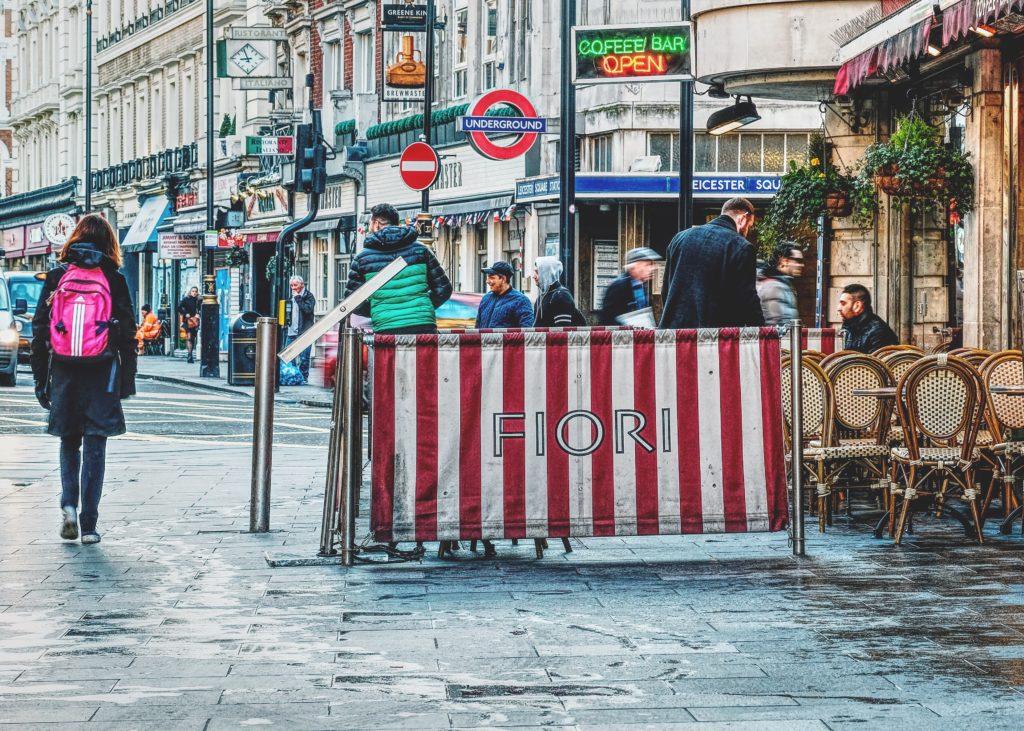 When I first moved to London, I was very worried that I wasn't going to like it. I had a mixtape of depressive middle-aged men who had worked in the city for decades playing in the back of my head, saying, "London is expensive," "London is soulless," "No one can afford to live in London except for bankers, and even they can't buy property anymore." I'm not trying to say these things aren't true; they are, but I am a bright and positive, albeit overly hopeful, young woman, and I can make the best of any situation. If society collapses, everyone will be digging through landfills and stabbing each other for food, and I'll be in the corner making myself a nice little apartment out of corrugated metal sheets and maybe seduce a large, good-hearted Adonis to protect me from the stabs.
So far, I really, really like London, and I'm so glad I moved here. I love the old, smoky Edwardian buildings, the industrial steel train tracks, the museums. I love the feeling of being pulled into the creative world with an undeniable force. Most of all, I love that I've barely watched any television since I've moved here, and that there is live music and stand-up comedy in every pub. Rather than hanging out in your flat, you can always be in a crowd of people watching someone perform live. It feels like, in some ways, London hasn't changed very much since the Victorian era, and that exuberant verbal culture is still very much alive and well.
Of course, one of the reasons why I am so utterly in love with the comedy scene in London is that they are happy to admit that London is a rip-off. It is hideously expensive, and the fast pace of the business and financial world is designed to leave you utterly drained at the end of the week so that you down three £20 cocktails just to calm yourself down enough to enjoy your weekend. You're meant to burn your bonuses and commissions as quickly as you earned them, to continue the cycle. There is also the issue of keeping your social life afloat, having the kind of friends who are happily whipping out their bank card every five minutes and buying round after round of drinks before piling into the back of a taxi. It can sometimes feel as though you are working like a dog to simply keep up appearances.
So, when I moved here, I sat down and wrote myself a list of things that I consider essential for a good life. I came up with these:
A nice place to live

Healthy, good-quality food in my fridge

Watching and performing stand-up comedy

Going for a walk every day

Having a community of supportive friends

Writing

Therapy

Having a healthy relationship with my family
I've worked out that a lot of the pitfalls in cities are based around convenience — that you are so stressed and famished that you're happy to fork out your card and pay £6 for a limp sandwich you could have made at home. And I have to admit, there are some things that just taste better in a restaurant. I love a good curry, and I'm never going to give up my £2 sushi triangle habit. But I personally feel everything else in London can just be made at home and brought to work.
I did an experiment during my first month in London to see if I could live on a grocery budget of £18 (~$23.47), feeding only myself. I kept all my receipts and made a note of all the food I made out of the things I bought. Here's what happened*:
*all currency listed in pound sterling unless otherwise noted
Week 1
Aldi
Bran flakes: 85p

Broccoli: 55p

Kale: 55p

Garlic: 62p

Cheddar: £1.59

Spaghetti: 39p

English breakfast tea: 79p

Whole nut peanut butter: £1.09

Full fat cream cheese: 49p

Raspberry jam: 85p

4 pints of whole milk: £1.09

Butchers sausages: £1.29

Streaky bacon: £1.39

Ethiopian ground coffee: £2

Bag of potatoes: 65p
Marks and Spencer
5 sesame seed bagels: £1.60
Farmers market
Total: £17.59 ($22.96)
Week one, I felt very well fed. I had a nice cup of coffee in the morning, and I have a Dualit milk frother, so I made a latte and had it for breakfast with a bowl of bran flakes. I brought the bagels to work as my packed lunch, with either peanut butter and jam or cream cheese. In the evening, I had a few big, decadent meals — kale sautéed with bacon and spaghetti, broccoli with garlic, pasta and cheese, and two rather lovely sausage and mash dinners. As a snack, I ate organic pears which I took to work. Also, a 1-kg bag lasted me an entire week.
In cities, you walk a lot more, so I was naturally worried I might lose weight if I wasn't eating enough calories for my increasingly active lifestyle. The following week, I decided I needed more protein, iron, and carbohydrates.
Week 2
Lamb mince (on sale): £2

Squeezy honey: £1.29

Greek yogurt: 68p

Frozen raspberries: £1.49

Frozen blueberries: £1.59

Tomato puree: 39p

Chopped tomatoes: 29p

2 kgs of unwashed spinach: £1

Porridge oats: 75p

Crumpets: 39p

Butter: £1.49

Fresh whole milk: £1.09

1kg of carrots: 59p

Broccoli x2: 55p

Streaky bacon: £1.39

Four baking potatoes: 65p

Baked beans x2: 30p

Spaghetti: 39p

Five bananas: 79p

Bagels: 69p
Total: £17.80 ($23.24)
One of my flatmates has a Magic Bullet smoothie maker, and since we are very accommodating to other people using our appliances, including my milk frother, I was blending away all week. I've always suffered from low iron levels, but I hate eating spinach. So, every day aside from my bagel for lunch or crumpet for breakfast, I made myself a dense green smoothie with banana, yogurt, honey, raspberries, blueberries, a handful of spinach, and a smaller handful of porridge. I also made a spaghetti bolognese and ate that for a couple of nights alongside a few baked potatoes with cheese and beans, and broccoli with cheese, garlic, and butter. I was walking an average of two miles a day, but I felt like I had put on a bit of weight this week, which felt really nice.
Week 3
Aldi
Ethiopian coffee: £1.99

Beef medallion steaks: £2.85

Baking potatoes: 65p

Sweet potatoes: 95p

Dark chocolate digestive biscuits: 49p

Unwashed spinach: £1

Whole milk: £1.09

Cream cheese: 49p

Mozzarella: 49p

12 eggs: £1.49

5 bananas: 79p
Lebanese supermarket
6 tomatoes on the vine: £2

Arabic flat bread: £1.40
Total: £15.68 ($20.47)
I was utterly in heaven eating those four steaks. Two of them I fried and ate for dinner with fried eggs, and the other two went into wraps for lunch with tomatoes, sweet potato mash, and spinach. I still had lots of frozen fruit, so I made smoothies. I had baked potatoes for several nights with butter and cheese, and I had some leftover bolognese from the previous Sunday night, which I ate with mozzarella and tomatoes. One night it was raining, freezing, and utterly miserable, and I decided I just wanted to eat a bowl of porridge, butter, and brown sugar for dinner — which I did, in bed.
Week 4
As I write this, my little sister will be visiting this coming weekend, so I gave myself an extra £10 give or take to feed her. She doesn't eat sugar and likes fresh food made from scratch. She is also only 17 and a total coffee addict, just like her big sister!
Ground coffee: £1.99 x2

Bran flakes: 85p

Spaghetti: 39p

Whole nut peanut butter: £1.09

Greek yogurt: 68p

Dark chocolate digestives: 49p

Cinnamon: 49p

Turmeric: 49p

Bagels: 69p

Crumpets: 35p

Courgettes: £1.15

Spinach and Ricotta ravioli: 65p x2

Thin cut beef steaks: £1.45

Bacon: £1.35

1 kg of carrots: 59p

Broccoli: 48p x2

Whole milk: £1.09

Sweet potatoes 95p

Garlic and herb cream cheese: 55p

Avocados: £1.55 x2

Baby leaf spinach: 85p

Kale: 56p x2

Five bananas: 79p

Mixed apples: 65p

Mixed pears: 65p

Mini oranges: 86p
Total: £26.91 ($35.13)
Average per week: £19.49 ($25.45)
I've still got frozen berries for smoothies. My little sister loves carrots, so I bought her some to snack on with peanut butter. We also love making turmeric lattes and having cinnamon in our coffee. Not sure what she wants to eat when she gets here, so I bought a few things for her to choose from, plus portable lunch food we can take out with us if we go for a walk.
*****
This has been a really useful experiment for me, as I was worried about starving to death in very-expensive London. But so long as you have fresh food and a place to cook it, I've found it's easy to keep food costs down.
I have felt well fed and full of energy this month, and I am eating enough calories to keep me well-nourished as I pound the steps of the underground every day. I actually stood on my flatmate's scale yesterday, and I have put on 4 pounds! This really delighted me, as I had gotten a little thin after the stress of moving to a new house. I'm going to stick to this diet, ensuring I have some dense red meat at least once a week, some green leafy vegetables, protein, soft fruit, and a couple of cheeky snacks with my cup of tea in the evening. I can't believe that I can feed myself for the price of one overpriced cocktail in central London, but it looks as though I can. Plus, keeping my food budget simple during the week makes those once-in-a-while restaurant dinners with friends even more special.
Phoebe Prentice-Terry is a writer, art dealer, and survivor of David Cameron's various experiments in human misery. She likes Gin and Tonics, French skincare products, and is most proud of her collection of Wolford bodysuits.
Image via Unsplash
Like this story? Follow The Financial Diet on Facebook, Instagram, and Twitter for daily tips and inspiration, and sign up for our email newsletter here.