$25 Grocery Haul & Recipe, Vol 6.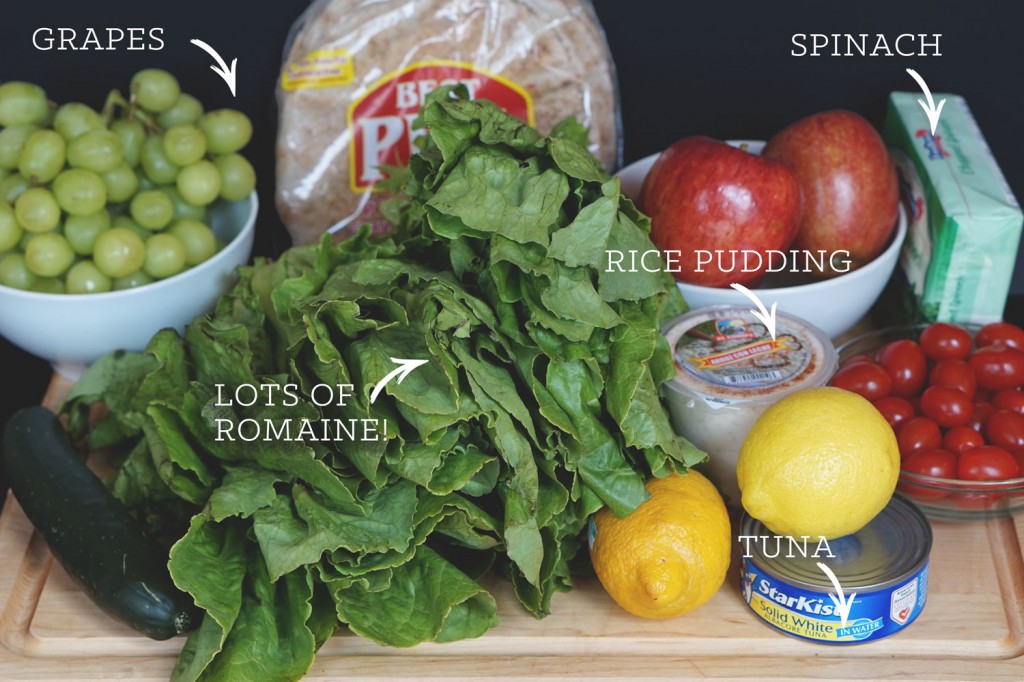 It's grocery haul time yet again, and this time we're even featuring a dessert! Lauren and I happen to share a love of rice pudding (and boyfriends/fiancés who are absolutely repulsed by it), a fact we only bonded over when we say this reasonably-priced gem in the dairy aisle. $1.49, and we have all the creamy, ricey goodness our hearts desire. Otherwise, it was a pretty veggie-heavy day as you can see, which usually happens when we're trying to keep our costs low. We bought supplies for a few different salads — tuna salad, salad salad, tomato salad — and pita to go along with it because, well, eating dinner after dinner of fresh veg can use a little starch to set off all the healthiness.
We're also increasingly fans of produced that are sold by the bunch or unit, because you can really go digging for the biggest ones. We got a veritable pillowcase full of romaine for under four dollars, enough for at least four or five salad bases, because we picked the biggest heads in the bunch. Regardless of size, same cost to us, which is awesome. We were in a bit of a rush because of work stuff yesterday, so we wanted to make something simple and fresh. We decided on a tuna salad, combined with another can we had in the cabinet and a few other ingredients which rarely get used (like the squeezie bottle of mayonnaise that is due to go bad by the end of the summer).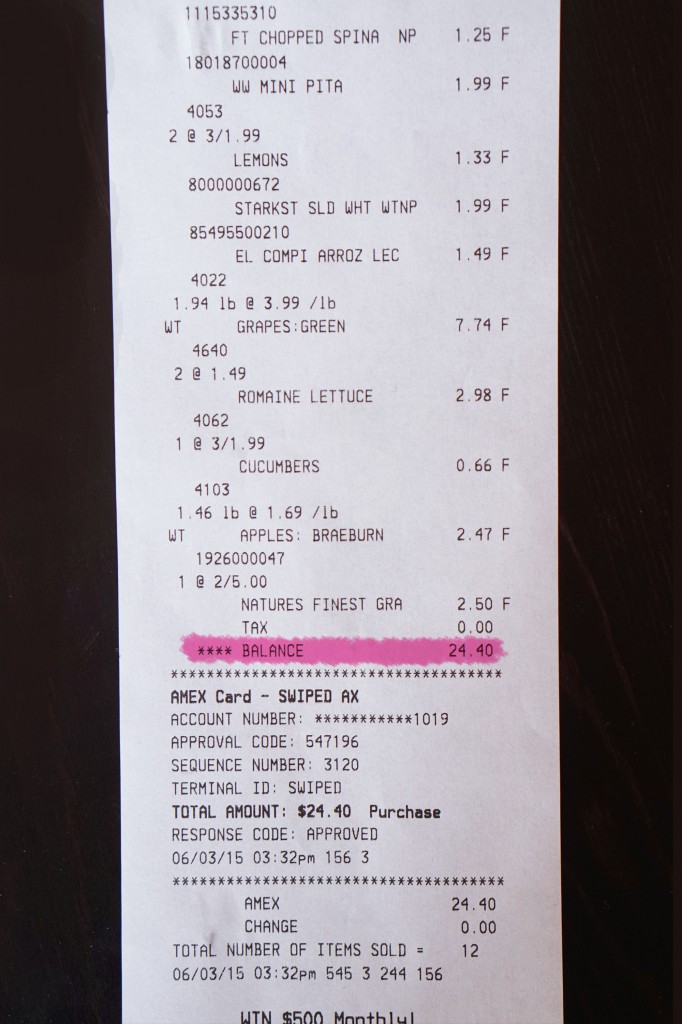 Our recipe this time is an old favorite, Tuna Salad-ception. It's pretty simply tuna salad on top of actual salad, with tons of lemon and freshly-grated carrot. (Never buy bagged shredded carrots, the texture is nicer when they're freshly done, and much cheaper.) Tuna salad is a beloved, comforting stable, but between the gobs of mayonnaise and the big, carby bread it comes in, the sandwiches can be a nightmare for someone watching what they eat. This is a much fresher, smarter way to consume it. (And those pita on the side are only 80 cals for a whole one, if you want a little burst of carbs in your tuna experience.)
Without tooting our own horn (toot toot), we feel pretty convicted that this tuna salad is one of the best you'll ever have. The secret to a good tuna salad is, of course, flavor over heaviness. There's no reason to load it up with mayonnaise — you don't even need it at all, but we used a bit — because the real flavor should come from the ingredients. For ours, we used:
-Two cans chunk white tuna in water
-A few small squirts of mayonnaise (this is done to taste/preference)
-Half a lemon's juice
-2 cloves garlic, minced
-1/2 small yellow onion, diced
-A small bunch of green seedless grapes, halved
-Salt & pepper to taste (we love a LOT of pepper)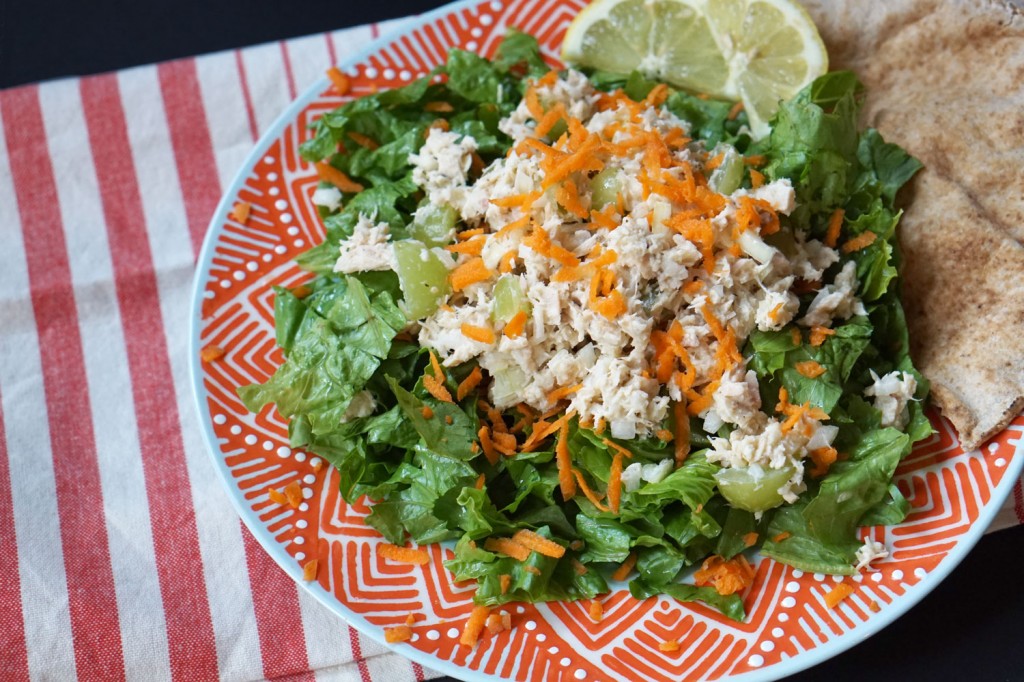 I assume you all know the protocol for making tuna salad, aka putting the ingredients in a bowl and mixing them up together. We put ours on a bed of romaine with a ton of grated carrots, a squeeze of extra lemon, and a pita pocket. Super satisfying and flavorful without weighing you down, and while still giving you the tuna-y experience you crave.
This salad is even better as it sits and the onions/garlic/tuna/grapes intermingle with each other, so making it the day before is a great option as well. I tend to make it in bulk and eat it at a few different meals, because it's awesome in any context, even on crackers or just on a spoon. Go to town! And remember, don't depend on gloopy mayonnaise to make your salads good. Put your other flavors in there, and balance the sweetness with the salty fishiness. It's an incredibly cheap, satsifying dinner, and you can really make it however you want. Go nuts!