3 Bridesmaids On Conversations They Wish They'd Had With The Bride Before The Big Day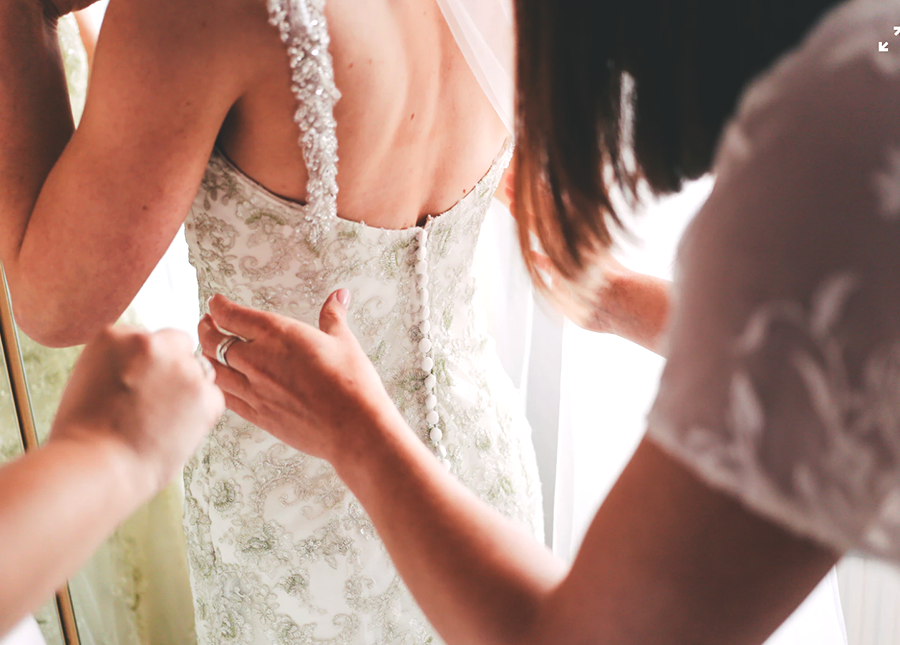 Being asked to stand next to a dear friend as they profess their love for their future spouse is often seen as the pinnacle of female friendship. So when one of your closest friends hands you a Pinterest-perfect gift box complete with a personal bottle of champagne and goodies emblazoned with the slogan, "I couldn't say 'I do' without you" it's hard to imagine any acceptable answer aside from an excited "of course!"
After the ring is appropriately examined and complimented, the engagement story told ad nauseam, and the gushing subsided, the planning starts. And that's when it becomes clear — standing next to your dear friend on the most important day of her life doesn't come cheap. Below, three bridesmaids (anonymously) share how much they have spent to participate in friend's weddings, as well the money conversations they wish the bride had initiated.   
28, Chicago
"Many of my friends have multiple showers, bachelorette parties, and engagement parties, and I feel obligated to buy a gift for everything I am invited to. The last wedding I was in, I paid for the following expenses: hair, makeup, dress, engagement gift, shower gift, wedding gift, hotel room during the wedding weekend, and an airplane ticket. In total, I spent close to $3,000. In another wedding I am going to be in, the bride is paying for my hair and makeup and while we purchased our own bridesmaids' dresses. She covered anything over $200, so I only had to spend $200 towards her wedding in addition to an engagement gift and wedding gift. She also didn't invite me to the shower since she knew I wouldn't be able to travel for the shower and the wedding (I am based overseas) and she felt like inviting me to the shower would be the equivalent of asking for another gift. In total, I will be spending much less on her wedding. Total cost: $400 – $3,000.
"Aside from the conversation about not being invited to the shower because of the gift expectation, none of the brides in weddings I have been in have brought up costs related to the wedding. I do wish the bride of the wedding where I had paid for my own hair and makeup had thought about the need for less-expensive accommodations. The rooms reserved for the bridal party were $300 a night!"
27, South Carolina
"The cost involved with being in a bridal party can range, but here's a breakdown of what it's looked like for the past two weddings that I've been involved in: for the bachelorette party — lodging, flights, decorations, accessories (i.e. custom shirts, koozies, etc…) comes in around $725. Flight, dress rental, and miscellaneous costs for attending a bridal shower out of town have come to $415. For the dress alone, the cost has ranged from $220-$285. I say 'for the dress alone' because that does not include the cost of alterations, which can sometimes run $100+ (if you need to adjust length + bust). I would say a good average for dress cost is about $325. Hair, makeup, and spray tans were not a requirement but they were strongly suggested, $175 for both hair and makeup, or $75 for one or the other. For one of the weddings, it was $25 for each service, and the mother of the bride ended up paying for everyone's hair so it was only $25 for each bridesmaid. A reminder that this is all just the cost for the services — cash tip is not included in the totals listed. Shoes, jewelry, and nail polish were all up to the bridesmaid, with suggestions + guidelines from the bride in terms of color, style, height, etc. However, I have been to weddings where bridesmaids were required to purchase matching shoes. A gift off the registry ranges anywhere from $25 – $100. Total cost: $1660 – $1800.
"I didn't have any specific conversations with either of the brides about money, but most of the bridesmaids were coming in from out of town, so there was definitely a level of gratitude shown for participating. In my experience, the brides know that being in a wedding is a commitment both in terms of time and money so they don't take it lightly, but sometimes the bride can get so caught up in keeping track of their own budget for the wedding that they forget what they're asking their bridal party to commit to. 
"I wish that we had discussed what the total cost of the commitment might look like — I think that might have made it more tangible for the bride to understand just how much their bridesmaids were forking over to be a part of their big day. At the end of the day, I wouldn't miss the opportunity and am honored to have been asked to stand by their side, but I think the cost of being in a bridal party is often something that the bride and groom can so easily lose sight of (and for good reason — they have an entire wedding to plan for!)."
27, New Jersey
"I am in a wedding this summer and the costs really add up. I am a student, so it's been particularly difficult stretching my budget to accommodate wedding expenses. We recently did a bachelorette weekend in Vegas. The hotel, airfare, entertainment, and food totaled $1,500. The bridesmaids dress is $179, and I may have to pay for alterations. Hair and makeup will be $150-$200 and another $100 for a manicure + pedicure. I went in on a bridal shower gift with the other bridesmaids and originally it was going to be $115 each, but I told the other bridesmaids that was out of my budget, and we brought it down to $75 each. I spent $60 on an engagement gift and will spend $200 on a wedding gift that will be from my partner and me. The hotel room for the night of the wedding will be $100. Total Cost: $2,350.
"I haven't had any conversations with the bride about money. For example, with the bridesmaids dress, I was told, 'Here is the dress, have it by this date.' I wish the bride asked what my budget was instead of assuming I was comfortable with all these costs. It feels like someone is telling you how to spend your money, and it's frustrating not having more autonomy. I also wish the bride had told us that she didn't expect gifts from bridesmaids."
*****
Being part of the bridal party is incredibly meaningful, and no one wants to be the wet blanket bringing up money while everyone else is gushing over the beautiful rose blush hue of a $300 bridesmaid's dress. However difficult, upfront and honest conversations between a bride and her bridesmaids about budgeting need to become as de rigueur as monogrammed bridesmaid's gifts.
If you're the bride:
Have a private conversation with each of your bridesmaids about how much they are able to budget to participate in your wedding. Even if you think you know your friend's financial situation, have the conversation. They may be saving up for a down payment on an apartment, or your wedding may be one of five weddings they are in this summer.

Once you have an idea of how much your bridesmaids are able to spend on wedding-related expenses, evaluate what is important to you and plan expenses to fit the smallest budget. Do you have your heart set on a pricey bridesmaid's dress? A destination bachelorette party? Do you want your entire bridal party to have their hair, makeup, and nails done a special way? If a spa day before the wedding is high on your priority list, maybe you forgo the destination bachelorette party. Or if it's all important to you, this may mean reevaluating other wedding-related expenses and allocating some of your budget to cover a portion of your bridesmaids' costs.

Consider telling members of your bridal party that their participation in the wedding is their gift and that you don't expect them to buy you an engagement or wedding present.
If you're the bridesmaid:
Be honest with yourself about your financial situation. What can you realistically afford to spend on wedding-related expenses, and what is the bride expecting you to spend? If the bride doesn't bring up costs, open the conversation with a straightforward, "I am looking at my budget for the next few months and wanted to touch base on bridesmaid's expenses."

Have conversations about money soon after you are asked to be in the wedding. It's much easier to have a conversation about costs before the invoices start coming in.

Don't feel pressured to spend money you don't have. If you can't afford something, a simple "that's beyond my budget right now" should suffice. If you are continually being put in situations where you feel pressured to spend more than you want, reconsider participating in the bridal party. A true friend should not expect you to go into debt to celebrate their wedding.  
Having an open and honest dialogue about money will keep the focus where it should be (penis cakes at the bachelorette party & the celebration of love at the wedding) instead of on resentment and anxiety over costs.
Astrid Adam is a young professional living and working in Shanghai, where she enjoys taking pictures of cats and graphic t-shirts. You can find her on Instagram and Twitter.
Image via Unsplash