3 Little Things That Keep Me Focused & Motivated When Working From Home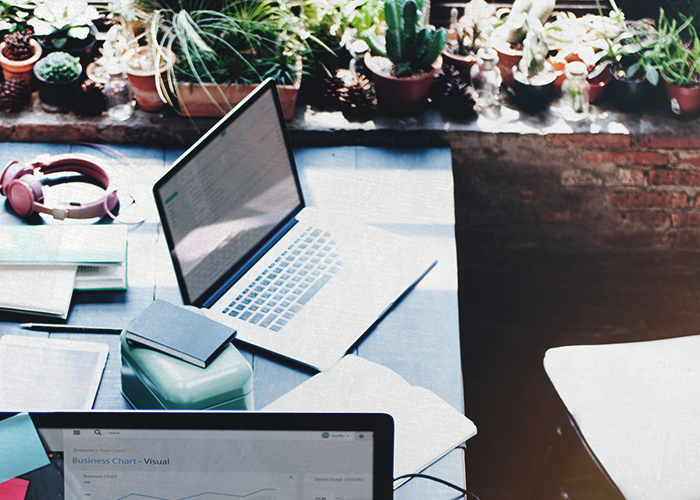 For me, the phrase "working from home" always elicited the image of a beautiful home office bathed in natural sunlight and the smell of freshly brewed espresso in the air, while a woman sat dressed in a stylish and professional-chic ensemble whizzed away productively on her computer. In my vision of WFH, there were never any distractions, no interruptions, no messy papers anywhere, just candles burning, coffeehouse music playing softly, and perhaps a bowl of fruit sitting nearby to snack on. Then about a year ago, I actually started working from home — in my own apartment, which has juuuuuuust enough space to squeeze a tiny desk + chair combo in it. LOL were my expectations wrong.
Most days, I'd stagger out of bed at 7:30 am, immediately sit down at my desk (and start chugging coffee), shower a few hours later, do my makeup a few hours after that, eat a snack + lunch + another snack within two hours of each other, and finally make my way outside once it was already dark. Not really the stuff of aspirational Instagram content. While I wasn't working from home every day, and I was going into the TFD office a few times per week, I knew I needed to set up a better space and routine for myself if I ever wanted to succeed at this WFH thing. I had a lot to learn.
After a few months, and some diligent tracking of what was and wasn't working, it was easy to identify the problems that were tripping me up. Some of the problems that I experienced in the beginning were: wanting to get up every half hour to get a drink/snack, getting distracted with random bits of cleaning and household chores, and most of all, not loving my environment and space. I think a lot of WFH-ers can relate to these common problems, and it takes some creative solutions to get yourself back on track. How did I combat these issues? Well, talking with other freelancers was definitely helpful, but overall I think it boiled down to the fact that I didn't have a solid designated work space, and was letting everything spill over into my *actual* living space. Here are the three little things that changed my headspace and work productivity for the better.
#1. Building a "work nest" (<– as Chelsea affectionately calls it)
Carving out a dedicated workspace in my home, which feels separate from the rest of my space, is key to staying productive and getting shit done consistently. Even though I live in a tiny apartment, I made it a priority to set aside a dedicated desk area in my living room — no matter how compact it had to be. For most people it's helpful to focus on the items that will make working regular (or irregular hours) easy. Things like investing in a comfortable chair
, good lighting
, and a functional desk
will make a world of difference. The space should also look like a place you want to work in, no matter if it's for a few days or most days of the week. That means having stuff like a pretty desk calendar, some thrifty faux flowers in a stylish jar, or even a beautiful french press
that will make working from home feel exciting and something you look forward to. (And, even if you don't have a WFH job, your dedicated home office space could be useful for any type of project, craft, or side hustle work you do at home.) If you have enough space, putting up wall art is a great way to keep your morale and focus high since it provides visual interest. Chelsea – who has a bigger home office space than I do– has a big inspirational cork board
on the wall, which serves as a piece of art that can be changed up as frequently as she wants. #Win!
#2 Shelves, cabinets, and other organizing essentials.
While on the topic of creating a solid work nest that doesn't spill over into the rest of your home, I should say that my biggest challenge of staying productive in my home office is keeping my area clean and organized. I tend to skew messy, and within a 24-hour period my desk accumulates papers, mail, receipts, coffee cups, and likely, a granola bar wrapper of some kind. The first few months of working from home in our new place was a challenge for me to always keep it organized. Joe and I would be eating dinner at the table and approximately six feet away, there would be my desk — in all of it's haphazard-looking glory. Since then, I've invested in a nice wire basket
for spare magazines and design books, a folder for all of my important papers, and a bag that I keep all of my sketching/drawing/lettering materials in, which I hang up in the hall closet at the end of the day. While I don't have room for it in my workspace, floating shelves
are a fantastic way to utilize vertical space, and they provide a stylish solution for keeping supplies in little jars or baskets above your desk. You could also invest in a chic filing cabinet
of some kind, and keep essentials in pull-out drawers so they're tucked out of sight. Also, having small things like a sturdy pencil holder
and a stylish reusable water bottle you can keep nearby (which is perfect for when you take work on-the-go), are great ways to make the whole space feel put together and intentional. Either way you decide to get organized, it's a big and important step to making WFH days feel fruitful and painless.
#3. Plants, greenery, and/or flowers!
This is perhaps the most surprising thing that I noticed gave me a boost and helped me to stay motivated and focused during the at-home work day — incorporating greenery in my work area. The freshness and brightness that plants bring  (whether real or fake) go a LONG way. Back in our former TFD office, Chelsea and I put together a beautiful DIY window garden that was relatively inexpensive. (Cue gratuitous window shot!)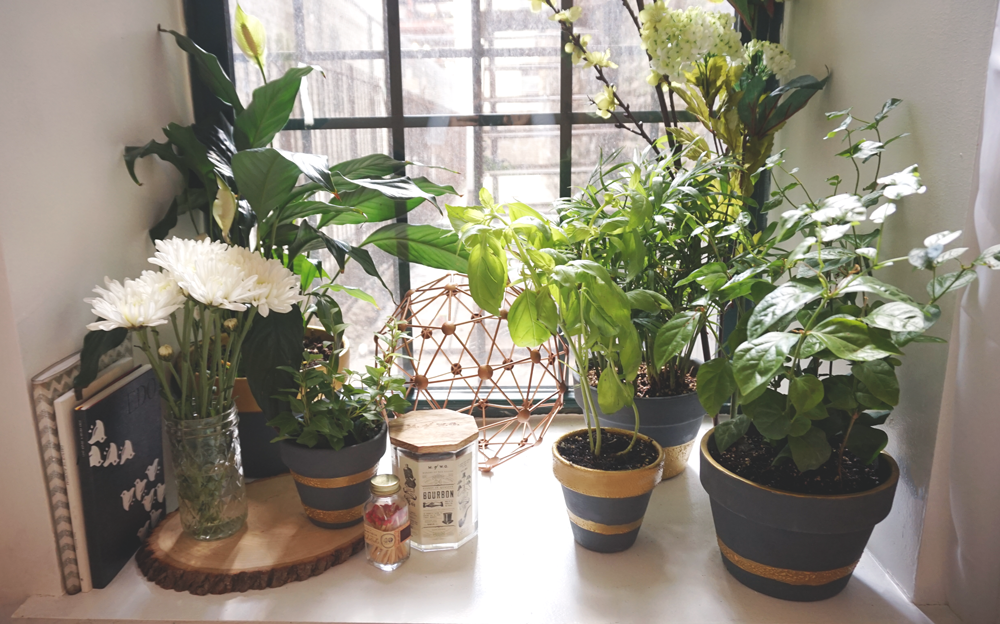 How sweet?! Anyway, plants and greenery really do liven up just about any sad dark corner. If you want something low maintenance, go for items you don't have to water that frequently, like succulents
and other hearty types of plants. If your home office space has a window, consider a sweet window garden box that you can keep in one spot. Or, if you like the flexibility that potted plants provide, than by all means grab a few of those! If you happen to work in a spot that doesn't get a ton of sunlight, beautiful faux flowers
will do the trick, and you can grab an interesting pot
to brighten up the space a bit more.
The process of maintaing productivity and focus while working from home isn't easy, and the dynamic is definitely not for everyone. But, if you take a few sensible and thoughtful steps to curate an organized and beautiful desk space for yourself, there's no reason why you can't master it. Good luck!


Image via Unsplash