Shopping Smart
3 Rules That Helped Me Quit The Guilty Pleasure That Was Costing Me Hundreds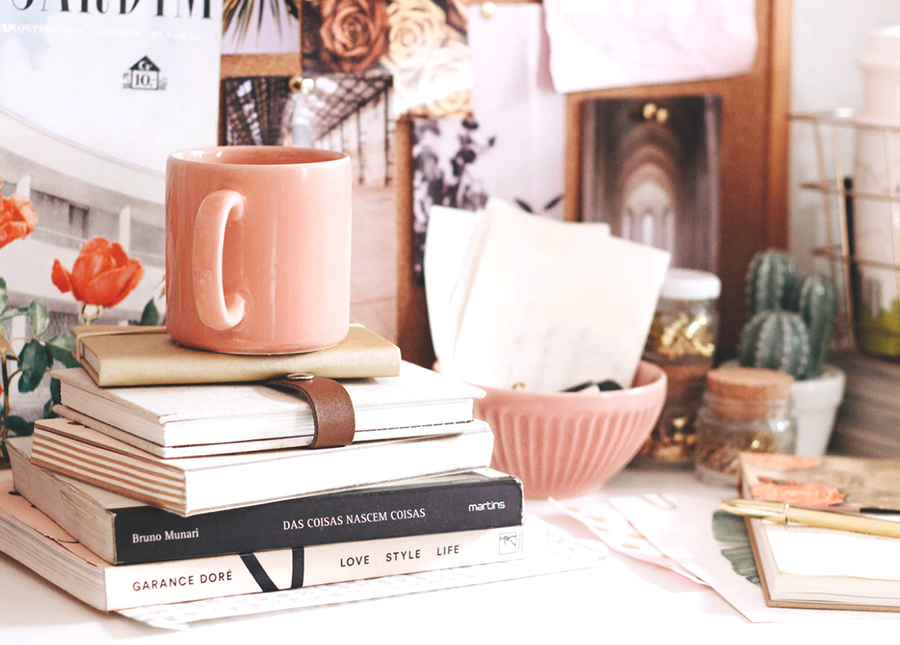 I'm a diehard stationery aficionado. It's a serious guilty pleasure. In the past, you could never bring me to the dollar section at Target because I was guaranteed to wreak havoc on my bank account. Back then, since I had no self-control, I always left with at least $30 worth of cute pens, decorative notebooks, and the like, which would later sit atop my work desk for months never to be used. Doesn't seem like much, but when you're doing frequently, it adds up. One time, I spent $100 on stationery in one Target visit. Yep, $100 — money I could've used for something else important, like food. Buying stationery just because it looked pretty was a bad habit of mine that went on for far too long. Wherever there was a section of colorful office supplies in a store, you'd bet I'd be there, perusing the offerings and agonizing over what to buy, despite having numerous blank notebooks at home collecting dust.
During a trip to Amsterdam my sophomore year of college, my friends purchased key chains with the funny Dutch sayings and postcards from the museums we visited as souvenirs, but I bought a host of things from a local stationery store. Those were my keepsakes from the trip. It wasn't planned, but when I spotted the shop while sightseeing, I had to go in. Upon entering, my eyes lit up with joy at the rows of beautifully designed folders, writing tools, diaries — you name it. It was my version of heaven. So like a kid in a candy shop, I kept adding things to my basket without much thought as to whether it had any use in my life or if it would make any difference to my productivity. Everything was just so aesthetically pleasing, I had to have it all.
I don't quite remember how much my bill came up in the end, but I do remember being a bit apprehensive while forking over my debit card to the cashier. And deep down inside, I was ashamed by how much I let my whims make me lose all sense of control.  
But even after the shame I felt from that reckless incident, I still couldn't quite kick my bad habit. I had to reach a low point before I changed my ways, which didn't come until I spent so much on stationery that I didn't have enough money left over for food one particular month. I was shopping for a Mother's Day present last year in the Soho neighborhood of New York when I came across a Paper Chase. It's one of my favorite stores for home decor, supplies, and other miscellaneous products. While looking around, I found a really sweet book filled with sentimental quotes about mother/daughter relationships. It also had some blank pages in the back where I could write down how much my mom meant to me. It honestly was the perfect gift, so I got it — and I would have left with just that and that alone, but since old habits die hard, I went and bought a $50 planner (despite having bought a brand-new one two weeks prior) and a host of other items with attractive designs. By the time I got home and reviewed my bank account, I was mortified. I essentially ate into the rest of food budget. 
From that point forward, I made a promise to myself that while I love stationery and probably always will, I couldn't continue spending recklessly on it. In order to stick to my word, I created three simple but easy-to-follow guidelines to ensure I never go overboard again:
1) I now set a budget for how much I can spend on stationery.
I'm not going to lie and say I never buy stationery anymore. That would be a…lie. But I do, however, create a budget for it and make a point not to go a penny over. As a result, I'm far more thoughtful about my purchases.
2) I only visit stationery stores with purpose.
Gone are the days where I go on spontaneous shopping trips. Now, I always shop with purpose (or at least, I keep my aimless shopping to a minimum). It's the only way I've been really able to control my impulse spending. Only when I truly need more pens or colored paper is when I will go out and buy some.
3) I have to use what I have at home before buying anything new.
This one is simple: I don't allow myself to buy another notebook if I have several at home that are completely blank. I don't have much space in my small NYC apartment, so I simply can't afford to hoard anything. Before I visit anywhere like Target or Paper Source, I always make a point to take stock of what I already have, so I don't try and trick myself into thinking I need something when I absolutely don't.
Do you have a guilty pleasure spending habit you've learned to control? I'd love to hear about it in the comments!
Shammara is the editorial assistant at The Financial Diet. When she's not copy-editing or writing about her financial woes, you can find her on Twitter sharing her thoughts on beauty and fashion trends and pop culture.
Image via Unsplash