Budget-Friendly Ways I Make A Shared Space Feel Like My Own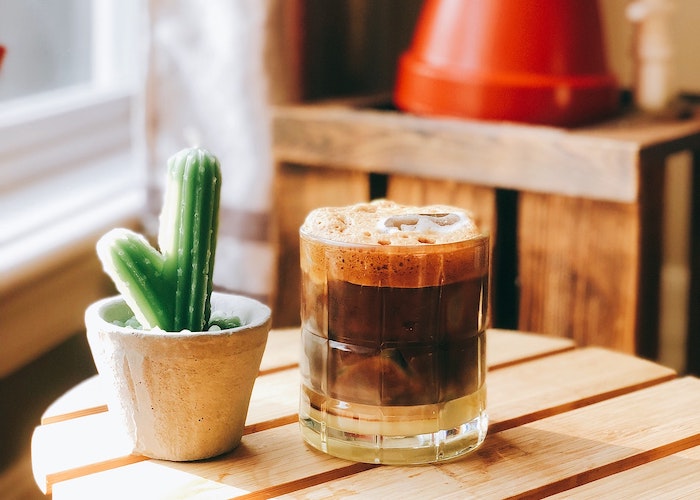 For myself and many others, settling down in a place that truly feels like your own can feel lightyears away. Whether you find yourself renting and moving constantly for work or sharing a place with a bunch of other roommates or, like me, having to move back in with family, you may not feel like the place you live actually feels like home. And not having a sense of home, especially right now, can be tough on your mental health. 
Even if the spaces you inhabit are temporary or shared, you can still make them feel personal. From my own experience, you can create a sense of home just about anywhere, and even on a budget. Here's how I've done it. 
1. Find a corner that's just for you.
Since moving in with my partner and his family recently, I've found this tip essential. I didn't want to impose my style and redecorate the entire space, so it helped me feel at ease to designate a little section for myself that I could style exactly as I wanted. In my case, this is a small bedside table and window ledge, but it could be a dressing table, desk, or even a corner of the bathroom. 
To me, home means comfort. So I organized my space with all the things that calm me after a bad day, relax me before bed or make for a leisurely morning. That means a book, water bottle, sleep mask, sleep spray, sleep balm (I like deep sleep, okay?) plus a framed drawing from a trip to Venice that always makes me smile. 
Think about what experiences make you feel secure, happy, and safe, and get what you need to recreate them. Maybe that's a thick, ceramic mug you can wrap your hands around as you curl up after a long day. Or a fresh scented candle. Or high-quality glassware perfect for wine nights with friends. These small and inexpensive touches can make your personalized space feel cozy and luxurious.
2. Opt for cheap, portable furnishings.
IKEA might not be the place for investing in dreamy statement furniture, but it's perfect for pieces you can pack up and move. I've dismantled and reassembled my Malm dresser in two university houses, as well in my current bedroom. 
But the best home purchases are those that don't cost a fortune and can easily be moved around as you do. For example, when I first moved in with my boyfriend, I spent $40 on a clothing rack to solve the problem of having too many coats to fit into his built-in wardrobe. Now, it's a piece we both love. Our rack isn't just practical, positioned next to the door so we can easily grab jackets on our way out, but it's literally free art –  especially as we own some clothing with cool prints and colors. It's even made me appreciate my clothes more as I'm constantly admiring them, and having people comment on how they add vibrancy to an otherwise plain room. Tip: invest in coordinating hangers (we chose dark wood to fit our room's industrial vibe). They will look SO much better than random, mismatched plastic from the depths of your closet.
Other examples of nice but cheap and portable pieces: a small ottoman, rugs or small carpets, cool light fixtures, or even something as simple as a laptop tray that allows you to work from the comfort of your bed.
3. Go for low-effort renovations.
Simple and quick fixes —  changing up artwork and swapping out the pictures in your frames — add personal touches to your space without making any permanent changes.
Get crafty with paint. It's a great, low-cost way to spruce up what you already have. Coordinate mismatched pieces to look more expensive, and stain your light wood furniture darker for a luxe aesthetic. In fact, regularly making small interior design tweaks to your space will help you keep falling in love with it again and again. 
4. Don't rush it.
There's nothing wrong with your space being a work in progress. I distinctly remember spending hours at University pushing furniture around and tacking posters to the wall rather than socializing with my new flatmates. I wasn't being antisocial, I just wanted to make my mark on my bland dorm room as quickly as possible. But, like Rome, a home isn't built in a day. It's really important to actually live in a space before making big, and expensive, decisions on how to decorate it. In other words, maybe the best thing you can do to make your temporary space feel more like home is to spend less time fixated on decor and more on making memories.
After all, home is a feeling, not a product.
Amy is a writer living in London. She hopes to do just about everything, including: see her name on the spine of a book, study for a Doctorate, and own twin golden retrievers. You can find her on Twitter and Instagram. 
Image via Pexels
Like this story? Follow The Financial Diet on Facebook, Instagram, and Twitter for daily tips and inspiration, and sign up for our email newsletter here.