4 Insider Hacks For Nabbing Secondhand Clothes That Look Brand New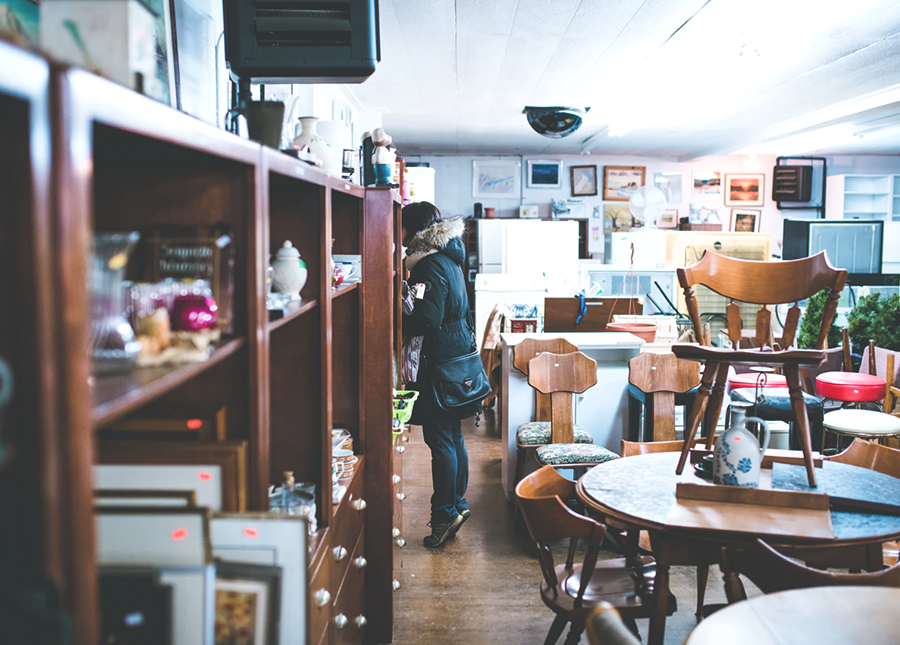 I was looking for new clothes ahead of my vacation, but I didn't want to spend a lot. So, instead of hitting the mall, I went by my local Salvation Army, which boasts weekly buy-one-get-one specials. I found a good-as-new cover-up, Michael Kors blouse, and vintage sundress that could easily pass for an Anthropologie original. Total spent: $10.
With deals like that, it's no wonder the $18 billion second-hand apparel industry is growing at a record clip. But given the volume of secondhand clothes at many stores and thrift shops, a tactical approach is key. Here's how to score the best stuff for the least money and effort.
1. Know where to look. 
Check the ends of racks and the return bins behind the counter, says Allison Engel, co-author of "ThriftStyle: The Ultimate Bargain Shopper's Guide to Smart Fashion. Often, the most eye-catching stuff ends up there after someone picks it up then opts at the last minute not to buy it.
Also, be aware that most thrift stores arrange inventory by size and color, so having a sense of the color, style, and type of clothes you're looking for before you go can help you narrow your search to a few racks. Engel also recommends seeking out thrift store outlets (Google ones in your area), which receive new inventory almost daily, for even better deals.
2. Don't buy it unless you love it as is. 
When you're surrounded by such deeply discounted offerings, the temptation to buy more or pick up something that's not quite perfect is high. What's another $5, right?
Longtime thrifter Hailley Griffis, a 25-year-old public relations manager in Colorado Springs, says she once bought a dress that was three sizes too big, figuring she could get it tailored. That ended up costing her far more than the dress itself. "Only get things tailored if you have the budget," she says, and if you love the item. Even $30 in purchases you don't need or won't wear is still overspending.
3. Don't judge a store by its neighborhood. 
According to Engel, most major thrift store chains try to distribute their inventory equally. In other words, the wealthiest neighborhoods aren't guaranteed to offer the best items, and vice versa. Once you do find a shop you like, sign up for its newsletter if it has one. "Thrift stores usually have lots of promotions, like half off one day or $3 for all children's clothes another day — so it pays to be in the know," says Engel.
4. Try to learn the item's history (especially online). 
Thanks to sites like thredUP, eBay, and Poshmark, second-hand shopping has gone digital. The key to finding great used duds online is to ask follow-up questions about items that pique your interest.
Jesse Ghiorzi, a 33-year-old brand strategist in Indianapolis, whose closet is at least 50% pre-owned, has a few go-to inquiries, like, "Is the item from a smoke-free house? Are you the original owner? Where did you wear it?" "A year-old pair of raw denim jeans that were worn to the office will be in better shape than a year-old pair that was worn during motorcycle rides, for example — so I'd pay more for them," he explains.
Poshmark even lets you narrow your search by items that have never been worn or still have tags. That's how Bianca De Rose, a 31-year-old publicist in San Jose, got a steal on a dress for a beach wedding. "I determined the sizing by reading reviews from the original online retailer," she says. "Not only was the dress half the price, but it was also something I could resell since I would likely not wear it again." Boom.
Read the original article on Grow. Copyright 2018. Follow Grow on Twitter.
More from Grow:
Image via Unsplash