4 Reasons To Embrace The Simple Joy Of Baking Through A Crisis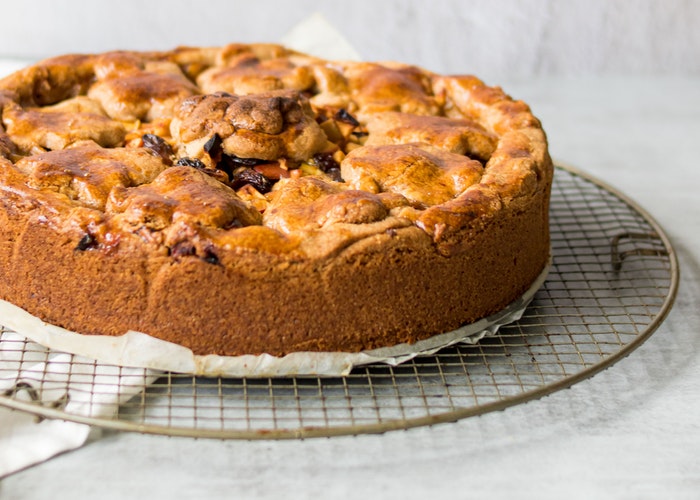 Recently, during a team meeting, we were all discussing ways we're coping with our new, socially distanced reality. We're all quite lucky, we realize — we still have our jobs and incomes, and we're showing up to work at 9 and clocking out at a normal hour, between 5 and 6. Even if it all happens virtually, we're able to maintain at least some sense of normalcy in what is definitively not a normal time. But there's a big difference between working from home under normal circumstances and working from home during a global pandemic. We're all trying to find the balance between letting ourselves feel our feelings and staying up to date with the latest news while also staying productive and continuing to grow as a company. 
Over the past few weeks, I've tried to convince myself that I'm going to use this forced time at home to broaden my horizons and finally do some of the personal-development things I always say I'm going to do. I've started many a Skillshare class before abandoning them due to lack of the right materials; I downloaded a "brain-training" app and did the recommended activities for about two days; I re-downloaded Duolingo for probably the dozenth time. The idea of these is a welcome distraction, and normally I'm a pretty self-motivated person. But right now, I can't seem to find my follow-through.
I've found, though, that my motivation does still exist for activities that were already a major part of my life pre-social distancing — namely reading, Pilates, and, of course, baking. I think this is the same reason my husband is so adamant about sticking to his usual routine: waking up, showering, making coffee, and taking his lunch break at the same time each workday. I feel more myself, more tethered to my "real" life, when I focus on the things that bring me joy under normal circumstances. My Instagram DMs with my best friend are the same as they always are, filled only with shared recipes and messages ranging from "we need to make this" to "ooOooOoooOo." 
Since social distancing started, I've been doing about one baking project a week — mostly simply favorites, but also a cake I'd been wanting to make for years (to great success, if I may!). It provides so much comfort to be able to make and eat things you really love, even (especially) if they are the kinds of things that would normally be reserved for special occasions. I'm hardly alone here — I've definitely noticed an uptick in friends and internet acquaintances sharing their home baking projects. But beyond that, I've seen so many different ways baking is making a difference in people's home-more-than-usual lives. I reached out to the greater TFD community to hear how others are using baking to get through this period. If you're looking for creative, interactive ways to turn baking into a helpful coping mechanism — or even a social activity — while social distancing, here's what they had to say:
It's an activity that eliminates the option to look at your phone.
"For me, the reason why I'm baking more right now is both practical and emotional. On the practical side, I actually have the TIME to do more involved baking like breads, because I'm not leaving the apartment for work or trying to schedule rises around weekend plans — since I'm going to be home no matter what anyway, it's easy to make a dough in the morning (without having to get up earlier to do so) and then let it rise while I go about my day. On the emotional side, baking requires my attention. I can't be on my phone reading the news while mixing cookie dough or shaping a loaf, so it almost becomes a meditative escape. I have to focus on what I'm making, not everything else, and focusing on something inherently productive like making something that I'll get to enjoy feels like a tiny way of reclaiming control over something in my life." – Jeni
It's a way to connect with other people (even if you can't be in the same room with them), and a way to make brighten up otherwise dull days.
"I started threads in a few Facebook groups asking people to post whatever weird, random ingredients they had lurking in their pantries so others could suggest ways to cook with them. It created so many friendly, supportive conversations and wonderful ideas! People are trying new recipes, new cuisines, you name it.
"My dad baked all the time when I was growing up, so the smell of yeast and the warmth of the oven is something I find very comforting. As I've gotten older, I've embraced more challenging and technical recipes, and it's been fun to share the minutia with my dad. There's also something comforting about providing for myself, knowing I can turn ingredients into a meal staple when ingredient availability is spotty. We celebrated my boyfriend's birthday at home, and being able to make him a great cake felt so good. Baking gave me the ability to make his birthday feel special even under weird circumstances." – Maggie
It's an opportunity to watch yourself improve a skill set, while also eating a wider variety.
"I love baking for a lot of reasons. 1) I've been doing it for long enough that I feel like I'm good at it, and it's surprising how good it feels to be good at something. 2) When I'm home a lot, I can try more complicated and time-intensive recipes. For example, I can make bread dough, go do work, knock it down and shape for a second prove, go do more work, throw it in the oven, and go do more work. At the end, I have both done work and achieved bread! 3) Baking is something that is visceral and tangible. It is an endeavor that you can get better at, but also can have pretty quick returns (spending 30 mins making cookies, or even a day making a complicated bread, has a very high satisfaction-to-effort ratio). Plus, it's not that expensive and can make delicious, more-nutritious-than-from-the-store things.
"Since being home, I've ventured out into stuffed breads like baozi and babka. I don't tend towards cake because it's too sweet for me and I don't want to eat an entire cake by myself. Stuffed breads are great because you can make leftovers go further by adding them to a bread! It's like adding them to rice or pasta, but adds variation." – Maddy
It helps you feel more connected and human. 
"I'm mostly enjoying baking different sourdough treats, ranging from simple crackers to baguettes. I've also been taking the time to do more time-intensive and complicated versions of recipes, like brownies, that involves many different steps (and bowls/pans to wash) versus my go-to one bowl recipes that I would typically bust out. Reframing being stuck at home as an opportunity to do things I would usually rush through has been helpful for me. In that vein, I've found that baking has given me a productive and time-consuming way to spend my day. I find it very hard to not stare at screens all day spiraling in the negative news vortex, and having my hands covered in dough makes it very hard to check my phone over and over again. Some other reasons I've taken to baking more is because it gives me a reason to interact with others by sending photos, talking about recipes, and even teaching people how to make sourdough now that people have the time to do it. I'm currently dehydrating some of my starter and mailing it to friends and family that can't find yeast in stores anymore. That aspect makes me feel like I'm doing something helpful for loved ones, even if I can't be there physically.
"I'm also not sure if this makes sense, but there's also something very soothing about doing something that generations before you have done. Sort of a "previous generations have gone through worse and made it through, so can I' mentality. At its core, bread is just three ingredients, filling, cheap, and something that humans have done for millennia." – Ana
Image via Pexels
Like this story? Follow The Financial Diet on Facebook, Instagram, and Twitter for daily tips and inspiration, and sign up for our email newsletter here.