4 Refashion Style Hacks To Refresh Your Wardrobe (Even If You're Terrible At DIY)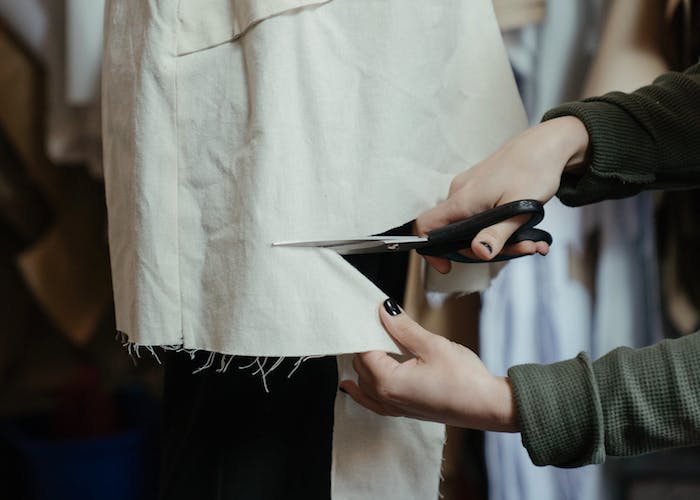 We all tire of our wardrobes sometimes. But buying new clothes can be expensive, and fast fashion contributes to pollution and labor exploitation overseas. Not to mention that most of us don't have a reason to buy new clothes right now, considering that both office work and social outings are on hold for most people. Yet, there's something to say about the rush that comes with putting on a new outfit, and little joys are even more important than usual these days.
Enter: Your DIY wardrobe makeover! Here's how to jazz up the clothes you already have, and how to acquire some new ones for free.
1. Adventures In Tie-Dye
You may have memories of tie-dying in your yard as a kid, perhaps nearby a blow-up pool while holding a popsicle, nonetheless. But have you revisited this tried-and-true crafting technique in recent years? For a guaranteed trip down memory lane, consider tie-dying a white t-shirt, sweater, socks, mask, or anything else you might have lying around your house.
A tie-dye kit can be as cheap as about $20, and go up to $30-$40 for a kit with more colors. Even if you go for the less varied option, there's still so much you can do to create a good mixture of styles from a single kit. Check out my tips, tricks, and techniques below!
General tips:
If you're dying something that's new, wash it beforehand. This helps the dyes stick better to the fabric!
Wet your clothes prior to starting the process, in order to let the colors bleed.
Use gloves to keep your hands protected and dye-free.
Don't worry about it being perfect – the messy folds tend to yield the most unique results.
View this post on Instagram
Techniques
Spiral
If you're looking for a truly classic 60s vibe, this technique is for you.
Begin with your item flat on a surface. Then, start twisting at the center. Using your other hand as a guide, push the shirt around to create spiral folds. Next, use rubber bands to hold the shape, before dying with an applicator bottle. It should look similar to a cinnamon roll once it's ready to dye!
Ombre
Ombre tie-dye is created by carefully blending one color into the next, for a more natural transition of colors. This method is used to achieve a bright, yet more subtle, look.
The technique is pretty simple. Begin by pouring some of your desired colors at the top of the clothing item. Next, using a large paintbrush, you'll want to brush the color downwards, adding water and dye as needed. You can blend two colors together, or just use water to create a monochromatic look.
Bleach Dye
If you're looking to not buy anything at all, and maybe you don't have any white clothes at home, check out bleach tie-dye. Using just regular household bleach (that you likely already own), this technique is super funky, and the look it creates varies depending on the color of fabric you use.
2. Get Crafty With Scissors
A simple approach made popular today with vintage shops selling repurposed Levi's jeans and cropped graphic tees, you can easily craft a new look using scissors. Here are some ideas:
View this post on Instagram
Cut your jeans into shorts or capri pants: While hemming is definitely a great option, the raw edge of a pant is a look in itself. Pull at the hanging strings (after cutting but before washing) for a frayed style that doesn't involve sewing.
Snip the bottom of your baggy shirt to make a comfy crop-top: You can easily crop just about any cotton t-shirt or sweatshirt. For a straight line, lay the shirt out on a table and smooth it out before cutting.
Rip holes and tears into well-worn pants and jackets: There are various ways to go about this, from using an X-Acto knife to a pumice stone, depending on the look you want to create. This article shows a simple step-by-step!
Turn your old t-shirt into a face mask: What better way to get rid of an old shirt than to just repurpose it? We could all use an endless supply of masks these days, too. This tutorial includes a no-sew method for making a mask.
*Disclaimer: Take it slow when using the scissors. You can always cut more if needed.
3. A Splash Of Color
View this post on Instagram
If you're a fan of the 20th-century abstract artist Jackson Pollock, you probably already know the wonders of splatter painting. A totally accessible art form, splatter painting involves splashing paint onto a canvas (or in this case, clothing) until your heart's content. For results that won't wash out, use acrylic paint. This can be done with a variety of colors, or perhaps just white for a simpler look. Here's some inspiration!
If you aren't into the splatter paint aesthetic, you could also try actually painting your clothes as if they were a canvas. In the past, I've used fabric paint to make a daisy pattern on the pockets of overalls. Denim works well for this trick in particular. See below for another example.
4. Swap 'Til You Drop
I'm lucky enough to live with roommates who wear a similar size to me, and who let me borrow their clothes whenever I want. Lending and borrowing clothes from your roommates – or partner – is a great way to get that new outfit feeling without buying anything. We share shirts, jackets and accessories pretty often. These are things that don't need to fit perfectly to look great!
If you don't have this option, consider reaching out to friends for swapping potential. Before COVID-19, my pals and I would organize clothing swaps where we all brought things we no longer wore, and usually got something "new" in return. But with group gatherings currently putting our health at risk, we created an Instagram account for the same purpose where we post things we no longer want, either selling them to each other cheaply or swapping them within the friend group (from a distance, of course). For example, I've traded an old skirt that I no longer liked for a cool vintage sweater I now wear all of the time. My friends and I all have a pretty similar style, but we don't wear everything in our wardrobe. This is a great way to empty out our closets and get new clothes at no cost!
Ashley is a freelance writer and on-going contributor at TFD based in Toronto. An avid traveler, she recently returned home to Canada after two years living abroad in Vietnam and Japan. She loves to read, try new things in the kitchen and get outside. You can learn more about her work here and can follow her adventures on Instagram @ashley_corb.
Image via Pexel
Like this story? Follow The Financial Diet on Facebook, Instagram, and Twitter for daily tips and inspiration, and sign up for our email newsletter here.