4 Rules For Building A Creative Career I Didn't Learn In School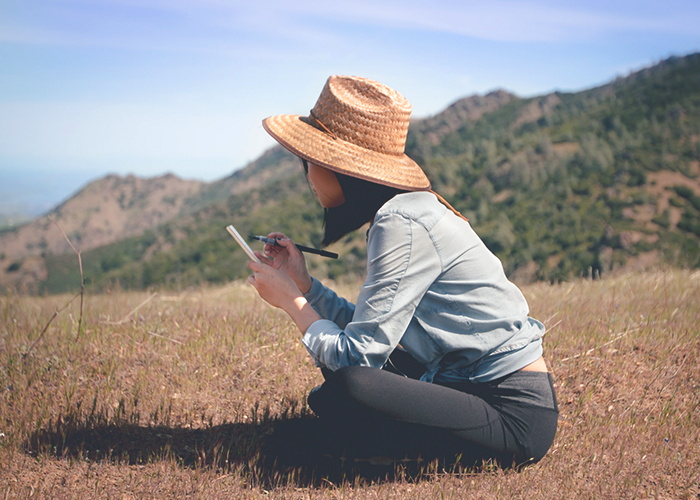 Before I even applied to college, I knew I wanted to be a writer. My parents understood this, and were incredibly supportive of my dreams and my eventual decision to major in English and Creative Writing. It made perfect sense to me, considering the fact that I couldn't make it through one measly journalism class — but I soon I realized that my career path was less obvious than I thought.
Every time I mentioned studying English, someone asked, "What do you even do with an English major?"
"What" indeed. As my college advisor explained, students may study Accounting and become accountants, but no one studies English and becomes an "Englisher." The liberal arts are off-putting because there is not a clear-cut career path; instead, there are dozens of career paths.
Even though I knew what I wanted to do with my life, I was prepared to find a 9-5 — or at least, some stable form of income before I started writing full-time. As much as I would love to just sit at home and write the Great American Novel
, a girl's gotta eat. I've learned a lot about job hunting in the past three years, and as a result, I've learned more about establishing my own writing career. Here are the four biggest lessons I've taken to heart as I balance the desk job/wordsmith life.
1. Don't limit yourself to job boards. Between graduating college, working jobs unrelated to my field, and moving to a new city, I have spent a lot of time perusing job boards. I usually applied to multiple jobs at once, so websites like Indeed or Monster were relatively efficient — but eventually, I would start to see the same job posts over and over again (and I'm pretty sure I applied to some jobs twice). After conducting some highly scientific research via Google, I learned that not all jobs are traditionally listed; for instance, there are hundreds of jobs posted on social media, and many freelancers have found success by sending cold e-mails to potential clients. Facebook groups and Twitter hashtags like #writerswanted are especially useful if you are looking for a website or journal to submit your work.
2. Embrace the side hustle. When I was working part-time, my days off were precious; in other words, they were my designated job hunting/side hustle days. In an effort to avoid yet another customer service or retail job, I entered the world of remote, online-based employment. Through advice on websites like TFD, I've discovered plenty of opportunities — including writing jobs that I can add to my portfolio. Upwork is my go-to source for quick freelance gigs, while online tutoring with Brainfuse is a great source of extra income. These jobs aren't sufficient on their own, but they are incredibly flexible and have helped me build a financial safety net. (The ability to work in my pajamas doesn't hurt, either.)
3. If you want to be a writer, you have to write. Thanks to the Internet, writers are living in a world where we can create our own opportunities. Blogs and portfolios are often free to create, and there are thousands of online publications asking for submissions. Of course, exposure doesn't pay the bills, but an online portfolio or blog can go a long way — especially if you are applying for jobs that require writing samples. A few months ago, I applied for a content writer position and provided writing samples from my personal blog.
While I am extremely proud of myself for maintaining a blog, I consider it to be more of a journal
than a professional endeavor. I spent the following week wondering if my blog made me look unprofessional, and vowed to never show a potential employer my website ever again. But it proved to be worth the risk: I was invited to an interview, and they mentioned my blog and liked my writing style. Even though I didn't get the job, their feedback did wonders for my confidence. Don't be afraid to do the work and show it off.
4. Reach out. As an introvert, the very thought of networking makes me cringe. After years of convincing myself that networking is an evil, inauthentic excuse for human interaction, I have finally picked up a few effective strategies…none of which involve awkward coffee dates. To ease out of my comfort zone, I started asking family and friends if they knew anyone who needed writing or editing services. After I established my ~fancy~ freelance status, I began adding more connections on LinkedIn — yes, even strangers. The Internet has some very strong opinions about LinkedIn networking, but I've found that a quick message to say, Hi, I noticed we are in the same field and I wanted to connect! usually does the trick. Most people are happy to share advice or job opportunities, which makes this networking thing a whole lot easier.
Whatever job you eventually accept, it is certainly possible to make a living while pursuing your creative goals — good things just take time.
Katie Gilgour is a writer based in Atlanta, GA. Find her on Twitter and Instagram @katielilybeth, or on her blog at katielilybeth.com.
Image via Pexels