4 Rules To Ensure The Secondhand Clothes You Buy Online Fit Your Wardrobe (& Your Wallet)
We're now well into 2020 and we know that fast fashion is bad for our wallets, our earth, and most importantly, the working conditions of those tasked with creating that fashion. If the practices of fast fashion are new to you, the documentary The True Cost (2015) is a good introduction to the extensive harm it does to workers and the earth. In short, not only does the constant production of clothes devastate the earth of its resources, but very often, the people making those clothes are working in unsafe conditions and are paid an extremely low wage. Then, after a couple of seasons of wear, the clothes fall apart or are no longer in style. Clothing remains, however, not just a necessity, but also an important means of expressing oneself for many people – myself included! 
This raises the difficult question: How can we buy clothes without perpetuating practices that are utterly unsustainable? Many organizations, apps, and new brands have popped up with the intent to bring the perils of fast fashion to light and offer an alternative. Sometimes that means buying clothes secondhand, other times it means significant vetting of a retailer's production practices – or "ethical" shopping. 
A lot of these companies only exist online, though, an inherent inconvenience for clothes shopping. So how can shoppers find success without being able to try things on first? Below are my tried and true tips for finding secondhand, or ethical, clothes online – so that your clothes can finally match your conscience. 
1. Know your measurements.
Ann Taylor Loft Jumpsuit, $48 (originally $159)          H & M Blouse, $10 (originally $25) 
Sites like Poshmark, The Real Real, or ThredUp (my go-to for secondhand shopping) ask for your sizes when you first visit. Since they have so many items (and usually just one of each), the easiest way to narrow down options is by size. That said, they also have to navigate every brand's different way of sizing clothes. With that in mind, I've put in a range of sizes. Then when I find something I like, like a sweater, I check the waist measurement! No matter what the brand says the size is, ThredUp will provide the measurements for the garment, and if I know my waist size, I know almost certainly whether it will fit me.
Using this tip has saved me a lot of money on returns, and I've found some great pieces – including the ones featured, with their pricing, above!
Knowing your measurements is especially helpful for secondhand shopping, but it's also helpful for online shopping in general. The more you can understand a garment's dimensions, the better!
 2. Know what you want (and what you don't want)
Madewell Jeans, $22 (originally $130) 
This is equally as important to knowing your measurements. Especially when shopping secondhand, there can be such a wide variety of options that once you start looking it gets overwhelming. Part of why sites like ThredUp or Poshmark are successful is that they provide many filters – and you can save searches! Hate paisley? Filter out paisley! Not a fan of ankle-length pants? Take 'em out!  
You may go into your search thinking "I don't know, I just want jeans!" But the more you filter out all the options you obviously won't be interested in – the more fun it'll be to sift through your options.  
To find the jeans featured above, I created a saved search with the following filters: My waist size, brand: Madewell, rise: mid, pant cut: skinny OR straight, condition: gently used OR like-new.
Having all of these filters meant that I went from seeing hundreds of results to dozens. In most instances, you probably won't need that many limiting filters. No matter what, though, it'll make it easier to find what you're looking for. 
3. Keep tabs on brands' labor & environmental practices
At this point, there are many different companies, organizations, and apps designed to let you know how retailers are making an effort, or not, to be more ethical or environmentally friendly. Below are just a couple that I've found useful!
– Good on You: A website and app that provides a directory of ratings for retailers based on a variety of factors: People, Planet, Animals, and Information Sources. You tell the app what your priorities are, and they tell you retailers that match those values!
 – The Good Trade: This site addresses not just fashion, but beauty, home, self, etc.! Their focus is more on environmental sustainability than labor ethics, but nonetheless they have an incredible bank of content to help you become a more intentional shopper.
– Thoughtful – Only founded this past June, Thoughtful is a nonprofit that seeks to promote Black-owned businesses, and has already built an impressive platform promoting brands and educating on the importance of where you choose to spend your money.  
4. When shopping new, expect a higher price tag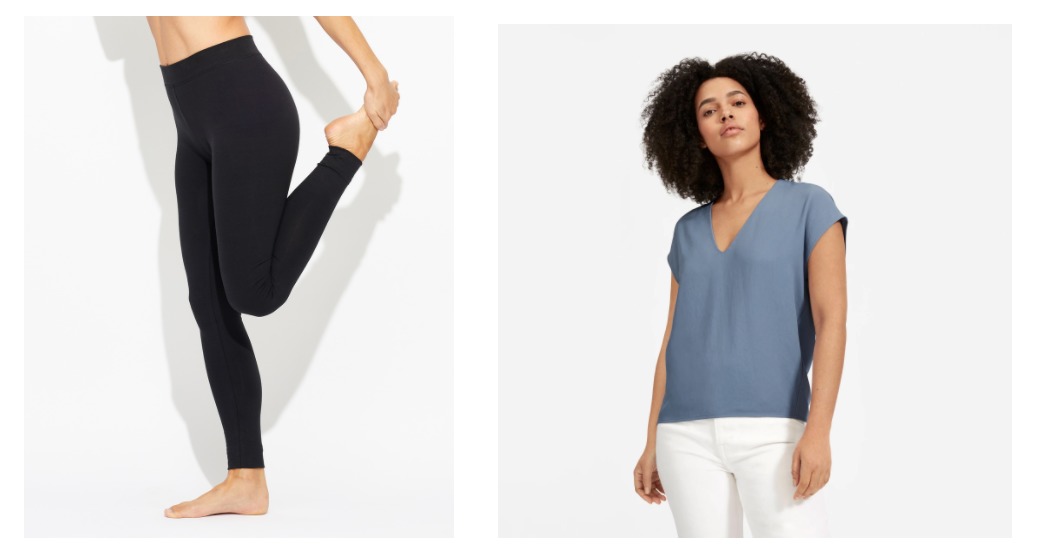 Wearpact's Go-To Legging, $35     Everlane's GoWeave V-Neck Tee – Choose what you pay 
Fast fashion is successful because of its convenience. Every item is made by the thousands, comes in a variety of colors, and can be shipped from across the world. The cost of doing so is inflicted on the workers tasked with making those clothes, and on the environment for the number of resources needed to produce and transport so much clothing.
In order for retailers to change that, the cost of production becomes more expensive, and thus, so do the clothes. This brings up an important point about how income inequality affects a person's ability to shop new & ethically. As The True Cost explains so well, the current economy is not structured for the average consumer to pay $60+ for a shirt, or over $100 for jeans. Shopping secondhand is an affordable option for some, but a necessity for others. Paying for new, more sustainably sourced clothes, can easily become inaccessible to those that aren't earning a high income. 
Hope is not lost though – retailers like Wearpact and Everlane are just two brands determined to be considerate of the fact that in order for fashion to really change, it has to be available for everyone.  
***** 
At a time when people are shopping online even more, and reconsidering what companies they want to give their hard-earned money to, shopping sustainably is the clear way forward. It's important, it's complicated, and this is just the beginning! There are many factors that go into whether shopping practices are "ethical" or "sustainable," but I hope that these tips offer a way to explore and find your own balance. 
Image via Pexels
Like this story? Follow The Financial Diet on Facebook, Instagram, and Twitter for daily tips and inspiration, and sign up for our email newsletter here.