4 Unexpected Things My 30-Day Cooking Challenge Taught Me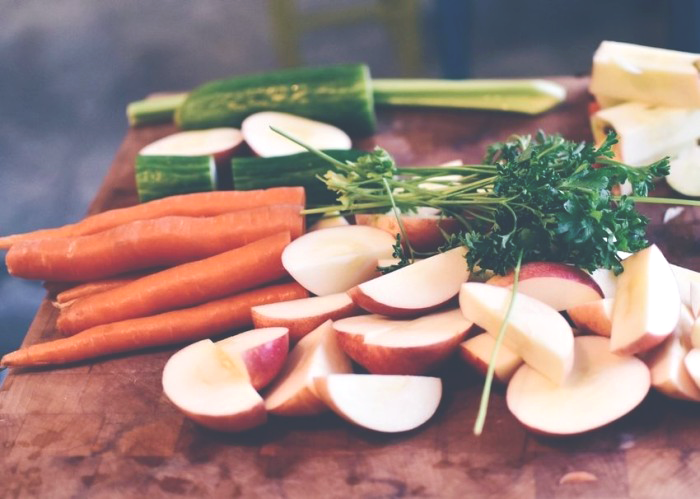 Around mid-December 2015, I decided to start limiting the times I allowed myself to order in or go out for lunches and dinners. It seemed like something that would be tough because it was around the holidays, but it didn't start out as bad as I thought it would. My roommate and I actually kept things low-key for the holidays. My roommate cooked a chili dinner for Christmas and we stayed in for New Year's Eve. We avoided the usual tendency to book dinner reservations with friends or go out for drinks during the holidays. January was when the real test started, and when I decided to go 30 days straight without eating at a restaurant. Eating at home for an entire month was not a 2016 resolution, it was just something I wanted to see if I could stick to.
My friends and I like to "wine and dine," not only because we have the disposable income to do so frequently, but also because we appreciate the time we spend together over a fancy meal. But mostly, it's about the good food. I've had this lifestyle since before becoming financially independent because I had my parents' financial support throughout my studies. I'm now very much financially independent and can afford nice meals out, but I've noticed that the frequency of ordering in and dining out has become a bit excessive. I wanted to try to set some limitations to save money and avoid unhealthy eating, of course, but also simply to see how the experiment would go. Would I give in and go out for a nice dinner at an expensive steakhouse? Would I make excuses for myself to let my challenge go? Or could I actually control my tendencies for over four weeks? Here are four crucial lessons I learned when I stopped eating out for 30 days:
It pushed me to say "no."
When you try to do something that your friends are not also doing, it's difficult to stay motivated and succeed, especially when it comes to lifestyle-related changes. When it comes to eating out, I preferred to reject offers completely, rather than going out to a restaurant, not ordering anything, and torturing myself. Saying "no" was hard, though. Your friends will ask and try to convince you to come out, and when you decline an offer, you have to explain why. Then they try to convince you anyway, and you have to put your foot down. My roommate and I typically like to enjoy some "cheat meals" over the weekend, so I had to explain what I was trying to accomplish when she would ask to grab a bite to eat.
It forced me to become a better cook.
I'm not saying I'm Top Chef material, but I definitely feel more at ease putting something together and serving it to someone else now. I was never one to cook anything besides the basics, like eggs, pasta, or burning some rice for myself. I've been able to experiment with cooking meat in different ways and have started trying different combinations. Forcing myself to cook also helped me get creative in the kitchen. I would look up quick meal ideas during the day, and then simplify or substitute ingredients based on ingredients I had at home.
I learned how to make my challenge fun.
It's easy to be lazy and give up. One of the things that helped me stay motivated for a full month was the fact that my S.O. joined me for most of my meals. He was completely on board with my 30-day endeavor. Most of our date nights require eating out, so it was an adjustment to cut back. We don't live together and sometimes don't see each other for a period of three or four days, so going out to eat was always something we did when we would meet up. Between the both of us, whether one of us pays the whole bill or we split it, we've spent quite a large amount of funds on meals. I told him though, for this month, he would need to come over to my apartment more often to help me stick to my cooking regiment. The fact that he was over for dinner most of the time gave me a reason to actually cook, rather than picking up takeout on the way home from work, or ordering in for myself. We would play some music while cooking together, catching up on our day, and teaching each other a few cooking techniques from our own cultures (he is Nigerian and I am Haitian). Plus, I enjoyed setting the table, lighting a candle, and creating a comfortable ambiance in our own setting.
I saved money (duh).
For the purpose of this article, I took a look at all the transactions on my debit and credit cards that were related to eating out in the month of November 2015, because that was the last full month before I challenged myself to eat out less. I spent a total amount of 1,250.8 AED ($340) in November on eating out, and that total excludes cash I spent at restaurants. My grocery shopping expenses for November 2015 were about 429.15 AED ($117). I am good at eating breakfast and lunch at home, so it was worth it to spend money on those groceries. But the problem I face with grocery shopping is that I would buy stuff to cook for dinner, but then have dinner out anyway. So, I would end up with leftover groceries that would sometimes go bad, which is something I really wanted to remedy.
If I compare November to my expenses in January 2016, I've spent 0 AED ($0) on eating out and 622.15 AED ($169.50) on grocery shopping. The difference between expenses in November 2015 and January 2016 was 1250.8 AED ($340) on eating out and 193 AED ($52) on grocery shopping. Yes, my grocery shopping increased in January, but only by a small amount, and I spent no money eating out. Nothing. Nada. You do the math. The 1250 AED ($340) I saved is more than half of my monthly car loan payment. It is more than my monthly utility bills. Looking at the numbers, I think about how much money I spend in one calendar year on eating out, and it automatically motivates me to try and reduce this as much as possible.
I'm happy that I was able to get through the month of January with this experiment and see the difference in my lifestyle and my finances. I wouldn't say I am going to restrict myself from eating out forever because, to me, that's unreasonable. I still want to go out to nice restaurants, I still want to hang out with my friends, and I still want to enjoy a nice drink on a Friday evening after work. But I now know that I can discipline my habits, especially when it comes to ordering in. My goal moving forward is to order in less, and only dine out on weekends (but not every weekend). That way, I will have a balance between satisfying my social and culinary needs, and feeling better about managing my personal finances.
Claudia, currently living in Dubai, UAE, is a native of Haiti. Growing up in a third-world country has fueled Claudia's passion for culture, international experiences, and global issues. She is on Instagram.
Image via Unsplash