5 Creative Female Entrepreneurs On How They Made It Big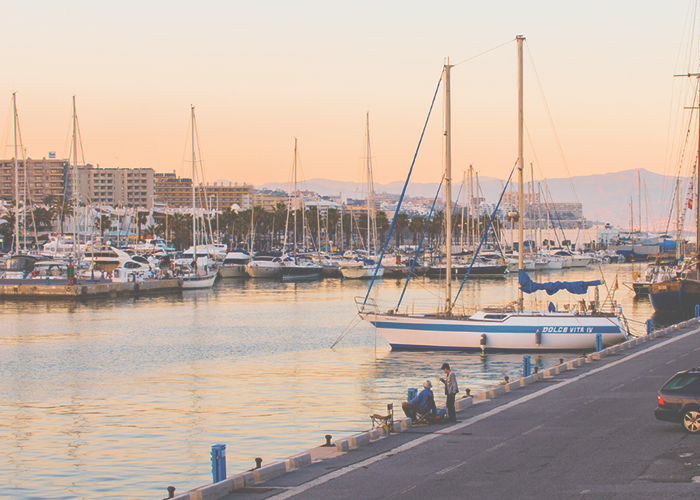 As a designer, I'm always looking around at badass creative ladies in the industry as inspiration for my career trajectory. I admire these women for their passion, drive, resourcefulness, and business savvy skills. For a long time, I thought of myself as strictly a designer. I was "in my own way," so to speak, because I was limiting myself to the skills and work I always thought I was capable of — nothing more. When you spend eight hours typesetting a brochure, obsess over adjusting the colors in a picture of a salad, or scroll (for what seems like days) through font libraries trying to find just the right serif font for your headline, it can feel isolating. It can be hard to imagine yourself having enough skills to succeed in the "business-side" of being a creative if you've grown accustomed to thinking of yourself as a strict "creative." Obviously, I've realized the inherent problem with this mentality — everyone has to sell themselves and their work/vision. It's not enough to simply be talented. If you cannot communicate your worth or the value of what you do, you can't expect people to do it for you.
Over the last year and a half working at TFD, I've discovered a whole new side of myself. It's been incredible to be put in situations where I've had to take on a more "business-oriented" role, and I have to say, it feels deeply satisfying. At my old job, I was sheltered by a thick layer of upper and senior management who would take care of all the business "dirty work," and I rarely saw the other half of running a business. I had the blessing and curse of only having to focus on the design aspect. Nowadays, I've grown to enjoy helping to sell our work, vision, and creative projects, as well as executing them. I used to feel very stressed about meeting/seeing clients, and I felt unsure of myself when it came time to really sell anything. Now, I feel that it is essential to diversify one's skill set, so they can tackle multiple roles and responsibilities with ease.
With that being said, I'm very moved by stories of creative individuals who went on to do something bigger than just design. Women like Jessica Hische, Lauren Hom, and Anna Bond (to name a few) went on to build their own businesses and take on dual roles of designers and business leaders. (That being said, every freelancer can most likely identify with this kind of working set up.) Below, I've rounded up five stories of lady entrepreneurs whom I admire, who have gone on to build or co-fund successful companies of their own. Take a look!
Jessica Hische: To Make Awesome Stuff, You Have to Love to Learn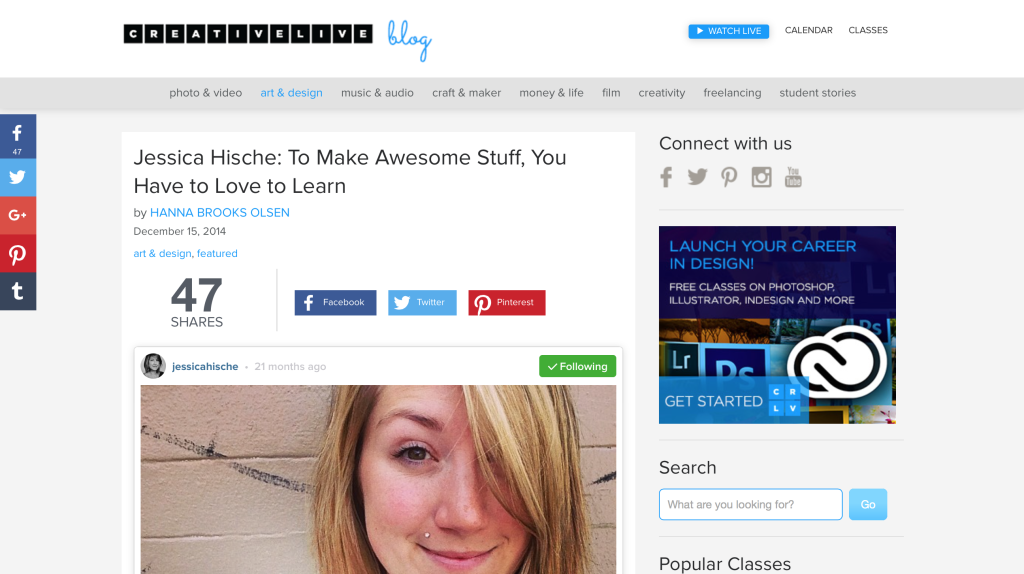 Jessica Hische, a letterer, type designer, and illustrator, is one insanely talented gal. I've followed her work ever since my first days at college, where I was introduced to her pixel-perfect fonts, illustrations, typographic artwork, and whimsically-art directed posters. I've always admired her expertise, meticulousness, and precise technical skills and aspired to replicate those qualities in my own work. She co-founded Title Case Studio out in California with fellow designer Erik Marinovich. They produce beautiful work, and have had enormous success. What I love most about Jessica as a designer, teacher, and thought leader, is that she is always sharing her knowledge, and what she's learned in the industry. My personal favorite writing samples of hers are The Dark Art Of Pricing, Inspiration vs. Imitation, and Non-creepy Networking: Party Etiquette.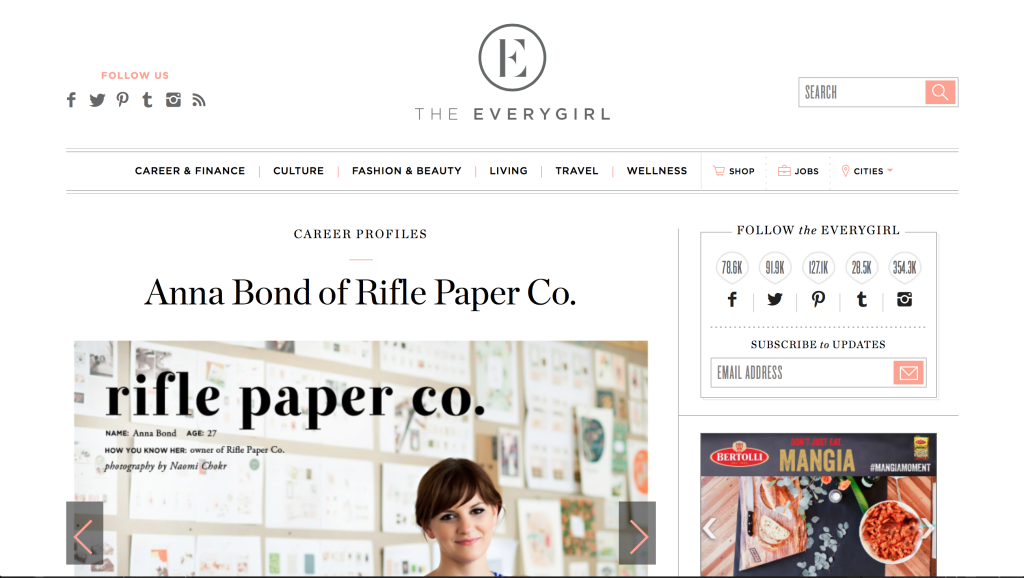 Anna Bond, queen of illustration and co-founder of Rifle Paper Co. one of, if not THE most successful stationary companies. Anna is an inspiration, and I've read countless articles about her design process and how she started her business. She launched Rifle Paper Co. out of her garage back in 2009 and the company has experienced explosive growth since then. They now employ nearly 100 individuals, and they have been listed on Forbes 30 Under 30 and INC.'s Fastest Growing Companies. I love their work, and I admire the fact that Anna is still the sole illustrator on all of their products. SO BADASS.
Start-up Success Stories: Alexa Andrzejewski of Foodspotting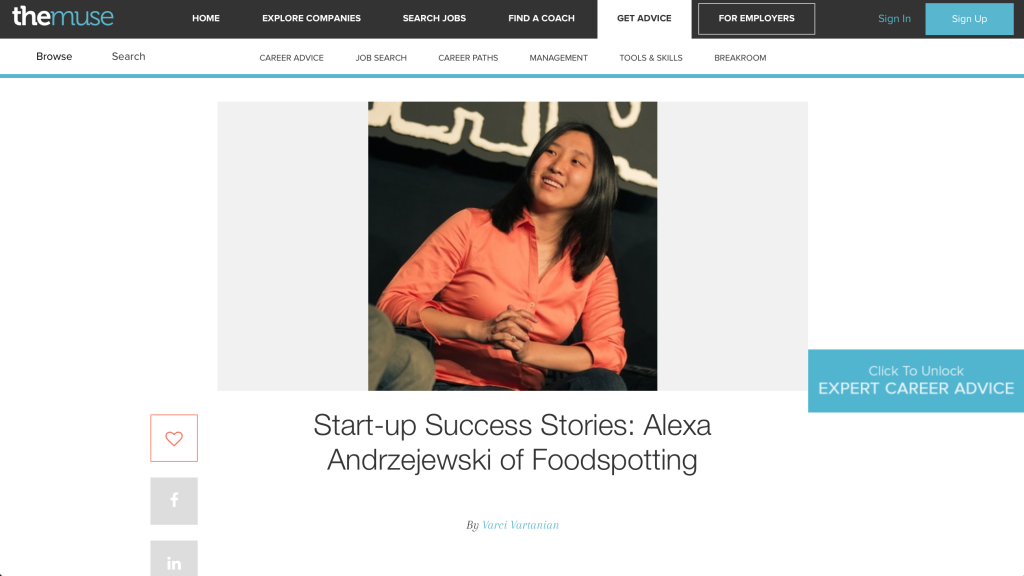 While Alexa Andrezejewski is not a designer herself, she did found a creative company back in 2009 called Foodspotting, a visual guide to food. The Muse explains the way the site works writing, "You type in your city and what you want to eat (in our case it's often "donut" or "pork") and a photo will pop up of the actual sweet, salty, or savory dish you're after—and exactly where you can find it." I've used this site dozens of times, and the concept behind it is simple, useful, and hella creative. The company has seen explosive growth, and I admire the way that Alexa's tenacity and business savvy skills helped her grow something so simple yet so visionary.
Project Girl Crush: Kate Harmer of Hum Design Studio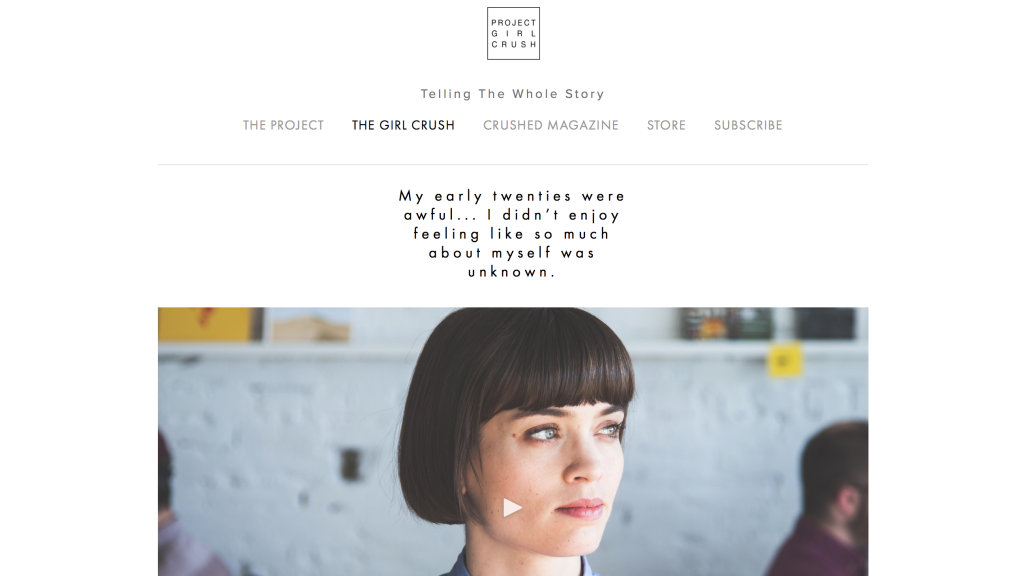 I discovered Hum Creative (established in 2005) roughly two years ago, and became enamored with their work from the get go. The studio has an incredibly fresh design sensibility, they produce stunning work, and give off friendly and quirky vibes. The studio was founded by creative powerhouse Kate Harmer who "has a knack for identifying and fostering creative individuals." What I respect about her is her ability to think big and transcend her traditional role as a designer and illustration. In an interview she gave on Carpe Juvenis, where she talks about getting Hum Creative off the ground, she says, "When I first started the company I was doing a bit of everything – designing, sweeping floors, and writing invoices. Now my role is to think about this entire company as a design project. I am responsible for our overall strategy and goals, getting the best team of people together, and directing the creative process. I also play on our kickball team." Go Kate!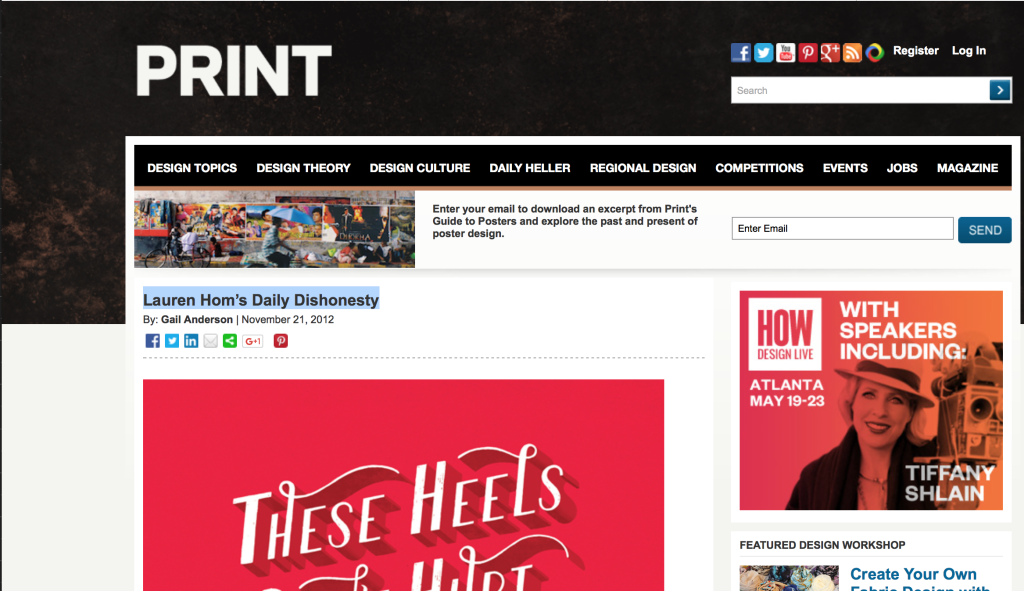 Lauren Hom is perhaps one of my favorite examples of a creative individual who took her design skills and made a business for herself. She began the hand-lettered Daily Dishonesty series back in 2012, and it quickly grew in popularity and notoriety. Soon after her success, she turned the project into an illustrated published book of the same name. She now sells her hand-written "dishonesties" on mugs, t-shirts, posters, prints, etc. It's an example of someone who dreamed big and had a vision for where their skills could take them. Lauren filled a niche that hadn't been occupied, and did a marvelous job combining her lettering skills with her copywriting sensibility. Her work now appears on an extended product line, and she's continuing to move forward and push boundaries with her warm, engaging, and funny design work. I respect her immensely as a designer-businesswoman hybrid, and I am excited to see where she goes!
Check out the websites below for more stories about women, business, and what it looks like to be an entrepreneur.
Image via Pexels