5 Swaps I Used To Ditch My Leggings & Build an Adult Wardrobe I Love (Without Sacrificing Comfort!)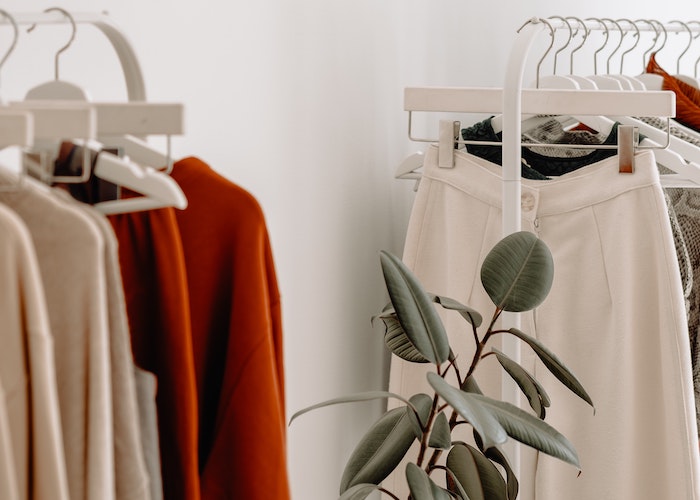 As a woman with a little meat on her legs and thighs, I never needed an excuse to wear leggings. On a cozy scale of 1-10, I find them sinfully satisfying, conveniently deceiving and honestly, pretty damn affordable (hello, they stretch and adjust to my yo-yoing weight.)
However, once I did have an excuse to wear leggings all the time, they sort of lost their prestige. I used to love opting for leggings after work, then they became my work clothing of choice for my WFH outfits. I used to enjoy the occassional dressy outfit for parties, but when Zoom parties became a thing, I wore my leggings instead (paired with a blouse, but still). When it was time to start adding real clothes back into my wardrobe, I found everything annoyingly restrictive and just downright uncomfortable. Like seriously, how did I ever wear jeans before?
Anyway, I decided this year that something had to give, as I did miss being somewhat of a more fashionable version of myself. But until I actually learn to sacrifice comfort for style, I decided to lean into these five swaps instead. And man oh man, did they change my life.
1. Pull-On Pants – $20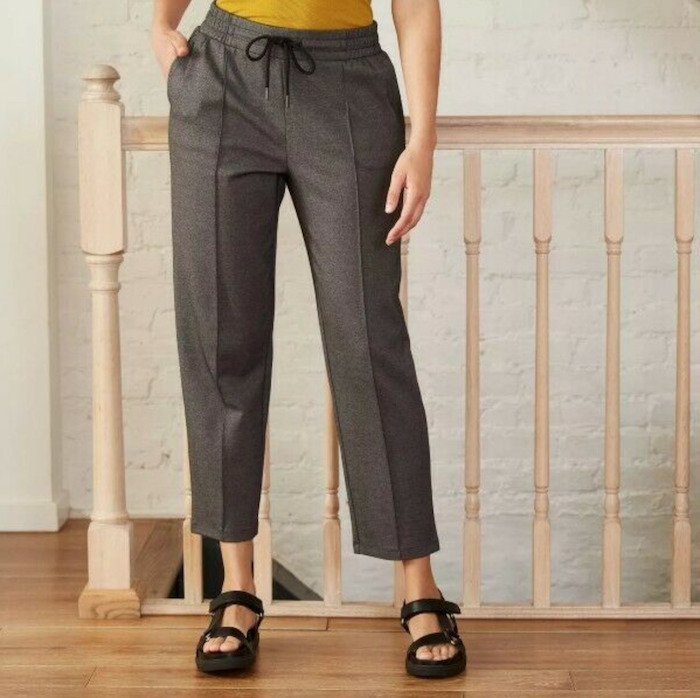 These A New Day pants are my absolute favorite work wardrobe item! The transition back from leggings to more professional trousers was easy with these pants that I snagged from Target! The material is very soft, the waist is elastic and the skinny ankles give it a more polished and tailored look. Since I'm pretty short (5'2 on a good day) and pear-shaped, not only do these hug my hips, but they fall on my waist in a secure, yet stretchy and non-restrictive way. Basically, there is plenty of breathing room when I get that mid-day bloat after eating yet another bowl of Chipotle for lunch!
Thankfully I got these exact pants in all colors when I first spotted them at Target for a mere $20 a pop. Now, the exact version of these parts are a bit harder to find in-store (though they do have great alternatives) and you can find plenty of resales of the original version on Poshmark or eBay!
2. Maxi T-Shirt Dresses- $20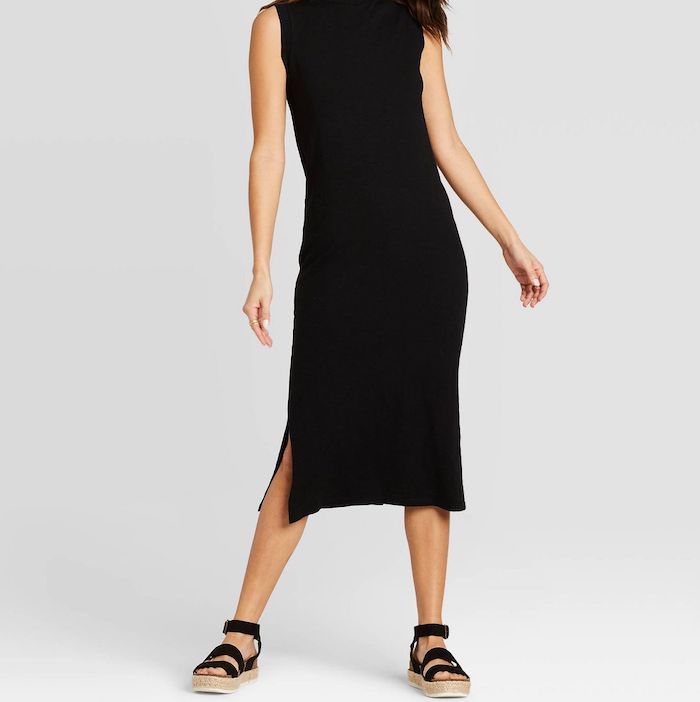 What feels like a shirt but "wears" like a dress? You guessed it — t-shirt dresses! I want to thank the designer who figured out a way to create a maxi dress that teeters (and yet, never crosses) the line between sexy and tight and full-blown moomoo. Being raised in South Florida, figure-hugging maxi dresses are  somewhat "sexy" all-year wear that people love to sport on the beach to flaunt their bods. Which is perfectly fine, but the attention can be unwanted for casual outtings, plus tight dresses just aren't that breathable for warmer weather (like summers in NYC)!
Enter the t-shirt maxi-dress. I have so many variations of these in different colors. Some are sleeveless (like the one above) and others have short sleeves. I have a few that also have a cute slit on either or both sides. They are tight enough to allude to my shape but loose enough to not give *everything* away. Plus, with the right accessories, these babies can even be worn everywhere from weekend brunch to weekdays at office! I got the one above from Target for $20.
3. Wrap Around Dress – $19-$49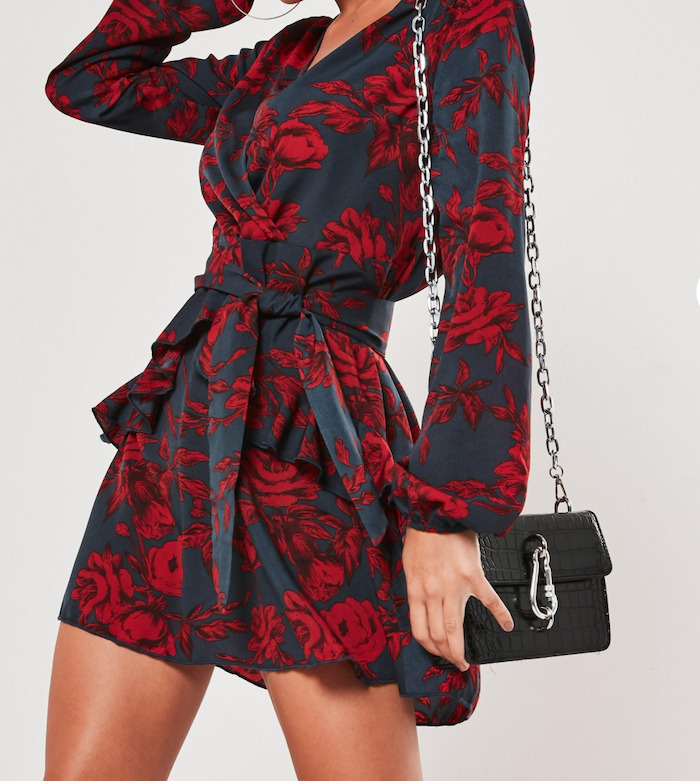 If you're like me and your weight tends to fluctuate (especially after having a wonky sleeping and eating schedule all of 2020), then these are the dresses for you! I've grown to accept that I'm a bit insecure about my mid-section — hence why I love my high waist leggings. But on the days where I'm feeling like a dainty lady and still want to give attention to the rest of my shape without resorting to tights (after all, why punish your whole body for your stubborn belly pooch?) a wrap-around dress is my go-to. I refuse to hide behind my sweatshirts or hoodies another day longer, especially in the summertime.
The above dress is from Misguided for $40. However, I own a ton of similar dresses that tie at the waist (long, a-line, short, flowy, etc.) from various stores.
4. Hipster Joggers – $29 – $59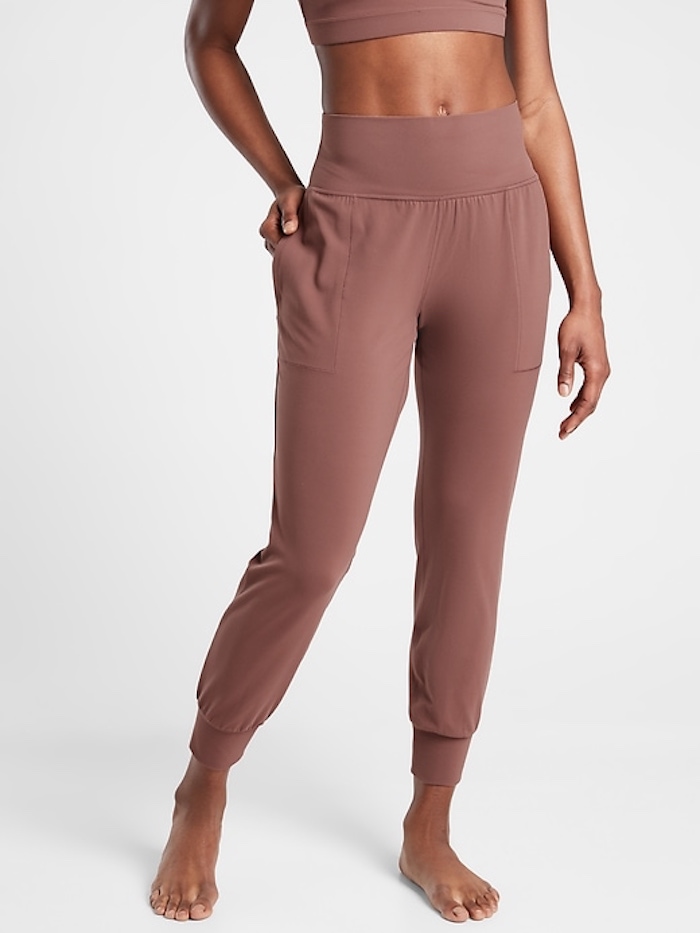 Ok, so these are actually just called joggers but something about joggers designed in the past decade scream "hipster mom from gentrified Brooklyn" to me. Especially when paired with Birkenstocks and a cuppa from a local coffee shop that's not Starbucks. But I digress.
Anyway, fast forward to 2021, and if wearing flowy joggers and accessorizing them to death makes me part of a millennials-mom club, then damn it, I'll be a mom at a park with my joggers and matching cable-knit cardigan. I live for these! It's like "Sweatpants, but make it fashion." Yas! Not to mention, I've said this before and I'll say it again — joggers are indeed the skinny-pants version of parachute pants. And I'm here for it. You can find a ton of different styles on Athleta (like the one seen above)!
5. Biker Shorts – $5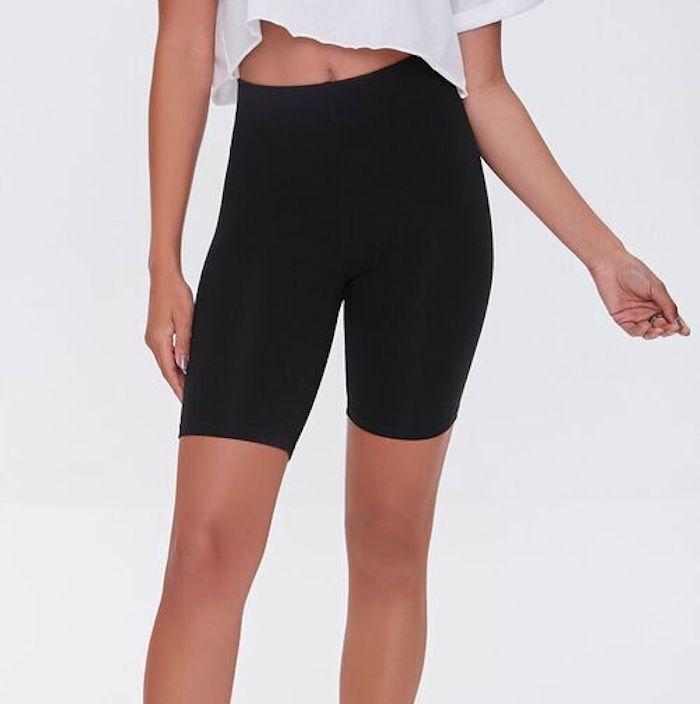 Ok, so some may consider this cheating since these are basically the little sister of leggings but who cares? At least they are still not leggings and hello – baby steps here! Old habits die hard, after all.
On a serious note, I usually opt for bike shorts that are not short-shorts but also not "capri" length. They are just right above my knees, which is great. They are long enough for me to feel like I can accessorize and style them into a decent outfit but short enough to feel stylish and summer-y. I often pair biker shorts with shirt-dresses or large blouses that I'll sometimes tuck into my waist, on one side for that "I-placed-effort-into-making-it-look-effortless" aesthetic. I also like to pair these with a matching camisole, an open front cardigan (as if I don't have a million of those) and some nice necklaces, jewelry and my favorite bag. I honestly find this  style to be super easy going but it also gives the look that I'm going somewhere, and not staying at home all day. I got this pair from Forever 21!
Image via unsplash