5 Things I Finally Invested In When I Got My Own Place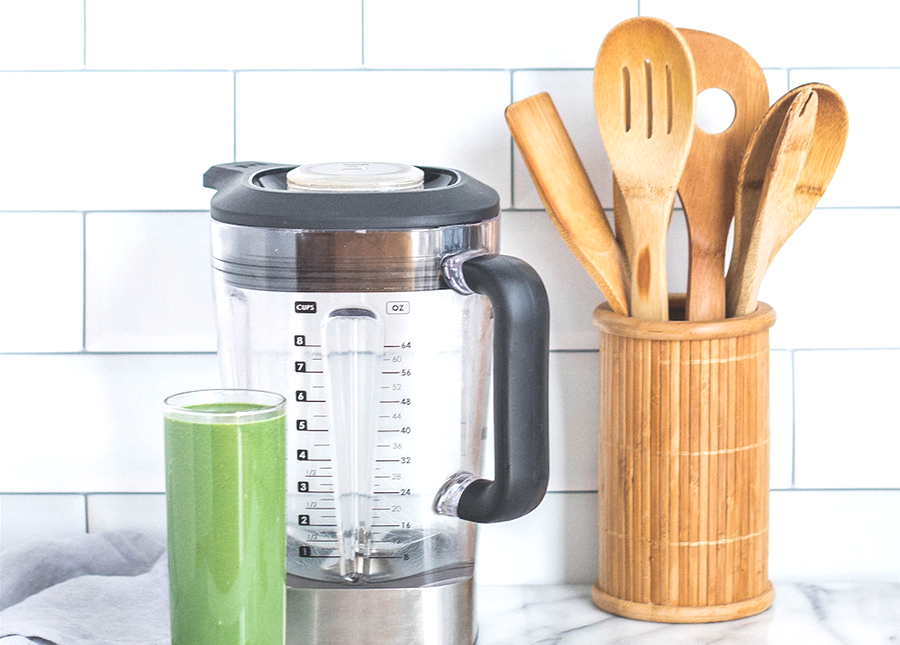 When just starting out in a household of your very own, it can get overwhelming when you stop and consider every little thing that makes a house a home. The list of "to-gets" is incredibly long and can get incredibly expensive. Some things are worth the investment, and others you've got to take in stride (and in budget). I've already discussed what what worth getting rid of when I got my own apartment — here's what was worth investing in, to me:
1. Quality cookware/serve ware
I've previously discussed my transformation from delivery queen to Julia Child in training. A key component of that journey was purchasing quality cookware. Now, I don't necessarily mean shelling it all out on a Le Creuset or some other kitchen Rolls-Royce (though Le Creuset, is awesome and I may love my Dutch oven more than I love my partner, some days), but "cheap make" is a dirty phrase in the kitchen.
For example, when buying a baking sheet, make sure that it's thicker and more sturdy. Brand and price point doesn't matter here, but what does matter is that if your baking sheet is too thin, it will warp in the oven, and now you're stuck with something wonky.
Like any job, your tools matter. Having quality cookware can make the task of cooking easier.
With respect to serve ware, I recognize that this is more of an indulgence. A plate is a plate, but when buying, it's always a safe bet to go with sturdy and classic. I grew up in a Fiesta-ware
house. I eat out of the same pastel bowls when I visit home now that I did when I was first trusted with a spoon. The stuff lasts forever. It survives. It doesn't chip easy. It comes in every color of the rainbow. There's no trendy pattern or weird shape that won't make sense in a couple of years. While not the cheapest option out there, my Fiesta pieces definitely come out at the top of my list when I think about things I have now that I plan to have forever.
2. A garment rack
This particular purchase actually took me the longest amount of time to commit to. I'm very fortunate to have a laundry room and walk-in closet in my apartment, and I'm all about efficiency. But my garment rack
has already made a huge impact, and I'm kicking myself for not biting the bullet sooner.
I have several pieces that must be hang dried, but I never really had any better place to put them than on little hooks on the back of my door. Which was fine, but having too many wet clothes in such a small space left them stiff and weirdly wrinkled. Problem instantly solved by the garment rack. Additionally, I've got a classy gig in downtown Los Angeles that requires me to look crisp. Most mornings I would find myself hurriedly doing a final steam of a suit jacket that had gotten a little ruffled in my packed closet. Now, I do all my weekly ironing at once, hang it on the open garment rack, and voila — dressing is made easy.
Clothing storage has never been an issue in my apartment, but in my large closet, it is easy to forget what particular pieces I have. There's no worse feeling than getting through a season and realizing you never trotted out that merlot cashmere that you love so much. A more creative use of my garment rack has been more intentional dressing. At the start of every month, I go into my closet and pull out favorite pieces that compliment the season (only a few, mind you). Having the pieces right there reminds me of how cute they are and it also makes just general outfit planning very easy (giving the illusion of a person who is effortlessly stylish and has her shit together).
3. A high quality air matress
This was a MUST for my one-bedroom apartment, but I would recommend it in a heartbeat to anyone in any living situation, ever. My motivation for purchasing my air mattress was for the convenience of my parents. I live across the country from my family, so any visit is a long one. Living in an expensive part of the world, hotel costs and availability were always a bit of a struggle, so putting everyone up on the floor in my home office was the most reasonable move. That mattress has paid for itself a hundred times over, and I will keep it always. Whether it's for making extra room for more guests or classing up a camping trip, I am a firm believer in the value of the blow-up mattress.
4. A complete tool kit
Disclaimer: this was not technically something I purchased for myself, but rather a gift from my sainted father — but it is without a doubt the most valuable thing in my home.
Get a tool box. Even if you have a maintenance team that fixes most problems where you live. Even if you have a handy partner or parent that lives nearby. Get the damn toolbox and get one that is fully-stocked.
When I moved away, my dad presented me with an enormous bag of tools. I thought of it as a primarily sentimental gesture, because I had the kind of upbringing where I built fences, worked on cars, and just generally broke a sweat and got my hands dirty with my dad. But that thing proved damn useful, and I will forever give shady side-eye to those who don't have a toolset, or don't see the value of one.
My set included wrenches, screwdrivers, industrial grade duct tape, hammers, a level, heavy duty work gloves, a high powered flashlight, and many other goodies. Now, I do live where there is a johnny-on-the-spot maintenance team, so I've never had to do something so extreme as to repair a major plumbing issue (but I do know how to, and I recommend that everyone learn). But, when it came to settling in, that toolbox was a lifesaver. Measuring a space before placing an order for furniture. Putting perfectly even and level spacing on a gallery wall. Assembling furniture and not having to struggle with the little cheapie tool that comes with it.
The ability to have a tool kit is what separates us from the animals. Elevate yourself, and your home will thank you!
5. A safe
I'm a single lady. Well, I'm a taken lady, but I live alone. Granted, my neighborhood is full of young families and old people, but the importance of keeping myself and my home safe isn't beyond me. When I moved into my apartment, I brought three of my firearms with me. I also brought some jewelry that I'd like to keep. A large safe
was one of the first things that I introduced into my home.
It's not the most practical piece of furniture. It is so heavy that it took three burly men to haul it into my home. It takes up room in my closet. It wasn't cheap. BUT, I think it's necessary for responsible gun ownership, and it gives me peace of mind when I travel.
It's a practical protector for valuables, important documents, pretty much anything you want to keep from getting taken or destroyed.
Caitlin is a 1L year survivor and coffee shop haunt who splits her time between Los Angeles, CA and Austin, TX. When she's not writing, Caitlin enjoys movies, yoga, and indulging her INTJ/Capricorn bend with research on her many academic passions.
Image via Unsplash