5 Things To Know About Running A Small Biz (Before You Quit Your 9-to-5)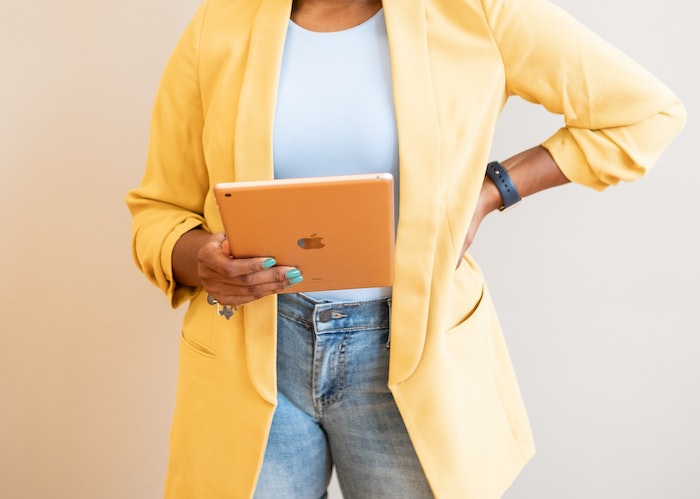 This article is created in partnership with Squarespace.
Recently, we spoke with Schentell Nunn, a Los Angeles-based floral designer and founder of Offerings. A veteran in the floral industry and event space, Nunn has been in the flower arrangement business for 17 years. She first got her start as a freelancer for weddings and events, and soon went on to become a full-time entrepreneur and owner of Offerings.
In partnership with Squarespace, we sat down with Nunn to ask about all of the important business lessons she's learned on her journey to solopreneurship. Here are our most important takeaways (or you can watch the full video here):
1. Your dreams need to be aligned with your reality.
New entrepreneurs tend to forget that if you plan to make your passion a profession, you must prepare yourself for both the best and the worst. Nunn touches on this in her interview: "I knew a traditional career path wasn't for me after I completed college. I went to art school for interior architecture and design. Once I started working in the design field and in an office setting, I learned I didn't enjoy it as much. I was losing my mind."
However, once Nunn started her journey to becoming an independent businesswoman, she encountered a different set of hardships, many of which she had to learn to handle on her own. Long story short, just because it's your dream, does not make you any more immune from the ups and downs that come with being a business owner. 
2. Have a website that keeps up with your business changes.
Oftentimes your business will start off one way and end up going in another direction. For example, if you have a website for promoting your artwork, you may start off with a portfolio-style site, in an effort to showcase your work and gain visibility. Later, you may decide to monetize your work, once enough people start inquiring about buying your pieces. For Nunn, she says that having her site on Squarespace allowed for a smooth transition from freelance florist to full-time business owner, thanks to the e-commerce features.
"Being able to pivot so quickly with Squarespace has had a really positive impact on my current business. Being able to have a website that could go from just being more portfolio-based, and then be able to switch right over to commerce so quickly, was really incredible and helpful in so many ways."
3. Realize that being an entrepreneur is a full-time job.
When people think "quitting my job to become independent" what they often forget is that independence does not automatically mean freedom (or free time). As a matter of fact, when starting a business, you can easily go from working 9-to-5 to working 24/7. 
"I think for any creative that is trying to go into becoming an entrepreneur and starting their own thing, there definitely needs to be the awareness that this is a full-time job," Nunn states. "This idea that 'Oh I'll work for myself because I don't want to deal with anybody,' is not as real as I wish it was sometimes; it really is a full-time job." 
4. Making six-figures as an entrepreneur is *not* the same as being a six-figure salaried employee
According to Nunn, unlike a steady or fixed paycheck from your job, making a six-figure salary as a business owner means that your company needs to gross about triple as much, in order for you to take home anywhere close to that. After all the expenses from supplies, outsourcing help, employee costs (if any), etc., $100,000 gross does not mean $100,000 for the boss. You will have to learn how to create a salary for yourself, budget your business' income and expenses and even further, learn how to pay yourself first.
5. You will need to create boundaries for yourself, from yourself.
Sometimes we can be our worst enemy when it comes to creating boundaries and drawing the line between our work space and personal space. But Nunn stresses that this is a must.
"There's a lot of people who aren't aware of how busy I am. So I receive people reaching out, trying to get last-minute orders, trying to get deals, trying to get all sorts of stuff because they don't understand the magnitude of what's taking place, which is understandable. But it's also very frustrating at times because it is really difficult for me to draw strong lines and say 'no' directly to people," she says.
However, Nunn credits her Squarespace with helping her to create better boundaries between herself and clients.
"My website kind of changed the way that I interact with those more personal clients-slash-friends. It's taught me a ton about just having to be a little bit more grounded and what I want the business to be and how I want people to respect the business and myself."
Image via Unsplash
If you're ready to get started building your own website, head to Squarespace for a free trial. With our offer code "FINANCIALDIET," you can also save 10% off your first purchase of any website or domain.