6 COVID-Driven Changes We Should Keep Forever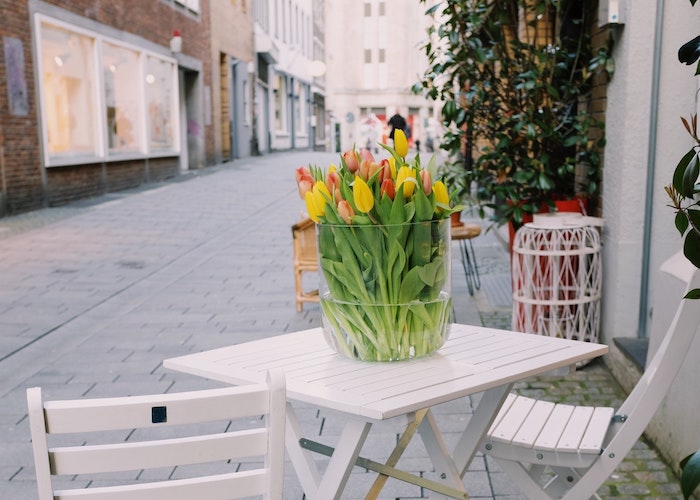 Even though news about COVID-19 changes every time we refresh our feeds, there's one thing that's for sure right now: Most experiential businesses will have to change the way they operate until a vaccine becomes readily available to the public. Some of these changes are so genius, though, that we might be better off if they become permanent.
Since crowded spaces pose an immediate risk to patrons, venues like restaurants and offices will have to get creative in how they serve customers. Most solutions involve either giving customers more space (which unfortunately will decrease sales and net profit — something *hopefully* the federal government will take into serious consideration as it attempts in rebuilding and rebooting the economy) or creating entirely new business models. While some workarounds aren't ideal for most business owners, there is a potential upside for everyone involved: A safer, potentially even more enjoyable environment or experience for everyone. 
Here are some examples that show what the world of restaurants, shops, and even office spaces may look like moving forward in this brave new world.
1. Closed-off streets for outdoor seating
Back in late April, NYC Mayor Bill de Blasio stated that he'd close up to 100 miles of streets within the city so that people could easily distance themselves from others. Some restaurants are using that space for more outdoor seating, which would create a safer environment for customers. Berkeley and parts of Los Angeles are either doing the same thing or are pushing for similar practices. It wouldn't be surprising if "open-air restaurants" became the new norm, which honestly isn't super unpleasant given the beautiful weather we'll have for the next few months (let's just hope there's plenty of shade). Obviously, we'll have to think of other solutions for winter. One day at a time, y'all. 
2. More digital options for hard-to-find items
Although it's only available in Brooklyn, Manhattan, and Queens, there's no way this resource won't expand. Asian-veggies.com is a new delivery service that gives customers a more convenient way to shop for not only Asian produce but pantry items that might be harder to find at a non-Asian market. You *most likely* won't find items like king mushrooms, Lao Gan Ma chili oil, and salted duck eggs at your local Kroger grocery store. In an interview with Grub Street, the creator of Asian-veggies.com, Joe Boo, explained that most Asian markets don't deliver, and this poses a big risk to shoppers, especially those averse to doing their shopping online.
"Our parents and relatives are still going to supermarkets and waiting 45 minutes to check out inside. They're putting themselves at risk. So this is another way people of our generation can order fresh vegetables for their parents, or ourselves, without risking contact," Joe said. 
3. Drive-thru experiences
You may have heard the devastating news: The iconic Ohio State Fair announced that it has officially "gone on hiatus" due to the pandemic. America's summer fairs are basically the fabric of what holds this great nation together in the summertime. What kind of citizens are we if we don't consume at least *one* deep-fried Oreo or paper plate of funnel cake generously embraced by whipped cream and berry sauce per year? Are we true Americans if we don't subject ourselves to a rickety rollercoaster ride assembled the night before? 
Although it's maybe for the best that we skip the rides this summer (for many reasons), there is a way to get some fried fair food into our bellies: Some state fairs have turned into mini drive-thrus. Spots in New York, California, Missouri, Florida, and Ohio are popping up, so if you're fretting about missing out on your yearly corndog, google your nearest drive-thru state fair, and you might be surprised that it's pretty close by.
4. Restaurants going back to their carhop service roots
Sure, the fast-food chain Sonic already does this, but you might start noticing more local diners revert back to this dining trend. Mel's Drive-In, a popular LA restaurant with multiple locations all over the city (which actually opened its first location in San Francisco in 1947!), has gone back to being a carhop drive-in. When you drive up to the restaurant, you order your food, and a server comes out and (safely) hands you your meal so you can eat it in your car. Owner Steven Weiss (Mel Weiss's son) told LA Mag, "You drive up, park the car, and instead of using a speaker on a pole like the old days, you just call inside and order whatever you want. They can sit in their car and play music, enjoy the neon, and have fun." 
In-N-Out already offers a service like this, and it won't be surprising if other restaurants will adopt this old-timey way of doing things. TBH, I hope they bring back the roller skates, too.
5. Capped delivery service fees for restaurants
This change benefits restaurant owners more than customers, but it does impact us in the long run. Los Angeles has voted to put a cap on how much third-party delivery services like Uber, Doordash, and Postmates can charge restaurants to utilize their tech. According to LA Mag, the proposal "would cap fees charged by apps to 15 percent for delivery orders or 5 percent on services other than delivery, such as curbside pickup." It also requires the services to give drivers 100 percent of the tips (which is pretty crazy that this wasn't a requirement before).  Of course, it's better for the restaurants themselves if you order directly from them for pickup or delivery.
This way, restaurants that are already struggling aren't spending even more money working with third-party services to help them distribute their food (which is a necessity these days). Councilmember Mitch O'Farrell told the LA Times back in April, "We want to do all we can to help improve their [restaurants'] chances of survival, and the worst thing we could do is not lean in when we see these cases look a lot like price gouging." Saving restaurants that money means owners are able to hire their employees back, pay them more, and in some cases, just make it through these times. 
6. Redesigned (or totally virtual) offices
Business Insider pointed out how offices could be redesigned to offer employees a safer place in which to work. Since it's most likely that won't happen right away, a lot of business (like Facebook and Twitter) have decided to let their employees work remotely for as long as they want. Think about how huge that is — especially since Silicon Valley (and really the entire Bay Area) and other cities like New York and Los Angeles have completely priced out most folks, offering remote positions is a game-changer. You could be a programmer for a big tech company and own a mansion in North Carolina if you wanted. Or if you live in South Dakota and don't necessarily want (or can afford) to move out to a big city for a job with a company like Google, you won't have to relocate. Although this move will most likely come with a pay cut (Mark Zuckerberg said it himself) it could be the first step in breaking free from absurdly expensive but industry-dense cities.
Gina Vaynshteyn is an editor and writer who lives in LA. You can find more of her words on Refinery29, Apartment Therapy, HelloGiggles, Distractify, and others. If you wanna, you can follow her on Instagram or Twitter.
Image via Pexels
Like this story? Follow The Financial Diet on Facebook, Instagram, and Twitter for daily tips and inspiration, and sign up for our email newsletter here.