6 Ways To Start Upgrading Your Wardrobe When You Know Nothing About Fashion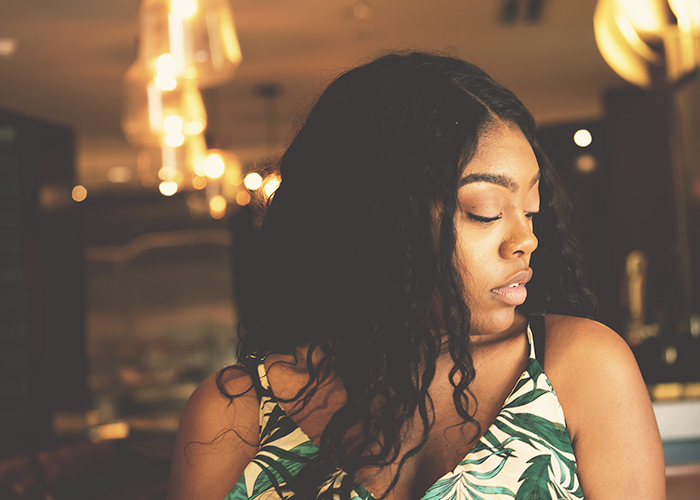 I've never been particularly good at fashion. While I enjoy the feeling that comes with wearing a well-executed outfit, I'm still — at nearly 33 — trying to figure out how to do it consistently. My wardrobe is a hodgepodge of items acquired mostly for their price rather than their quality, fit, or how they might incorporate with pieces I already owned at the time.
I can't even begin to tally the amount of money I've wasted over the years in the clearance sections of J. Crew Factory and Banana Republic Outlet on pieces that were a "good deal." Is this item markedly cheaper than normal? Does it mostly fit? Okay, great. 
Spoiler alert: Regardless of the price tag, an item of clothing is not a good deal if it's not something you're actually going to wear.
As we're standing in the dressing room, agonizing over how we have nothing to wear, it's easy to trick ourselves into thinking we'd be foolish to leave this perfectly good top behind when it's an additional 50% off the already marked-down price. Unfortunately, at least for me, this is exactly how we end up with a closet full of clothes we're disenchanted with.
Admittedly, I don't really enjoy shopping. It's a tedious, time-consuming process made even more annoying by the constant taking off and putting on of clothes, finally capped with spending inevitably more money than I wanted to part with. As a result, when I do shop, it's always An Actual Thing more so than just popping into a store or two. It's an event I need to mentally prepare for, with several hours of free time blocked off to minimize the stress of the endeavor. I'll go months without buying so much as a t-shirt or a pack of socks, then I'll be struck with the realization that I actively hate everything in my wardrobe. I'll set out to find new things, end up haphazardly buying stuff I don't love, and the cycle begins anew. I'm finally learning the value of gradual shopping — adding a shirt here, a bra there — rather than waiting until I'm at a point of desperation and have to buy a bunch of stuff all at once.
So, in becoming increasingly aware of my bad habits when it comes to evolving my wardrobe, I've forced myself to take an honest look at not only my own behavioral patterns, but also at the very basic elements of what makes a decent closet.
1. The closet purge. We approach cleaning out our closet with the word "purge" in mind. But what if we stop thinking of it as a quest to get rid of as much as possible, and instead look at it as an opportunity for rediscovery? Things fall off hangers or get shoved to the backs of drawers until we forget we even owned them in the first place. Older pieces fall out of rotation in favor of more recent purchases. Bodies change, style preferences evolve, and sometimes all it takes a fresh perspective to renew your appreciation for things you already own.
To this end, it's important to give clothes their due process. My main problem when going through my closet is always the vast number of pieces I feel "um, maybe?" about. It's difficult to objectively evaluate a piece that has remained unworn for months (years?), is perhaps badly wrinkled, and maybe smells a little musty. Items in this state are not going to do themselves (or your body) any justice, so give them a fair shake and toss them into the laundry. Try that wrinkly old dress on again later when it's clean, ironed (if needed), and presentable to the public eye. If you're still on the fence, then fine — go ahead and add it to your donate pile. But if it works? Sweet. You've basically got yourself a new dress.
2. What am I actually wearing? I'm 5'4″ with a short torso and an ample chest. It doesn't take much for me to look bisected or excessively bulky in the midsection since there's nowhere for excess material to distribute. As a result, I have to be aware of the proportions created as I pair a top with a bottom. In the past, this has led me to cast aside shirts that didn't fit nicely with the particular pair of jeans I was wearing at the time I tried it on, but may have worked well over a skirt or perhaps a pair of shorts.
One of the things I am paying more attention to now is what I'm reaching for among the clothes I already own. Which pieces am I regularly wearing? What is it about those items that keep me coming back? I implore you to do the same. Take the time to really notice the characteristics of the pieces you're wearing most often. What is it that you like about the way that item fits? Are you drawn to it because of its color or pattern? Maybe it's the fabric? I've noticed that if I find myself wishing I had a particular shirt in another color, it's a good indicator that I should be looking for shirts with similar qualities.
Regarding my lack of torso, I've also realized that high-waisted cuts are not only more comfortable, but are far more flattering on me than the alternative. I resisted this for a long time, set on the notion that low-rise pants are obviously going to create the illusion of a longer torso, but you know what low-rise pants actually create for me? The constant need to yank them up throughout the day. A high risk of muffin-top effect. Fear that the back of my shirt will ride up when I'm sitting and anyone behind me will be treated to a view of my undies peeking over the top of my waistband. When I finally relented and tried on a quality pair of high-rise jeans, I cursed myself for wasting so many years on pants that annoyed the hell out of me and weren't even especially flattering. Moral of this story? Just because you google advice on flattering cuts for your body type does not mean those answers will be the best option for YOUR specific body.
3. Try it on. Then try it on again. Because I hate going in and out of the dressing room 50 times, I tend to grab two sizes of anything I'm skeptical about the fit of. Can't decide if this sweater is going to fit better in S or M? I'm taking both. Am I eyeing this t-shirt or pair of trousers in three different colors? I'm going to try on all three to ensure the fit is consistent across each of the fabrics.
But that's not enough, no ma'am. Whereas I used to just stand in front of the mirror (probably with my shoulders dramatically thrust back and my gut sucked in like I'm playing a game of "invisible corset"), nowadays, if I am intrigued enough by an item upon initial application, I move it on to round two. Round two consists of sitting, standing back up, bending over, slouching, pretending to tie a shoe, standing casually, standing at attention, walking several paces — any typical posture or common movement that might reveal something disdainful about the piece. Do you still love the idea of that blouse for work if you realize that leaning over to grab a file will result in a full view down your shirt for anyone standing in front of you? Is that skirt still a keeper if you can't sit in it without a cardigan to throw over your lap? Maybe the dress that looks awesome while you're standing still isn't such a great fit if you can't walk the length of the dressing room hall without it riding up.
Take the time to step out of your tiny fitting room and look at the piece in the larger, more distant mirrors just outside. Again, I've been bamboozled by clothes that looked fine up close, but from a distance made me look wide or stocky. Maybe the color wasn't great with my skin tone, or maybe I had to keep tugging a skirt back down every few steps. Try to discover these things BEFORE you bring the clothing home. It is enormously frustrating to have to make constant adjustments to your outfit throughout the day.
4. Be realistic. Yes, I'm talking about avoiding a trap that is so easy to fall into — the one where we're sure a piece will "totally fit great!" as soon as we lose five pounds. Or ten pounds. Or tone up our arms. Or do a few more squats to lift our butts. Or whatever it is about your physical self that you personally believe needs changing before you deem it suitable to wear this particular article of clothing. As someone whose disdain for shopping is absolutely in part due to the potential truths lurking in poorly lit dressing room mirrors, I cannot stress how important it is to let go of the notion that your body needs to fit a piece of clothing. You're putting this item on your body — it is the component of this equation that needs to adapt.
This is where being realistic comes in. Can you solve the issue by sizing up or sizing down or choosing a different cut? Is it something that can be remedied by a skilled tailor? Will you ACTUALLY take the item to said tailor? Then, great! Choose the appropriate size that will best allow a professional to help you with the changes to make your garment even better.
But if you know within your heart of hearts that you're not going to take a $25 skirt to a tailor, just let it go. I promise you'll either find a similar piece that does fit, or you'll forget about it entirely within a few days. By choosing to purchase something you aren't willing to wear right now, you're voluntarily spending money on clothing that makes you feel bad about yourself. Does that make any sense? It doesn't. Don't do it. Key takeaway here: If you're buying it today, make sure it fits today.
5. Consider the details. If you haven't already, start paying attention to the construction details of clothing: the material, the stitching, the richness of the colors. How does it look on the rack? If something is a lint magnet or a wrinkled mess just hanging in the store, it's not going to suddenly repel debris and lay flat after you take it home. What about the care of the garment? If you're averse to washing by hand or taking things to a dry cleaner, there's probably no point in buying clothes you can't toss in the washing machine.
Further, consider the details of what you're wearing underneath your clothing. A different style of bra and/or the addition of a shaping garment can make a big difference in how a shirt situates itself or how a dress falls over your body. The same goes for shoes; if you're unsure of how comfortable that pair of ballet flats is really going to be, bump up half a size and add insoles. Even a thin, liner-style pair can make a difference in fit and comfort, and they're easily replaceable when they get worn out. I have narrow feet and a high arch, so my heels often pop out the back of flats and pumps, which means I always have at least one pair of adhesive heel grips on hand. Don't be afraid to customize your fit, even if it means springing for a different size.
6. Just go for it. For some time, I've wistfully fashioned myself as a "hat person." The type of girl who can throw on a chic hat with seemingly any outfit and make it look effortlessly cohesive. In reality, whenever I do try on a hat, I end up looking like someone who may have gotten lost on the way to a rodeo/safari/beach/tea party/music festival. I get a little discouraged, decide that perhaps I simply don't have the right type of face for a hat, and move along.
But you know what the secret to becoming a hat person is? Or the girl who wears trainers with dresses? Or the one who pulls off a variety of statement necklaces without looking like a child playing dress-up?
Just wearing the damn hat. Or the trainers. Or the necklace. More often than we think, what really *makes* a look is the confidence behind it. If I plop a hat on my head and stroll out the door with intention, I'm not going to look like a timid little girl who hopes nobody realizes I'm a hat-wearing imposter. I'm going to look like a grown-ass woman who decided to wear a hat with this outfit because I fucking felt like it.
And yes, as with any other item of clothing, certain styles of hats or jewelry or [insert your own fantasy item here] may look better on you than others, so experiment! Have fun with it. Try on a bunch of stuff until you find a style or two that really works for you and go forth into the world as A Person Who Wears Hats.
*****
Our ideal wardrobe is almost certainly not something that can be curated in a day, but being mindful and deliberate with our choices can go a long way in reducing frustration and wasted money. If you have any personal tips for becoming a better shopper, I'd love to hear them! 
Summer is an Oregonian-turned-South-Carolinian who moved to Germany in 2015. She enjoys adventures, cooking, and the internet. She's on Instagram, Twitter, and writes about travel, food, and expat life on her blog.
Image via Unsplash