The 7 Personal Finance Articles We Loved This Week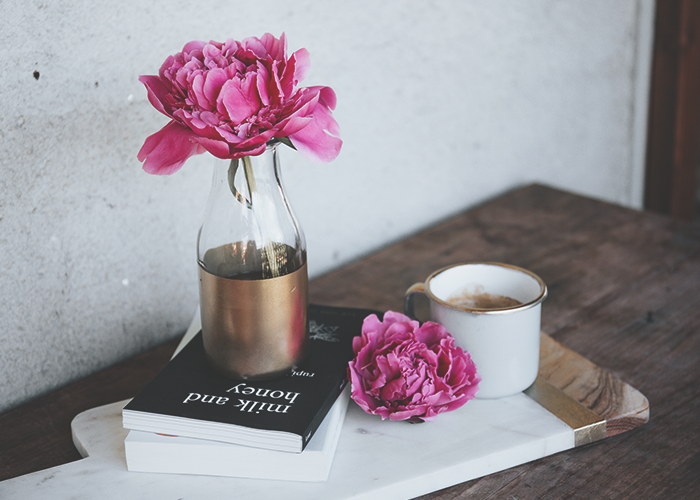 I moved into my apartment about a month and a half ago, and I am still very much in the decorating phase. This, of course, means not doing anything at the moment, because I've spent too much on office-y furniture and throw pillows. I want to put up more art on the walls, and get a cute (and actually sturdy) floating shelf for my desk area, but those things cost money. I can't abandon my other money priorities to make this apartment as perfect as I want it right now (and it wouldn't be, anyway).
But even though it's still a work in progress, it does feel like home. It helps that I have a few cheap decorating hacks I've been using for years, like framing old greeting cards with cute (and holiday-neutral) images on them. That's why I absolutely loved coming across J. Money's third pick this week from Frugal Family, all about reusing things for decorative and practical purposes around the house. I'm definitely stealing their tip for reusing jars and cute cans for my own kitchen cart:
I have a bit of an odd assortment of storage containers in my kitchen and all of them (except three un-frugal Orla Kiely jars on the top) have been something else in a previous life. Hang on to your jars because you never know when they'll come in handy.
If you're looking for more hard finance advice this week, keep reading — we've got a lot of great posts below!
1. How I Became The Dumpster Dog — Dumpster Dog 
"The day I put in my two-week notice goes down as one of the best in my life. Feeling that financial freedom is a high that can't be matched by any drug (I tried) or drink (I tried) or material purchase (I tried)."
2. Whatcha Know About Legacy Binders? — Budgets Are Sexy
"Hopefully this is a good reminder for you, too, to start putting some things together if you haven't already. If the Legacy Binder idea is too daunting for you, start by jotting down notes in a spreadsheet somewhere to get the main stuff down real fast, and then look to fill in the rest later. JUST MAKE SURE TO TELL SOMEONE ABOUT IT!!"
3. 13 Things Frugal People Re-use — Frugal Family
"If you have some wallpaper leftover when you're decorating, then you can make some lovely framed prints to match your wallpaper just by framing some of it in a pretty frame. We've done something similar here with our menu planner for the kitchen wall although we used free samples for that."
4. Why Every Spouse Should Have Their Own Bank Account — Financial Samurai
"One of the best gifts you can give your spouse is the gift of financial independence. I'm not talking about showering your spouse with riches once you get married. I'm talking about supporting your spouse in making his or her own fortune in addition to contributing to the family fortune."
5. Refusing A Gift From Your Past Self — Break the Twitch
"Everything you own, all the clothing in your closet, your academic achievements and beyond is simply a gift. It is a gift that your past self is giving to your present self, and it's up to you to decide whether you want that gift today."
6. How Fast Can You Make A Million Dollars? — Mustard Seed Money 
"I put together a quick spreadsheet utilizing an 8% stock market return, based on historical averages, to show him how realistic it really was for him to hit FIRE and stay at home with his future kiddos."
7. What I Learned Being a $hitty Financial Advisor — Funancials
"I always wanted to be a Financial Advisor. And then I became one and quickly realized that my dream wasn't everything I thought it would be. There were three things, in particular, that drove me nuts and ultimately led to my demise."
Image via Unsplash