7 Recipes For A Unique & Delicious Thanksgiving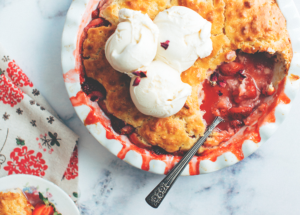 Thanksgiving is easily the most delicious of the holidays — if you're anything like my family, you routinely go All Out on food for the annual feast, and have all the recipes/prep/cooking for the big day on lock. In my family, we have recipes dating back decades that we continue to make year after year because they're so damn good — and it isn't just us. Most people have traditional Thanksgiving recipes of their own. (ICYMI, Chelsea tweeted her mom's cornbread stuffing recipe step-by-step last night, and O-M-G.)
But this year, if you're interested in shoving some of grandma's famous recipes aside and trying out something new, I've rounded up seven unique and delicious Thanksgiving recipes that might be slightly different than your traditional family meal, but are sure to become staples in your future Thanksgiving rotation.
(Note: I didn't include any turkey recipes. That's a 20lb problem I don't want to deal with.)
1. Slow Cooker Cranberry Meatballs
If you're looking for something different than the same-old appetizers, these cranberry meatballs are a great festive, seasonal take on a classic. Best part: they are made in a slow cooker. If you're passionate about crockpot cooking like I am, you need to give these a try.
2. Parmesan Roasted Carrots
I love going veg-heavy on all meals, and Thanksgiving is no exception. Luckily, there is never a shortage of yummy vegetable-based side dishes to go with that big-ass turkey. My favorite of all side-vegetables is probably carrots. Root vegetables, in general, are the best seasonal comfort-food this time of year. But this recipe has them drenched in garlic, butter, and parmesan cheese (aka the three main food groups) and looks so incredibly delicious. Serve garnished with some parsley if you're into that sort of thing, and you're good to go with this insanely easy dish.
3. Cranberry & Brie Bites
If you fancy adding a vegetarian option to your feast, these festive cranberry and brie puff pastry bites are perfect for a Thanksgiving appetizer. In addition to looking delicious-as-hell, they also look pretty easy to make, and don't require many ingredients, so they won't be a too much of a time-consuming project when you're busy in the kitchen.
4. Broccoli Casserole
This dish — which is one part healthy and one part Velveeta — is a classic in my family. It is, objectively, kind of gross (as most Velveeta-infused dishes are), but I love it nonetheless and crave it every year as we approach Thanksgiving. It tastes almost identical to your favorite macaroni & cheese, but with the added benefit of having actual vegetables shoved in there instead of pasta.
5. Caramel Apple Sangria
No holiday meal is complete without a celebratory cocktail, and this one is so fall-themed and yummy-looking. I'm not a huge fan of sweet drinks, but when it comes to all things apple-flavored, I'm usually down. Sangria is a summer classic, but is made super festive with the fall-spin of adding apples cider and caramel to the wine. I've never had anything like this, but it looks like something that would pair perfectly with Thanksgiving dinner.
6. Pumpkin French Toast
Ever notice that most Thanksgiving "dinners" actually happen at like 1 or 2pm? It is nice to be gathered with friends and family eating a hearty meal at that hour, but especially on a day off from work, my body often craves something a little different than a heavy dinner in the early afternoon. If you fancy a Thanksgiving Brunch this year (with a
7. Chorizo Cornbread Stuffing
I live by the philosophy that all stuffing is good stuffing, but more than the sweeter cranberry and raisin varieties, I always crave the spicy, savory ones. My grandma's mouthwatering spicy sweet-potato-and-sausage recipe that we re-create every year is my favorite (and sadly her recipe never graced Pinterest), but a close contender is this spicy chorizo and cornbread stuffing. It looks deliciously simple, but the spicy chorizo adds a little kick to traditional Thanksgiving fare.
Mary writes every day for TFD, and tweets every day for her own personal fulfillment. Talk to her about money and life at mary@thefinancialdiet.com!
Image via Unsplash