7 Strategies I Use To Be An Airline Ticket Price-Gamer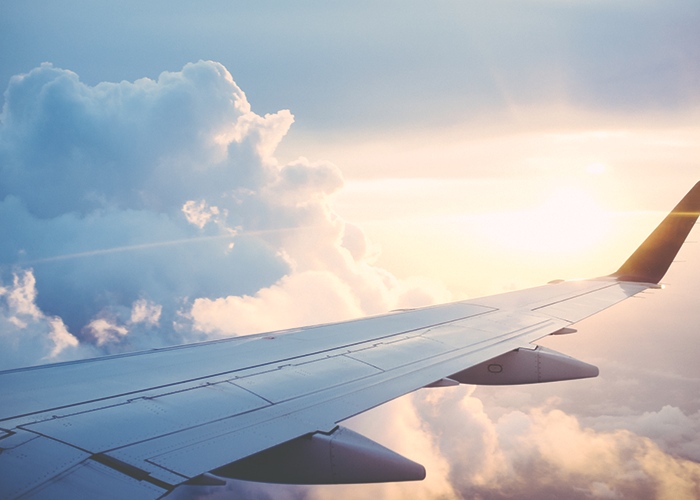 Last year, I was sitting on my apartment balcony in the early April sunshine with my Macbook perched on my knees, mouse hovering nervously over the "purchase" button of a round-trip ticket to New Zealand for two weeks in August. At the time, I was a new college grad working two part-time jobs; I had an urge to travel and an invitation from my Australian friend to spend two weeks exploring New Zealand with her. I found an incredibly enticing flight deal that would take me to the southern hemisphere for just $1,100 (round trip). I had that money in my savings already, and I was confident in my self-discipline — even with my tiny income, I knew I was capable of saving for further trip expenses. Though I knew my parents would regard my decision with extreme disapproval, I took the leap and pressed purchase on a nonrefundable ticket to New Zealand.
Then, two months later, I was offered my first full-time job. I accepted and began my new job at the end of June, just a month and a half before I was set to leave the country for two weeks.
Oops.
In retrospect, I should've been up-front with my boss about the trip. But instead, being the people-pleaser that I was (and still am, to an extent), I felt the need to both change my flight to October and stay for only 10 days (instead of two weeks). I did all this in an effort to look professional and avoid seeming flippant about my new job ("Yes, I'll take the job! Oh, by the way, I'm leaving for two weeks next month!"). In a panic, I looked up the airline rules to change my fare — just a small $150 fee on Air New Zealand. Not bad, I reasoned. Except I missed the part that said "additional payment may also be required if the original fare is not available or applicable." And thus I was responsible for a very cool $900 price increase when I went to change my ticket.
Since then, I've developed a better understanding of the often-complicated airline rules. Here are a few things I've learned since last year's costly mistake.
1. Full refunds for ticket cancellations within 24 hours of purchase.
It's U.S. law that all airlines allow you either to hold a fare for 24 hours (for free), or cancel your airline ticket within 24 hours of booking (and receive a full refund), regardless of what fare level you purchased (as long as the purchase was made at least seven days prior to the travel date). But airlines are not required to offer both the free fare hold and 24-hour fare-cancellation refund options. That said, the major U.S. airlines — Delta, American, United, Southwest — do offer a full refund to a ticket canceled within 24 hours of booking so long as it's seven days before the travel date.
I would imagine most international carriers would offer the same option; I know Air New Zealand does. Before booking, find out if the airline you're flying with offers this option.
2. Fare holds & price freezes.
As I mentioned above, some airlines allow you to hold a fare for 24 hours before booking. If you do decide to book the ticket, you pay the fare you've locked in, even if the price has increased within that 24-hour period. I've done this before to give me time to weigh my options and make a decision after researching other airlines to make sure I'm getting the best flight deal to my destination. As far as major U.S. carriers go, American Airlines is the only airline that offers this option (Frontier, JetBlue, Alaska Airlines, Virgin and the other smaller U.S. carriers may offer this; it'd be worth researching if you plan on flying one of these). Delta and Southwest do not offer it, and United offers a variation of this — FareLock, which allows you to lock in a certain fare for three or seven days, but for a fee (so, not exactly worth it for me).
3. Fare types, benefits, and price differences.
As you know, airlines offer different fare types with various perks, but there are differences that go beyond simply first-class versus coach seating. These subtle differences are important when it comes to knowing what options you have when it comes to ticket changes and refunds. (More on change fees and refunds below.)
American: For economy alone, American Airlines has two Economy Fare options: with restrictions, and without restrictions. Both are nonrefundable, but the "without restrictions" Economy Fare does not charge a fee if you change your itinerary, whereas the "with restrictions" Economy Fare does. There's also a third economy option (and four other fare classes), all with varying change, refund, and upgrade policies.
Delta: Delta offers refundable and non-refundable fares. Basic Economy Fares (E) are the cheapest tickets, but cannot be changed or refunded (LOL, YOU'RE STUCK! SORRY 'BOUT THAT). Refundable tickets (which are generally a little pricier) can be changed without a fee, and you can also apply for a refund.
United: United doesn't have a page on its website (that I could find) that gives a breakdown of fare types. But when I was researching flights, it gave various fare options, including Economy (lowest price) and Economy ("flexible," with a higher price). The flexible Economy ticket has a refundable fare, though the website notes that "cancellation or change fees may apply." I can't see how the extra hundreds of dollars in the fare difference for the Economy (flexible) fare is worth it, if fees may still apply to cancellations or changes, but…okay, United!
Southwest: Southwest offers three basic fares (not including Senior Fares or Rapid Rewards Fares): Wanna Get Away, Anytime, and Business Select. Its website breaks down the policies regarding each one pretty thoroughly.
As you can see, fare types are all over the place for each airline, so know the restrictions for the type of fare you're purchasing.
4. Change fees. 
Unfortunately, in the case of most airlines, change fees are a harsh reality that we budget-conscious coach-flying plebeians must accept.
In the instance of my New Zealand trip, there would've been no way for me to avoid this change fee because of my fare type (non-flexible), even if I had purchased travel insurance (more on that below). My $900 loss was a result of poor planning and lack of courage on my part to speak to my boss about the trip. That said, I was fortunate that I had enough savings — from hoarding money throughout college — to cover it. But now I know: never buy an international ticket without first knowing, without a doubt (barring unforeseen circumstances, like illness), that I will be able to travel on the dates I've selected.
Here's a breakdown of change fees, cited from the four major U.S. airlines. Remember that these fees may vary/not apply depending on what type of fare you purchased.
American: American charges $200 for changing domestic flights, and up to $750 for changing international flights (of certain fare types) before the day of travel. "Charge varies depending on type of ticket purchased," the website notes.
Delta: Delta charges $200 for changes made to flights in the U.S., and between $200 – $500 for changes made to international flights. However, the website doesn't offer very clear guidelines as to which fare types charge a fee and which don't, other than noting that Basic Economy Fares (E) cannot be changed or refunded. Delta also notes that "changes are usually permitted only to the return portion of an international itinerary." Very cool and flexible of you, Delta!
United: Service fees apply, but the website won't blatantly list what these service fees are. The Points Guy quotes a $200 change fee for domestic flights and $400+ for international flights.
Southwest: And then there's Southwest, the only major U.S. airline that doesn't charge a fee to change your ticket. You just have to pay the fare difference on your new ticket, if there is one. See "No Change Fees" on the FAQ section of Southwest's website.
5. Refunds. 
Airlines don't like giving you your money back. So, as explained above, know the restrictions surrounding your fare type, whether it's refundable or nonrefundable, and what change fees might apply.
For instances of flight delays or cancellations due to weather, airlines rarely, if ever, offer a refund; usually, the company will just book you on a different flight and leave you to fend for yourself if you're stranded in a place overnight (sleepover at the airport, yay!).
For delays and cancellations caused by the airline itself (like aircraft maintenance issues), most airline websites are pretty mum on their policies. As this USA Today article explains, "If a delay is the airline's fault — a mechanical delay, for example — your carrier may offer you some sort of compensation, but it is not legally bound to do so."
In my own experience with flight delays and cancellations, the response of airlines has varied wildly. I've received a meal voucher for a delayed domestic flight on Delta, a free alcoholic beverage in coach on United after a delayed flight to London, 3,000 complimentary miles from American for a 4-hour delay to London due to maintenance issues, a $150 flight voucher from American again after we went through four planes (FOUR!!!!) trying to find one that was fit to fly, and then absolutely nothing but an "oops, sorry" half-hearted apology after a weather cancellation (and the incompetency of American Airlines employees) stranded me in D.C. for 24 hours. But a refund? Hardly a chance. Though flight delay was disorienting, I can't complain; in the end, I made it to my destination safely, and that's the most important part of this whole air-travel thing.
6. Travel Insurance
.
With travel insurance, I was under the impression that purchasing it meant you could get a refund on your ticket, regardless of circumstances. False. As explained on American's website, "Trip cancellation coverage will only refund prepaid, non-refundable payments if you have to cancel for an unexpected, covered reason. Reasons may include sudden covered medical emergencies, death of a family member or traveling companion, certain terrorist acts, being called for jury duty, or bad weather that completely shuts down your common carrier." Sadly, "getting a new job and needing to change your travel dates so as not to look apathetic about aforementioned job" does not fall under these reasons.
However, travel insurance can still be a worthwhile investment, especially for expensive trips abroad where a plane ticket alone can set you back $1,000. Most travel credit cards offer travel insurance coverage for cardholders. For instance, My BarclayCard Arrival World Mastercard offers up to $1,500 in reimbursements for travel expenses incurred by a death or illness that affects you (or a family member) and prohibits you from traveling. Check your credit card benefits to see if travel insurance is an option.
If you don't own a credit card that offers this, you can get travel insurance through companies like Allianz Global Assistance. Usually, airlines will also offer the option to purchase travel insurance when you are booking your ticket.
7. The bottom line.

The basic lesson here is this: airlines have rather convoluted sets of policies on everything under the sun, so it's important to educate yourself on these policies before clicking purchase on your plane ticket. Though I do regret the fact that I ended up spending an additional $900 on airfare to New Zealand because of my own poor planning, the expense was worth it. The new trip dates ended up framing a time of my life when I needed the emotional perspective that only geographical distance from your problems can provide, and October (spring, in the southern hemisphere!) ended up being the perfect month to experience New Zealand (rather than a frigid, wintertime August).
I wish you all a happy, well-informed flight booking experience and even happier travels!
Ally Willis is a public relations graduate who buys way too many concert and plane tickets and then writes about it. She puts all things British on a pedestal. She runs a blog about post-grad life and also writes about music and travel on her own personal blog.
Image via Pexels