8 Instagram Recipes I Make In Advance When I Know My Week Is Going To Be Hell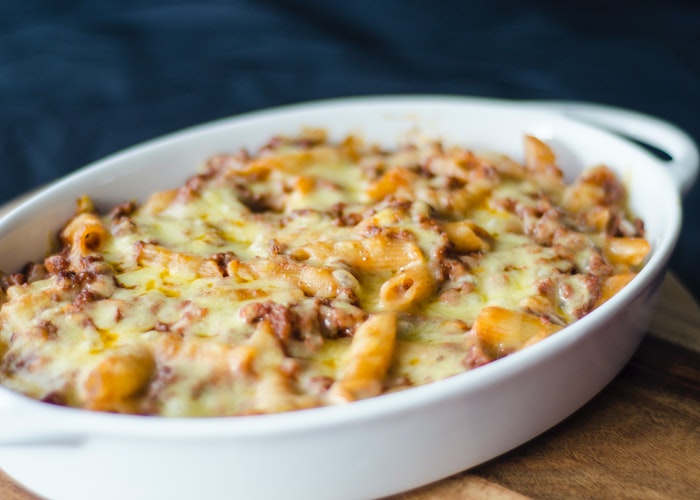 During the year of COVID-19, I went from making deliberate, time-consuming meals for lunch and dinner to scarfing down Goldfish from the bag as though I were drinking from a milk carton because I no longer cared, nor did I have time. Back in March, after being freshly laid off, I decided to devote more time to cooking and baking — as we all did (and collectively proceeded to buy up every single sack of flour across all the grocery stores in the U.S.). My anxiety and existential crisis-embalmed brain found joy in preparing meals for both myself and my husband, and it went on this way — until my workload made it feel impossible to keep doing.
I ended up taking on as many freelance gigs as I could, which meant long hours without much time to do anything else aside from stare at my Google doc screen and the various Slack accounts I was a part of. This is when my relationship with cooking started to deteriorate. I started making mac 'n cheese for dinner almost every night. Lunch was a piece of toast with cheese and Oreos. My husband helped as much as he could, but he was also dealing with a hand injury. 
At some point, I was so tired and my body was so peevish about being fed boxes of Kraft five days in a row, I decided I needed to come up with a sustainable meal prep plan that I could whip up Sunday night and live off of for at least a few days without much effort during the week. These have been my go-to meals for when I, as I used to profess, CANNOT EVEN during the week. They're easy to make, big-batch friendly, and they're not chili (because at this point of quarantine, my IBS and I can't deal with more beans). 
1. Honey sriracha-glazed glazed meatballs
With two pounds of ground meat (the recipe calls for pork, but I've used turkey and beef before) and a bunch of ingredients I already had in the cupboard (breadcrumbs, soy sauce, honey, rice, etc.), I can easily make a week's worth of meatballs and rice to go along with them. Every couple days I'll steam green beans or broccoli (or whatever veggie I have) as a side. This is a super easy recipe, and it's delicious and actually filling. 
These burger bowls legitimately taste like you're eating a deconstructed Big Mac, without the bread (but you're welcome to add bread, obvs). I'll cook two pounds of ground beef, chop iceberg lettuce (the recipe calls for romaine, but I use iceberg so it lasts longer) along with the rest of the veggies, and mix the dressing (aka, the "special sauce") together (just FYI, I don't add the coconut aminos because I don't have them, nor do I know what they are).
3. Slow cooker chicken enchilada soup
Even though I have an Instant Pot, I still haven't quite figured it out and am always nervous it's going to blow up my kitchen if I press the wrong button. Because of that, I rely on my Crockpot way more. Even though you still do need to saute some of your ingredients before adding them to your slow cooker, this meal is simple, delicious, and makes your house smell heavenly while it cooks. It's also another recipe that calls for simple ingredients, most of which you probably own (or are cheap to buy).
4. Slow cooker basil chicken in coconut curry sauce
If I'm craving Thai but also trying not to spend money, I'll make a big batch of this slow cooker basic chicken with coconut curry sauce — it's super similar to green curry you'd get at a Thai restaurant, but much cheaper, and you'll end up with enough servings to last you a few dinners and a lunch. You do need to have coconut milk, yellow curry, jalapenos, and ginger on hand — plus a ton of chicken thighs. This is another one that'll make your house smell amazing while it bubbles inside your Crockpot.
This! Is! So! Easy! And makes for easy lunches and dinners. All you do is throw eggs, avocado, Greek yogurt, a little lemon juice, and Dijon together, and bam! You have yourself a "healthier" version of egg salad. I'll make an extra big batch of this and use up a ton of eggs and avocado that are about to go bad.
6. Lasagna with whatever ground meat and veggies I own
Use whatever lasagna recipe you love most, and try to use up as many veggies as you can. Lasagna really doesn't take that long to make, and it'll last you five days — or until you're totally sick of lasagna and need to move on. 
This red curry lentil option is vegetarian, easy to make, and super filling. And you can make a lot of it on the cheap. You'll just need lentils, red curry paste (you can buy a bottle of the premade kind at the store, like Thai Kitchen's), garam masala, curry powder, and turmeric. Yes, it's heavy on the spices, but they're nice to keep around anyway. It's way easier than you'd think making your own Thai or Indian dish at home. One time I made so much (like, I still had a vat of curry left after five days had gone bye) that I froze bags of this and then reheated later for an easy dinner.
8. Cold borscht 
I will never forget going to Veselka during one of my work trips to New York a few years back (this was before Ocean's 8 came out and showed Sandra Bullock chowing down on a pierogi). My mom makes good borscht, but Veselka's was life-changing (don't let my mom read this). I looked for a copy-cat recipe and made my own. You can make borscht hot or cold, but especially during the hot summer months, I prefer mine chilled — and with lots and lots of sour cream. 
Gina Vaynshteyn is an editor and writer who lives in LA. You can find more of her words on Refinery29, Apartment Therapy, HelloGiggles, Distractify, and others. If you wanna, you can follow her on Instagram or Twitter.
Image via Pexels
Like this story? Follow The Financial Diet on Facebook, Instagram, and Twitter for daily tips and inspiration, and sign up for our email newsletter here.