8 People On How They're Planning To Splurge (& Save) This Summer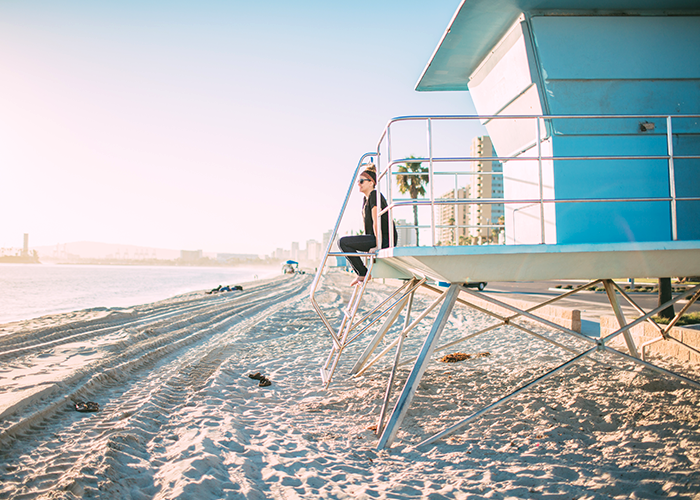 Summer is already proving to be expensive. It is only the first day, and I'm already finding myself shelling out extra for A/C, attending summer weddings, and generally trying to enjoy the season before it gets gloomy as hell in Connecticut again. I'm trying to carefully decide where I want to put my money this summer — should I go all-out with daily margaritas on restaurant patios, or should I focus more on getting into a routine of staying in? Should I blast my central air to keep it cool, or should I use fans and save up that sweet ~utility money~ for winter when I need to blast heat all day?
I'm not really sure. I think, considering the fact that I have a small puppy who has a lot of issues regulating his body temperature, I'm going to have to splurge on daily A/C, and figure out some other places to cut expenses to make up for this.
To get some more ideas, I decided to ask a bunch of people what their "essential" summer splurges are, and where they're planning on saving during the hot months. Here is what they had to say.
1. "Mine is totally A/C! I hate heat. Once it starts to get hot, I turn on my air conditioner and don't really turn it off. I think that it is usually much more expensive to cool a room from being hot than it is to just maintain a comfortably cool temperature once it has already gotten there, so once I turn it on, I basically leave it on all season and try to keep the room consistently cool instead of turning it on and off all day long." — Alyson
2. "I spend a pretty penny on sunscreen
. But I have such sensitive skin, and I know so many people who have had skin cancer, so I definitely don't mess around with it. I don't like to buy just any random sunscreen. I always do extensive research to make sure I'm getting a high quality one that will be effective and not toxic to my skin, because I'll be applying it multiple times per day. Also, I don't skimp on it. Putting just a little bit on isn't enough to make it truly protective, so I really slather it on and reapply. It can get pricey, but I feel like it is entirely worth it." — Ellie
3. "Imo it is literally a crime to not take advantage of strawberry season. I love buying fresh fruit and other produce this time of year when everything is juicy and delicious. Like you bet your ass I'm hitting up the farmer's market every weekend." — Megan
4. "In the summer, I really try to save on things like drinks because I feel like the whole season can sometimes just be a trap and convinces people they need to go to every outdoor happy hour. I like to enjoy summer nights, but I try to go for walks with my boyfriend, drink cheaper store-bought beer on the stoop of our building, find free outdoor events, or whatever to avoid spending on going out for dinner just to enjoy a nice evening." — Amanda
5. "Since I grew up in New York and then moved to Florida for school and stayed there, I'm still so enthralled by the beach and the water. It is hot here for a lot of the year, but especially in summer, so I think I splurge most on clothes — especially bikinis. I think I could go swimming once per year back in the northeast, so I'm taking full advantage of the fact that I can go to the beach and wear a different cute bikini every day. It seems frivolous, but it makes me happy and I obviously wouldn't buy 100 bikinis if I couldn't afford groceries or something." — Katherine
6. "I absolutely love cocktails, and when I turned 21, the most exciting thing for me was imagining all of the cute little drinks I could sip all summer in public with my friends. Reality check: it is not sustainable to go drinking every night in New York City. Especially on my meek little salary. My roommates and I became master at-home cocktail-bartenders. We have a small outdoor patio and we mix up fancy drinks all the time and have girls nights where we just sit outside and enjoy life. It was an upfront cost to stock our little bar with all different things, but I think it comes out to be so much cheaper than if we went out all the time. I live with four girls, we all work 9-to-5ish, and we never spend on happy hours because we DIY our 'nights out' and really enjoy them." — Brie
7. "This isn't a huge splurge, but I work at a summer camp for children with special needs, and the days are long, hot, and very physically active. I bought myself a really nice expensive insulated water bottle
that is huge, so it fits a ton of water and keeps it ice cold all day. I always buy cheapie plastic water bottles at like TJMaxx and they are $5 but break quickly, and usually don't keep the water fresh and cold very long. This felt like a big splurge, but it is such a simple thing that makes my daily work life so much easier." — Lexi 
8. "It is over $150 to get a beach pass in my hometown where I no longer live, but I'm getting one anyway. I live close enough to go to the beach often, but don't because you have to park super far and walk there. I'd rather splurge on the pass and go all the time like I used to. It is my favorite place, and if I spend that money once, going to the beach is free the rest of the summer." — Cayleigh
Mary writes every day for TFD, and tweets every day for her own personal fulfillment. Talk to her about money and life at mary@thefinancialdiet.com!
Image via Pexels