A Complete Breakdown Of An Awesome European Vacation For Under $1700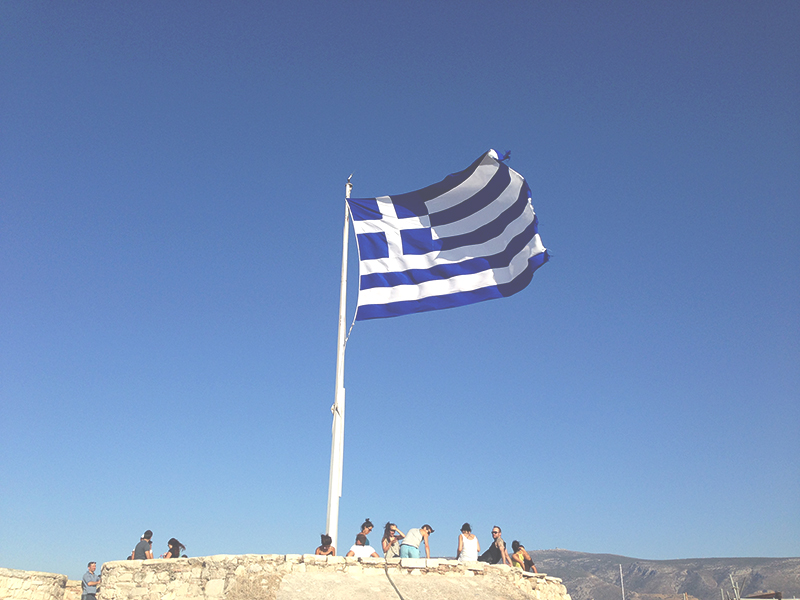 After months of hemming and hawing, after weighing your options and considering the costs involved, you've finally chosen a place you want to travel to on your ~splurge~ vacation. Trips such as these don't come along often, so you know you want to plan it out the right way. But how? Recently, one of our readers wrote in asking us to walk her through planning a vacation, step-by-step. She requested that we write a post that resembled a how-to and something meatier than simply sharing a wanderlust quote paired with a list of 2015's hottest destinations. She let us know that she wasn't picky, but that her only requirement was that the destination had to be overseas. To properly illustrate how you can go about planning a vacation in a more detailed and useful way, I've selected a destination to use as a sample — so, we're going to Greece!
I visited Greece back in 2013, and it was one of the most incredible places I've ever had the privilege of seeing. I've roughly budgeted what each portion of the trip cost, based on what I spent and experienced when I visited. Obviously, these numbers and the overall cost of the trip can greatly vary depending on your traveling preferences, how much you drink, how many souvenirs your purchase, etc. Below are seven steps that I follow for every trip I plan, which have become the bones of my Travel Planning Bible.
Decide what time of year you are going based on best airfare prices.
Flying to Europe on a Saturday in the middle of the tourist season means higher priced airfare and streets clogged with tourists. Make sure that you book your flight well in advance and are flexible with both dates and the day of the week you fly out. When I went to Greece, we traveled during the first week of September, and flew out on a Tuesday and back on a Thursday. Although I didn't use it when I booked my flight two years ago, now I rely on the app Hopper to notify me when the best time to fly is. You input your destination into the app and it uses algorithms based on research, industry information, and historical data to predict the best time to fly.
Whenever I book flights I use the Kayak explore tool to see when the best month to fly is. When I first researched the flights to price out this example, it appeared that I could book a roundtrip flight to Athens for around $700 but it had a 20+ hour layover. Not ideal. I had to select higher-priced flights to get a semi-decent flight.
Cost $923

Research accommodations thoroughly.
I swear by Airbnb whenever I travel, and I have gotten amazing deals on great accommodations in London, Spain, Greece, France, and many U.S destinations. If you're interested in more standard hotel arrangements, consider using sites like Booking.com and Hotels.com. Here is another great resource for booking inexpensive accommodations. When I was in Athens I stayed in a hostel for a very reasonable rate, where I received a complimentary breakfast and ticket stubs for free beers and trivia games at the hostel-run bar adjacent to the building (!!!). Staying at a hostel was a lovely experience and one that I would repeat again if I were to go back. I personally find hostels to be a great means of accommodation when staying in Europe on a budget.
When considering accommodations, it's important that you stay in a safe place that is in a great location. When booking, I always skimp on the quality of the room because for me it's more important to be in a better location close to the attractions, than further away from the city center in a bigger room. When I travel, I find that I'm only ever in the room for roughly 20% of the time (which is usually spent sleeping). I prefer to sacrifice a bit of comfort for a better location.
For the purpose of this article, I priced out a seven night stay at a centrally located apartment in Athens.
Cost. $330 divided in half (I'm assuming you are traveling with at least one other person) so the total would be $165.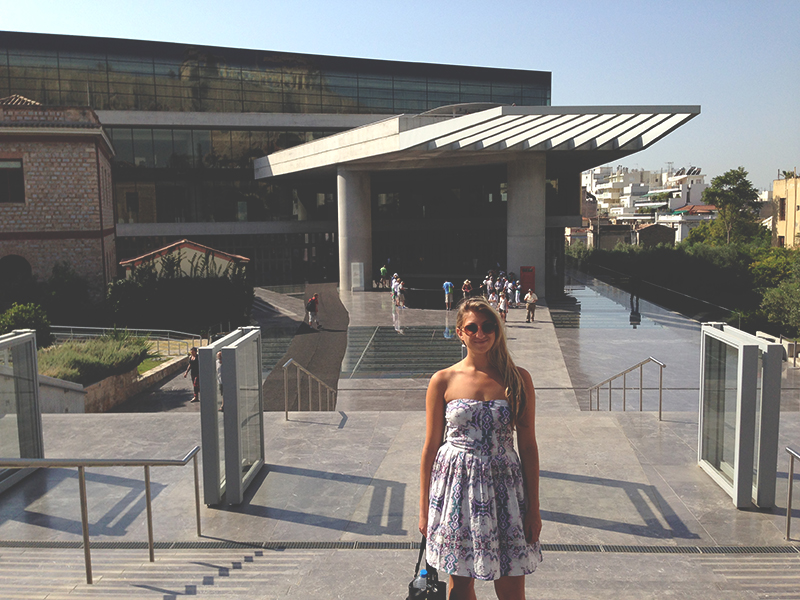 Figure out ground transportation/how to move around.
Before you arrive, the most important thing to figure out is how you're getting from the airport to the hotel. Metro? Cab? Train? Bus? Familiarize yourself with how the transportation system functions and always have a backup plan and enough local currency to buy tickets. For example, when I arrived in Lisbon last summer, my plan was to take the metro from the airport into town, but to my surprise, the metro was shut down for a worker's strike. I panicked and had to navigate the bus system instead. I asked friendly-looking locals for help and eventually found my way, but the experience taught me a valuable lesson — always have a Plan B.
Cost. Roughly $30 for eight days of unlimited transit on the Metro/Bus
Plan out a rough itinerary.
It's useful to roughly outline what you're doing each day based on the attractions that are near one another. For example, when I traveled to Greece, we only spent four days in Athens and the rest of the time in Santorini. We needed to figure out what attractions were closest to one another and group them together to get the most out of each day. When I travel I like to figure out how I can see and do as much as possible in the time I have, without over planning. I always use Trip Advisor to help plan out what attractions I should see, and I research travel blogs to figure out what restaurants, bars, and sights shouldn't be missed. It's helpful to visit travel blogs that do a 36, 48 and 72 hour coverage in the city. Even though you don't have to follow their guide exactly, it's helpful to see how they break down the time spent there. Always book a walking tour, which is a great way to see a large portion of the city in a single afternoon. I usually plan on taking a free walking tour on my first day in a new city, so that I can get "lay of the land" so to speak, and familiarize myself with everything nearby. I also love using Lonely Planet which is a comprehensive resource for travelers on a budget.
Cost. The rough cost for museum and historical site entrance fees is about $75. I would also factor in three nights of drinking at around $30 per night, which is another $100. Total is $175 for extras.
Create a list of restaurants near where you're going.
If you've ever been in a foreign city, starving, and desperately looking for someplace to eat but can't find any restaurant that doesn't resemble a cheap looking tourist trap, you're not alone. I've been in that situation many a time, and have found myself once or twice simply giving up and sitting down to a meal that I KNOW is going to cost much more than it should. Once, when I was in Barcelona with my boyfriend, we sat down at a restaurant right on La Rambla (huge mistake) and ordered two iced coffees. What arrived were giant, frozen coffee custard-like monstrosities laden with whip cream, a cookie stick, and cinnamon sugar dusting. They were the most touristy excuse for a cup of coffee and ran us 12 euros a piece. #yikes.
It's essential to do research back home before you leave, to ensure that you have a sense of what is available food-wise and where you can get a reasonably priced meal. As I've grown older and come to appreciate food and the importance of sampling local cuisine wherever I travel, I've placed more emphasis on researching restaurants and bars before I head out on my vacation. I look for the best local happy hours to find inexpensive pre-dinner drinks, restaurants with the best value, cheap eats, and bites on the go. I like to incorporate two pricier nights out at restaurants because after all, we're on vacation, and balance them out with more sensibly priced dinners. For the purpose of this post I averaged out roughly $50 a day for food (not including alcohol).
Cost. Roughly $50 per day for 7 days = $350.
Create a folder for important documents and make copies.
Long gone are the days that I would dump everything I needed into one giant bucket-bag purse and run out the door to the airport the morning of my trip. I would arrive for my flight unsure of what compartment I placed my passport into, where I slipped the hotel confirmation packet, or tickets for tours, tastings, etc. Now I travel like a #boss, and keep everything that is important in a folder that I can slip into my purse and take out when I need to. Having everything neatly organized in one place allows you to navigate your vacation with a sense of calm and confidence. I make a copy of my passport and print out hotel confirmations, the rough itinerary, and the list of restaurants, attractions, and destinations I want to see. Since it's unlikely that I will have internet access as soon as I step off the plane, I like to carry a map and copy of the phone number and address of where I'm staying.
Run through the trip to look for gaps in planning.
Before I leave for a trip, I briefly walk through how the vacation will play out by talking everything over, out loud, with my travel buddy. This helps enormously when trying to reveal any gaps in planning or knowledge about the destination. For example, we start with basic questions such as, "how are we getting to the airport for the flight?", "do we have enough local currency on us in case we need to take a cab or buy food right away?", and "have we called our bank/credit card companies to let them know we are traveling?" We'll then move on to more nuanced topics like, "what days are these attractions closed?", and "are there student/young traveler discounts we can benefit from?" and "does our hotel have internet?" I guarantee you that talking out loud will help reveal things you didn't think about previously.
After calculating the total rough costs of the trip, all in all it will run you about $1,643. Yes, it sounds like a lot of money to spend on a trip, but you're going to Europe and the airfare is always expensive.
Remember, your trip should be fun, relaxing and stimulating. Don't be a lazy tourist who relies on easy and convenient methods of travel that are more expensive. Walk everywhere, eat where the locals do, talk to shop owners and other cafe patrons to get advice on where to go and what to do. Have an open mind and stay organized with your money and budget. Below are some additional links that are helpful when planning a trip to Greece on a budget.
Image 2 via Dennis Jarvis, Image 3 via Juan Verni, on Flickr.