A Librarian's 6 Ways You Didn't Know The Library Can Save You Money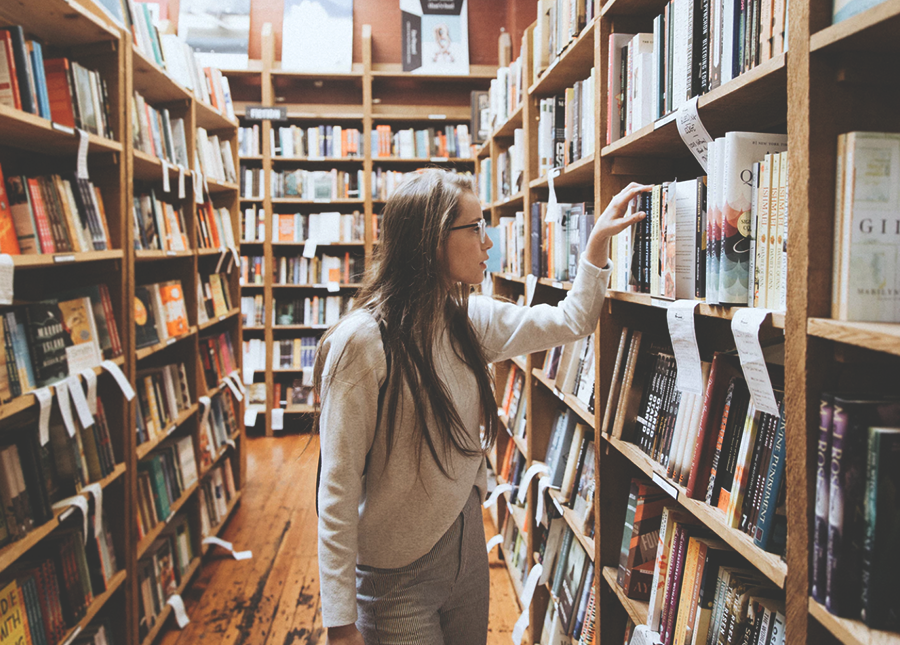 Libraries are no longer just the book warehouses you remember fondly from your youth. They now offer all kinds of digital services, as well as live events that you may not necessarily expect from the place you go to get reading material. I'm 32 and have been a public librarian for over eight years. And while I've loaned out a lot of free books during that time, I've also helped people learn new skills, find jobs, meet their favorite authors, and connect with new technology.
Something I've noticed after telling my peers I'm a librarian is that a lot of them haven't set foot in a library since they were a kid. But when I start describing the cool stuff they can borrow now besides books, they all resolve to get their library card the next day. Clearly, I am the most fun at parties! Below are just some of the things single people my age are overlooking that they easily can get for free, simply by using WiFi and their library card.
1. Digital media.
Most libraries offer eBooks and audiobooks, which you can download for free right to your phone or tablet. I once found myself on a long bus trip with nothing to read. No problem — I just opened my OverDrive app and downloaded an eBook to keep me company along the way. I have a friend who is training for a marathon and borrows digital audiobooks for his long training runs. I've borrowed travel eBooks for long trips so I don't need to lug around the physical travel guide. I've also downloaded magazines using Zinio or Flipster, saving me money on airport impulse purchases. Depending on what services your library subscribes to, chances are you can access a wide range of digital materials for free by signing up with your library card.
2. Streaming content.
Whether you've already cut the cable cord or you're just looking for a date night alternative, libraries now offer streaming video content through Hoopla or Kanopy. I've used Hoopla for in-home workout videos that I've streamed right to my home gym (AKA the space between my bed and the wall). Hoopla also has music you can download so you can listen to the latest Taylor Swift album before deciding if it's worth buying from iTunes or not.
Kanopy offers smart independent cinema as well as foreign films. It's the kind of stuff you won't necessarily find on Netflix. Pop some popcorn, put on your fuzziest slippers, and enjoy a free night in watching a movie that you'd normally only catch at the art house cinema. Kanopy also offers The Great Courses series which include videos like "The Science of Mindfulness" and "The Big History of Civilizations."
3. Free museum passes.
My local library offers free passes to several wonderful local art museums, which I can borrow for one week. They also have passes to zoos, state parks, and even a planetarium. Check your local library's website to see if they lend out passes.
4. Personal Development
If you prefer to spend your free time on personal or professional development, the library can help with that, too. Many offer access to resources like Lynda.com, where you can learn coding, design, or even brush up on your public speaking skills. When you finish a course, it sends you a nifty certificate of completion that you can show to your manager to prove you're committed to learning new skills and developing yourself.
If you'd like to add a language skill to your resume, you can take advantage of Mango Languages or Pronunciator, two popular databases for libraries. You can learn Mandarin in your spare time or prepare for that trip to Paris you've been saving up for.
Our local library also hosts workshops with small business counselors from SCORE, an organization that hooks you up with free business mentors. When my fiance invented and designed a new playing card game, a counselor from SCORE helped him incorporate his business and refine his invention into a legitimate side gig. I also showed my fiance how to use Reference USA to generate a list of businesses and their executives' contact information based on region so he could prospect for new clients at his day job.
5. Unexpected, Non-Book Items
If you're lucky, your library may be loaning out a collection of "things" like musical instruments, puzzles, sewing machines, or hiking backpacks. You can try out that new hobby you've always been meaning to pick up without spending a dime. That way you can see if your dream of learning to play the bongos is something you'd like to pursue before going out and buying bongo drums. Or, if you're having people over, some libraries will lend you a chocolate fountain or karaoke machine.
6. Programs and Events
Libraries host much more than boring book clubs these days. They're having Friends or Parks and Recreation-themed trivia nights, beer brewing workshops with free samples, or mini golf inside the building. There is a library near my town that regularly hosts nerf battles after hours for adults. And, somewhat more predictably, libraries love to have author talks and concerts for the community. Recently, a harmonica virtuoso performed at my library whose previous appearances included America's Got Talent. I've even attended a talk with a former WWE wrestler who described his workout routine and talked about his motivational book.
So go out and get yourself a library card. All you will need is an open mind and proof of address.
Erin Shea is a public librarian living and working in Connecticut. When she's not at the library, she enjoys cooking, snuggling with her dogs, and camping with her fiance.
Image via Unsplash