A Professional Stylist Shares 5 Tips For Keeping Your Clothes In Their Best, Ready-To-Wear Condition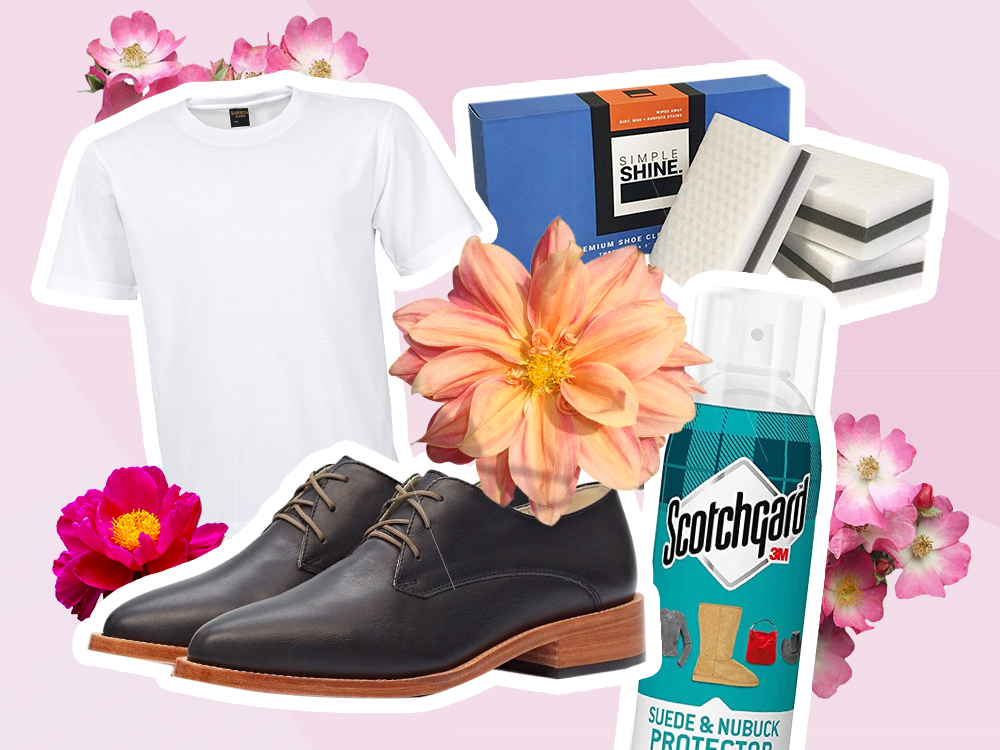 If you're anything like us, you're in full spring cleaning mode. This month, we're bringing you a series of posts on how to tidy up everything in your life, from your finances to your wardrobe. This week, we talk to a stylist about how to keep your wardrobe fresh, clean, and ready-to-wear.
Picture this: You waltz up to your wardrobe, Beyoncé's rallying call in the background. You select the perfect outfit in seconds. You put it on and there's not a snag, tear, or loose thread in sight. That T-shirt is so bright, you need shades to leave the house. Your black trousers? Fresh as the day you bought them. Your shoes are shiny and clean, and you feel awesome.
Most of us don't start the morning quite this way. Picking an outfit usually feels like a chore, and that's likely because most of our clothes lack the luster of when we first purchased them. A little maintenance, however, can go a long way. Plus, it can keep you from feeling tempted to purchase brand new pieces just to feel more "polished." We spoke with Cassandra Sethi, stylist and founder of Next Level Wardrobe, about what you can do to get the most out of your clothing items. This spring, when you're tackling the rest of your spring cleaning commitments, set aside an afternoon to maintain your wardrobe using her tips, below.
1. Start with a closet audit.
"A lean wardrobe is key to wearing all your clothes," says Sethi. Take a long, hard look at your wardrobe, and in the spirit of spring cleaning, start sorting. We've covered closet purges before, and you probably know the basics. Get rid of what you don't wear and take note of items that you still want to wear but that might need a little maintenance. 
Sethi suggests three questions for sorting your clothes:
Do you even like it? Get real and ruthlessly honest. We're all guilty of buying "aspirational" clothes, but you know your body and lifestyle best. Trust your judgment.
When was the last time you wore it?

If it was over a year ago, let it go.

Does it look worn? Discolored? Does it have holes or pilling?

If the damage is minimal and you're willing to fix it — we'll get to that in a bit — keep it. Otherwise, it's time for these pieces to move on.
Once you've properly culled your wardrobe, make sure you can see everything in front of you. "If you can't see it, you're not going to wear it," Sethi advises. "Everything needs to be in plain view."  She also suggests hanging everything you can — yes, even T-shirts — so that your clothing stays wrinkle-free and ready-to-wear.
2. Restore your faded clothing items.
If your whites are getting yellow, a drop of lemon or vinegar is a great way to perk them up, especially if your deodorant is leaving those dreaded pit stains.
For black and colored clothing, home dyeing is also easier than you might think and a lot cheaper than going to a professional. All you need is a bottle of standard clothing dye (which is typically under five bucks), some hot water, and a bit of patience. Read the instructions carefully first, and if you're dyeing in the washing machine, run an "empty" cycle afterward to make sure that you don't inadvertently dye another load.
3. Revive your footwear.
When it comes to your worn-out boots or stained suede slides, Sethi recommends enlisting the help of a professional. A cobbler can reheel your pumps or replace the entire sole of your wear-everywhere flats, and it usually costs far less than you'd expect. In New York, the cost typically runs around $15-$75, depending on the service.
Take a good look at your shoes and make a list of what you can do to spruce them up. Could they benefit from a proper shine and polish? Do you need fresh new laces to replace any fraying ends? 
Before you see a cobbler, make sure you keep suede spiffy by "brushing" the fabric with a specialist brush to keep the nap looking good. There are multiple tools you can buy to tackle any stains (cleansing solutions, polishing cloths, a shoe eraser) and make sure you protect those beautiful shoes with some kind of suede or leather spray guard, which you can also buy for sneakers. A little maintenance will go a long way in helping your kicks last.
4. Make it fancy.
There are some fun, affordable, creative ways to spruce up your existing wardrobe, too. Hate the buttons on that blazer? Change them. Think rhinestones go with everything? Sew them on. Big hole you don't know how to fix? There's a patch for that. 
Budding fashion designers aside, being able to sew is a basic life skill that everyone could benefit from learning (and YouTube can help with this). These fixes can also help you squeeze more wear out of existing garments. Beyond being better for your budget, upcycling is good for the planet, too. 
5. Learn some laundry basics.
We've all seen that episode of Friends where Rachel leaves a red sock in with her white laundry, and while an entirely pink wardrobe may be temporarily appealing, I'm guessing it's not what you really want. "Separate your dark, light, and colored clothing items," Sethi says. Yes, it's Laundry 101, but it's surprising how many people skip this step. 
Sethi also advises that the best way to get the most from your clothes is to simply read the care label. "It's really important — those are the best recommendations on how to care for the garment," she says. Not sure what all the strange symbols on the care label mean? There are plenty of online guides that will decipher them for you.
Hands up if you love laundry fresh from the dryer, all hot and toasty. Yep, so do we. But Sethi warns, "The dryer is not your friend — stay away from it."
This is more a preventive measure, but harsh dryer heat can destroy the elastic and stitching on your clothing items, making your jeans look dull and your crisp jogger-inspired slacks loose and ill-fitted. You'll get more from your wear if you flat dry or at least use the gentle cycle, Sethi says.
Natural fabrics like cashmere or silk don't need to be dry-cleaned as often as you think. Because the fibers are natural and your body is able to breathe, you're less likely to need to take the item to a professional cleaner more than once or twice every three months, depending on how frequently you wear it.
*****
Finally, consider investing in a few key tools — maybe a little sewing kit for replacing buttons, a suede brush for those boots, and a fuzz remover for notoriously pilly sweaters. Sethi offers some final advice for keeping your wardrobe intact going forward: "Invest in items you wear every single day, like T-shirts, great fitting trousers, comfortable-fitting shoes. Also, tailoring is worth every single penny, because it will instantly make you look more put together."
Cassandra Sethi is an NYC Personal Stylist and Founder of Next Level Wardrobe. She works with successful men and women all over the world to get the perfect wardrobe, save time and look amazing every day. Sign up for her complimentary guide, the 3 Items to have in your closet today, on her website.
A linguist, and writer, Eloise founded  Olim, a communications consultancy that inspires action. Eloise is based in Edinburgh, where she can frequently be found petting other people's dogs, powerlifting, and patiently waiting for Peony season to roll around. 
Image via Pexels
Like this story? Follow The Financial Diet on Facebook, Instagram, and Twitter for daily tips and inspiration, and sign up for our email newsletter here.