All 45 Things $45 Gets Me At The Dollar Store, As A Vegan (PICS + Receipt)

I challenged myself to see what vegan items I could find at one of the cheapest stores in America: Dollar Tree.
There are certainly several stigmas surrounding veganism, including: who is vegan, who has access to veganism, and within that, how much it costs. While I do not want to glaze over the accessibility problems pertaining to veganism, I do believe rewriting the narrative of what it is, will paint a more accurate picture of the community. Restructuring the conversations surrounding what it means to be vegan and placing it closer in reach, will make it easier for those who have always been curious about giving veganism a try. 
One of the common responses I get when I tell someone that I am vegan is, "Well, isn't that expensive?" My first answer is always "No" because veganism is not expensive. But sometimes I might elaborate to say, "It can be." Anything one chooses to eat can be expensive. The same way I might choose to indulge in faux meats and vegan cheese one week is the same way one might choose to indulge in steak and lobster tails. Regardless of diet, there are feasible ways to cut down on food expenses. 
In an effort to further my point that veganism is truly affordable and accessible, I challenged myself to see what vegan items I could find at one of the cheapest stores in America: Dollar Tree. For those who are not familiar, everything sold at the Dollar Tree is a dollar. Literally everything. As an avid Dollar Tree shopper, I can attest to the fact that Dollar Tree has improved so much over the past several years. The difference in quality of the few items I would gather as a freshman in college ten years ago to now is immense. So much so that now, 'Dollar' even has a fair amount of vegan items. After showing you all of the vegan gems I picked up from my local Dollar Tree, I am confident you will have a different out outlook on this pocket-friendly option.
"For those who are not familiar, everything sold at the Dollar Tree is a dollar. Literally everything."

Before I dive in, I want to clarify a couple of things. First, I am not writing this piece in order to make novelty out of a store in which some might use for their primary food source. This is solely for informational purposes. Secondly, I am not suggesting the items I purchased are a complete grocery shop. Rather, I am only highlighting some of the vegan items I found. Finally, if you would like to see this piece in video form, I did a video similar to this concept on my YouTube Channel (Katie Makes It Vegan) where I ate vegan for a day using items from Dollar Tree. Here is the link. 
So I went to my local Dollar Tree and went (vegan) ham. Take a look: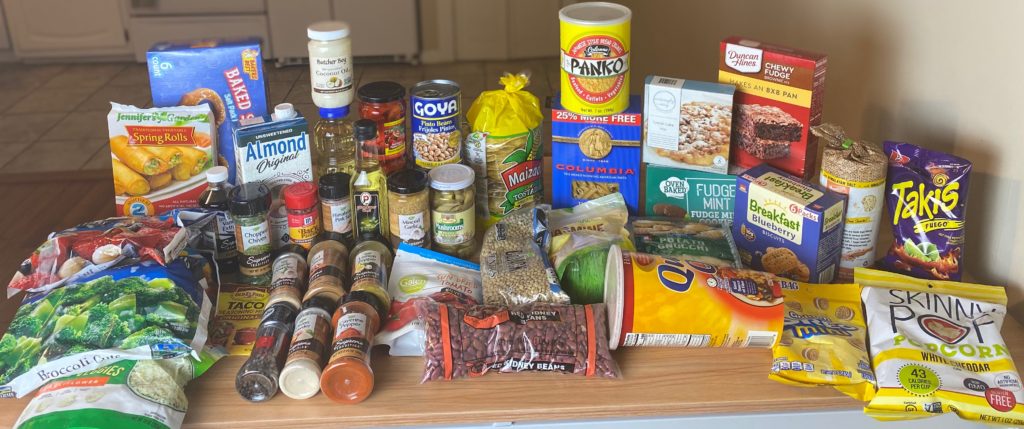 As you can see, I found a lot of things at Dollar Tree. In total, I spent $45 before taxes. Here are my receipts (I went to two Dollar Trees because I'm stubborn and I knew the first Dollar Tree was missing items they usually have):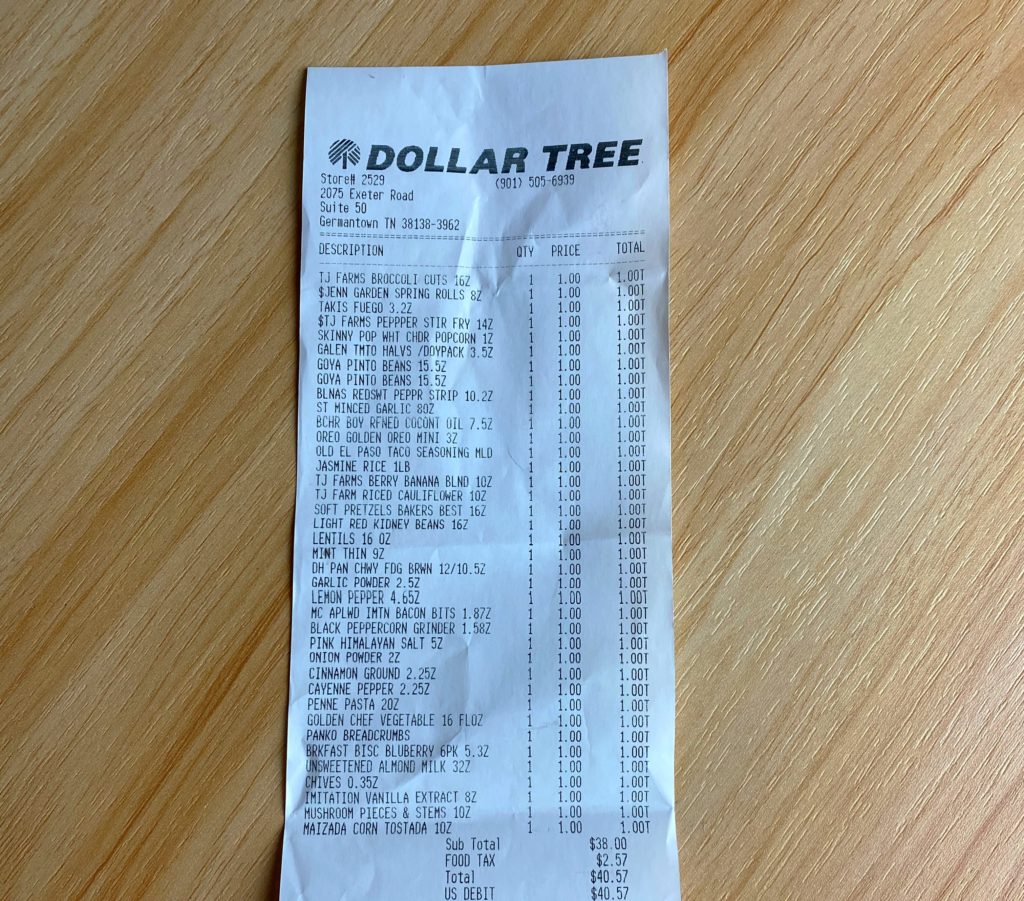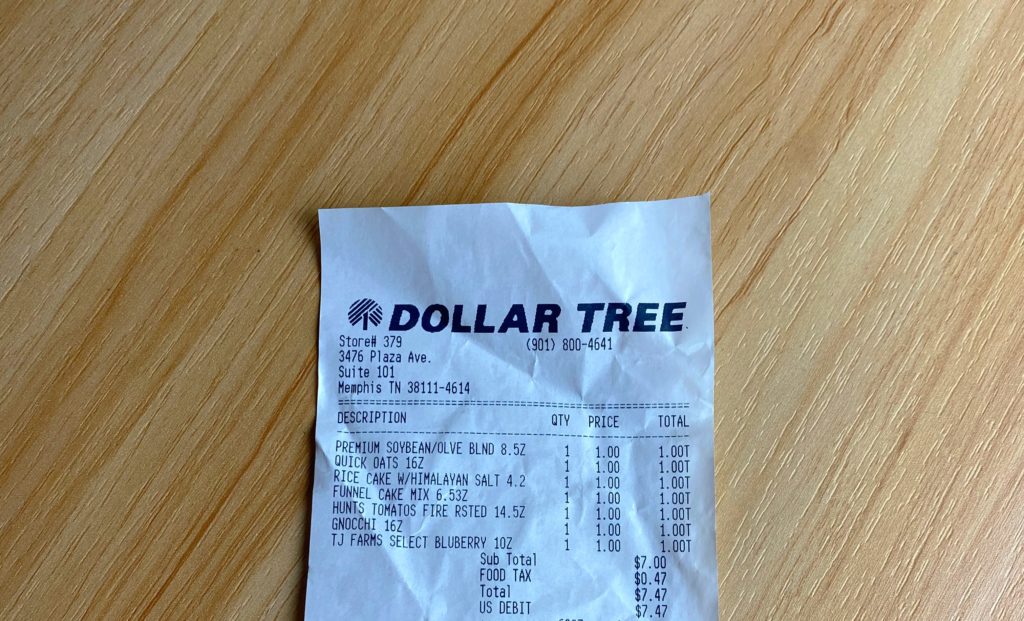 Some things are inherently vegan like vegetables and legumes and others are accidentally vegan (meaning they were not created to be vegan but according to their ingredients, are vegan by default). I have a lot here, so I have broken this haul into six categories: Frozen Foods, Milks and Oils, Seasonings, Dry Goods and Legumes, Vegetables, and Breakfast, Snacks, and Desserts. A lot of these items are self-explanatory but I do want to highlight a few of my favorites. 
Frozen Foods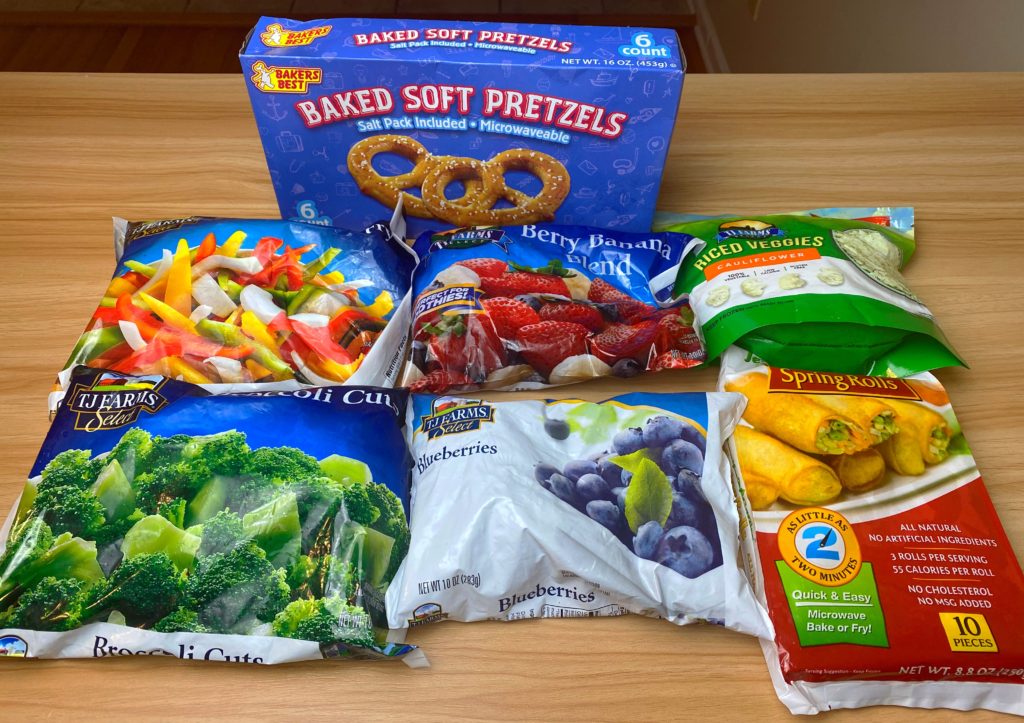 Honestly, stop basic frozen fruits like strawberries, peaches, and blueberries from your local grocery store. Dollar Tree carries these items and they are good quality, at a fraction of the price. I use frozen blueberries almost everyday and this same bag is twice the price at Trader Joe's, for example. 
These spring rolls are fantastic and pair nicely with your favorite dipping sauce. Further, make a simple cheese sauce by mixing a 1/2 cup of shredded vegan cheese, 3-4 tablespoons of oat milk, 1 teaspoon of Dijon mustard, salt, and pepper and microwave in 30 second intervals until melted. Then, live your best life and pair it with these pretzels!
Milks and Oils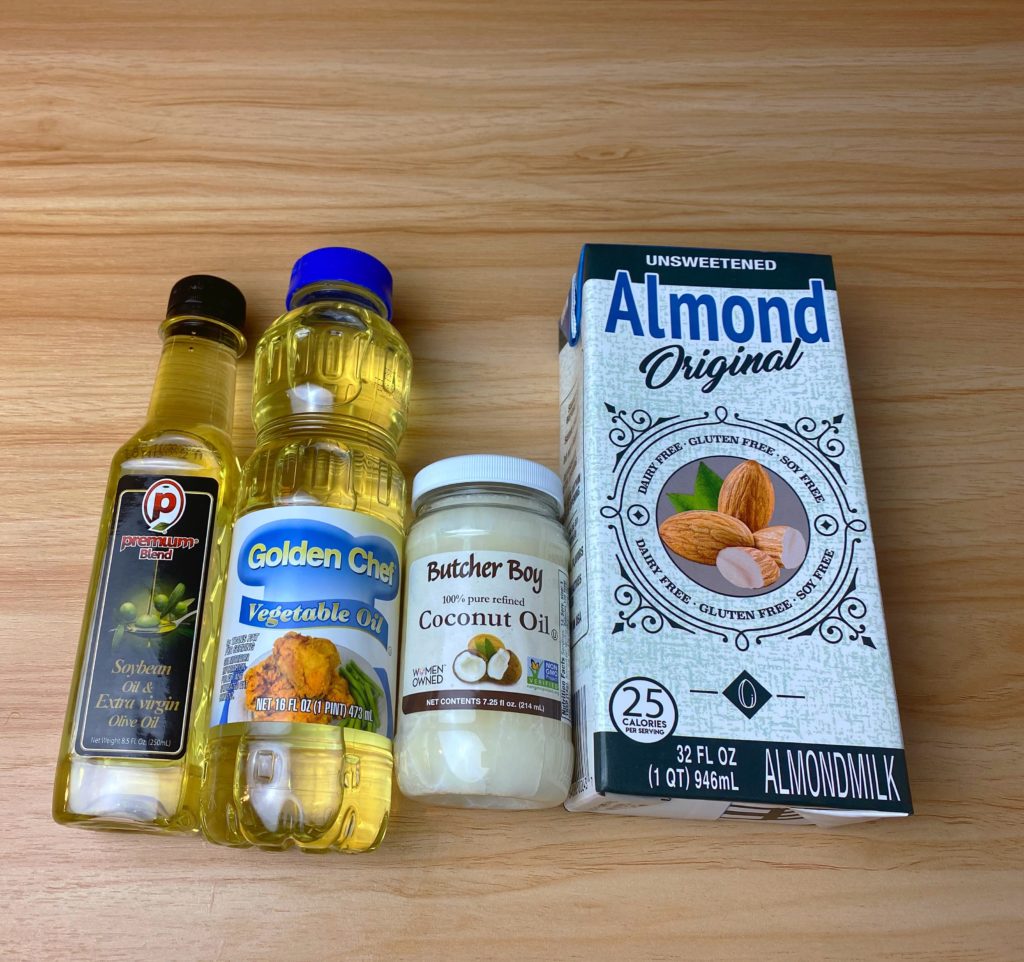 Dollar Tree has several variants (i.e. vanilla and plain) of almond, soy, and rice milks. I also thought this coconut oil was a great value. It's a small jar but it's also only a dollar. 
Seasonings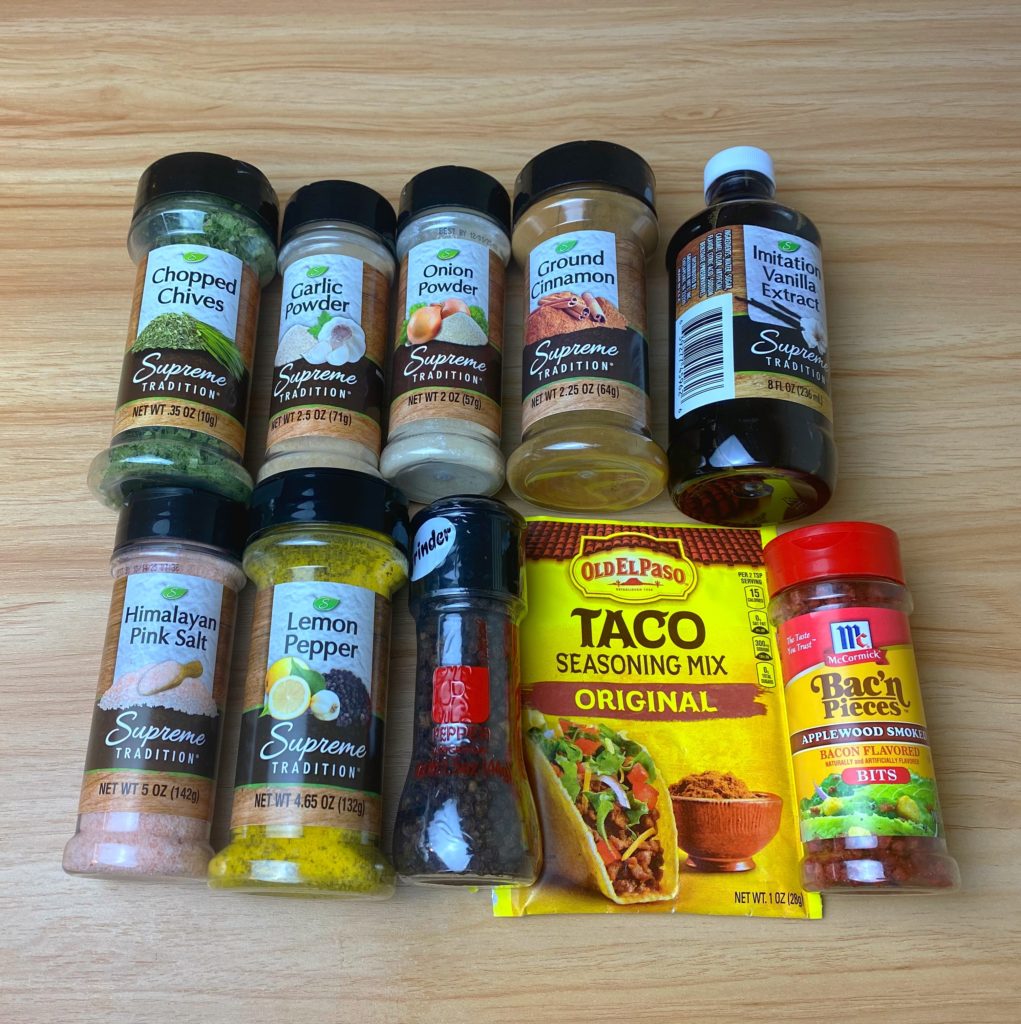 The seasoning section at Dollar Tree has come a long way; one might be surprised at variety. If you're not a vanilla snob, this imitation vanilla extract is great. I use it everyday. A new find for me this time around was this "Himalayan Pink Salt". I had to grab it because I thought it was such a neat find. Also yes, these bacon bits are vegan!
Dry Goods and Legumes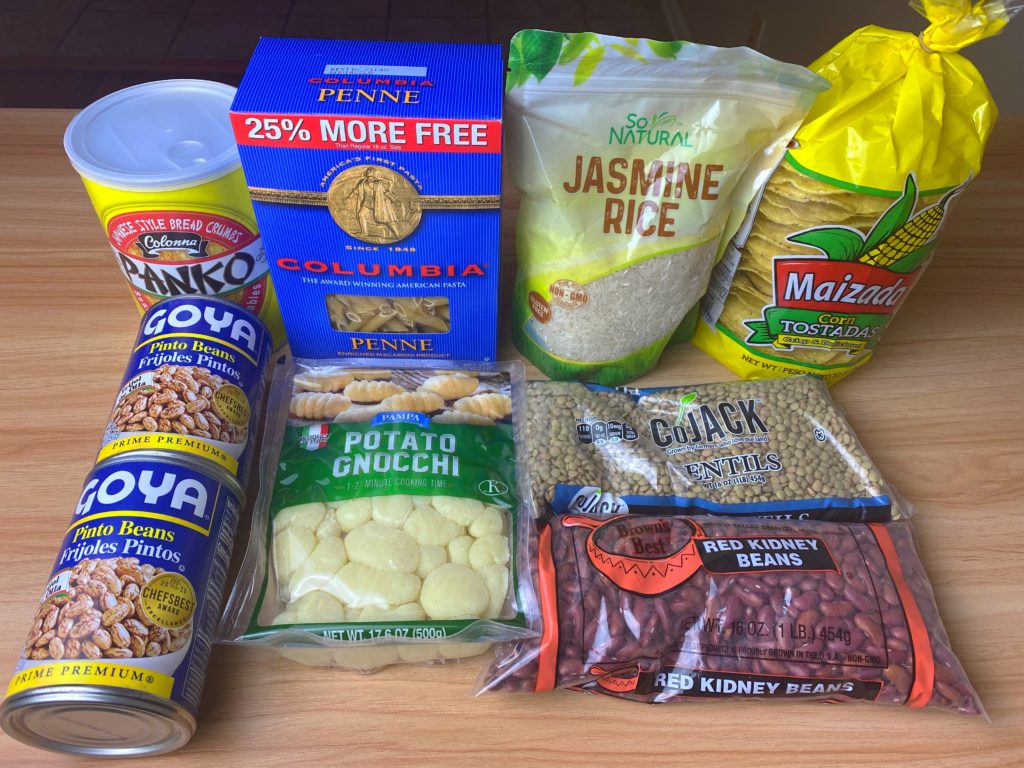 Items like pasta and beans might not be means for surprise but I was so excited to see this Jasmine Rice. I will definitely be making a coconut curry this weekend! It can also be tricky to find Panko Bread Crumbs that are vegan as some contain milk. This one doesn't!
Vegetables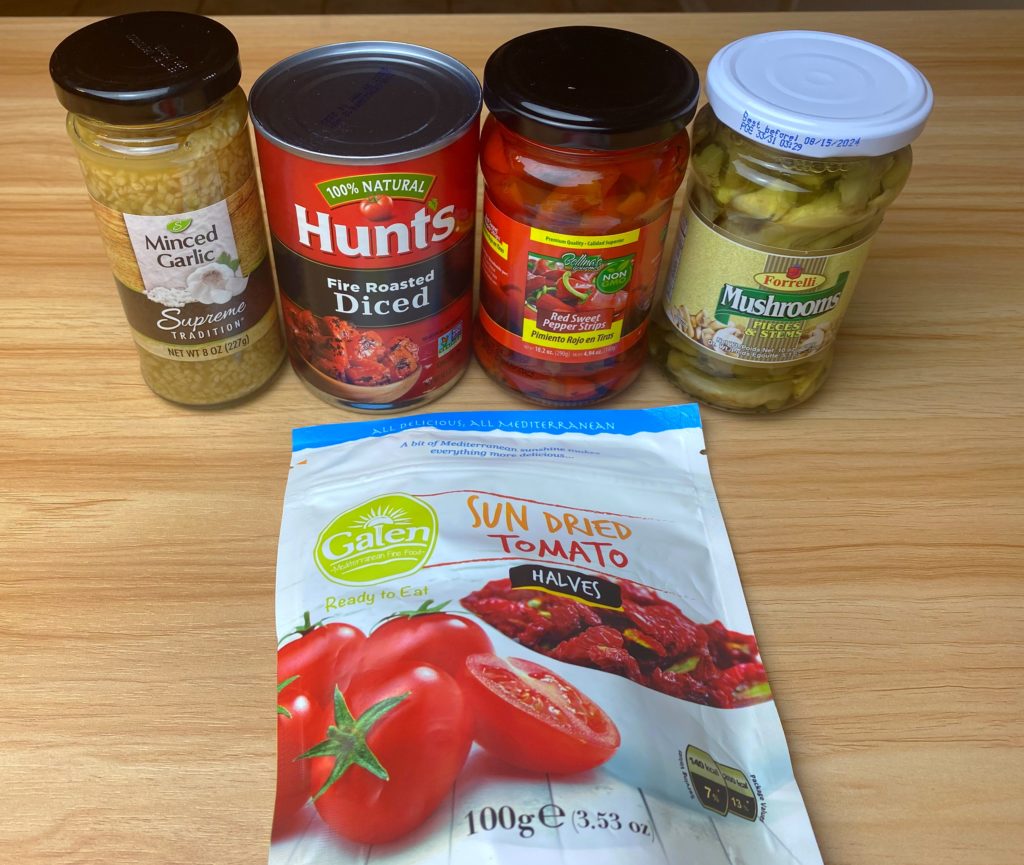 I love using pre-minced garlic because in addition to being incredibly convenient, I love throwing this into quick sauces, like vegan ranch, without it being too overwhelming. These sun dried tomatoes were also an exciting find. 
Breakfast, Snacks, and Desserts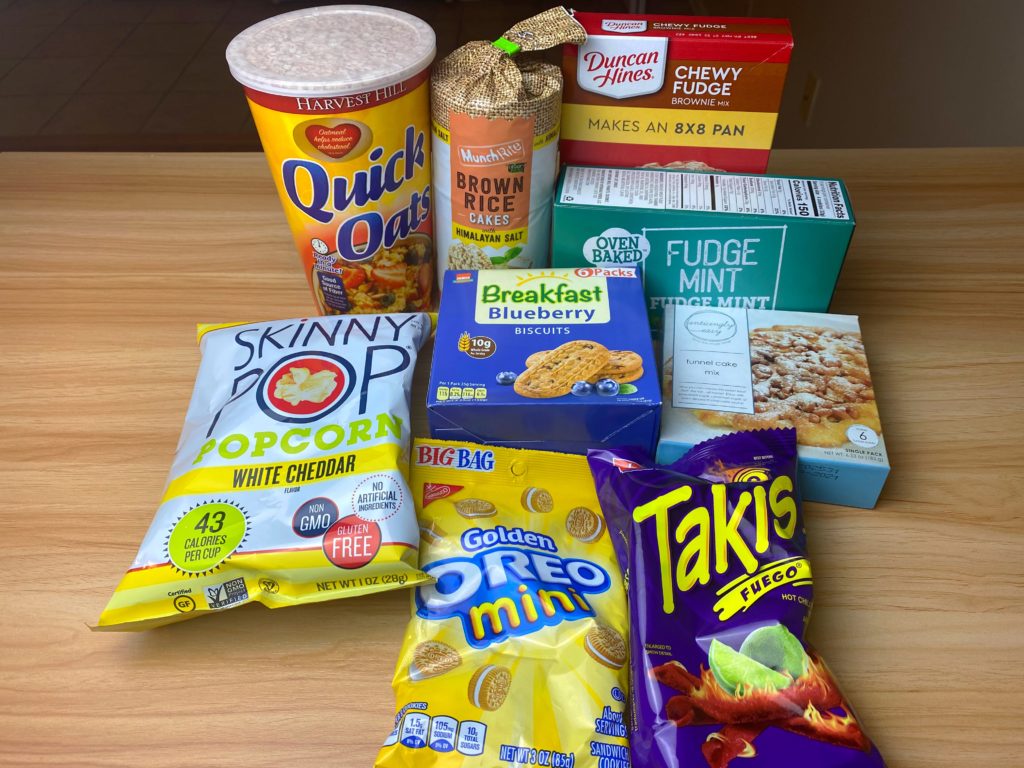 I have a huge sweet tooth so a lot of things made me really excited about this shop! Just a fun, new to veganism fact: a lot of vegan brownie batters are vegan. Just be sure to check the ingredients. You can substitute the eggs for unsweetened applesauce, a flax egg (1 tablespoon of ground flax seed mixed with 2 tablespoons of water), or even a banana. But my favorite way to use this mix is to take a 1/4 cup of it, mix with 2 tablespoons of water, and microwave for a minute in a mug. 
These Fudge Mint cookies are a dupe on the Girl Scout Cookies "Thin Mints" and are amazing! They are not as dense as the original but are delicious! So, you may be thinking, "what am I supposed to do with all of these random items?" Well, I'm glad you asked. Here are some possibilities:
These Blueberry Muffin Overnight Oats were everything and used items exclusively from Dollar Tree: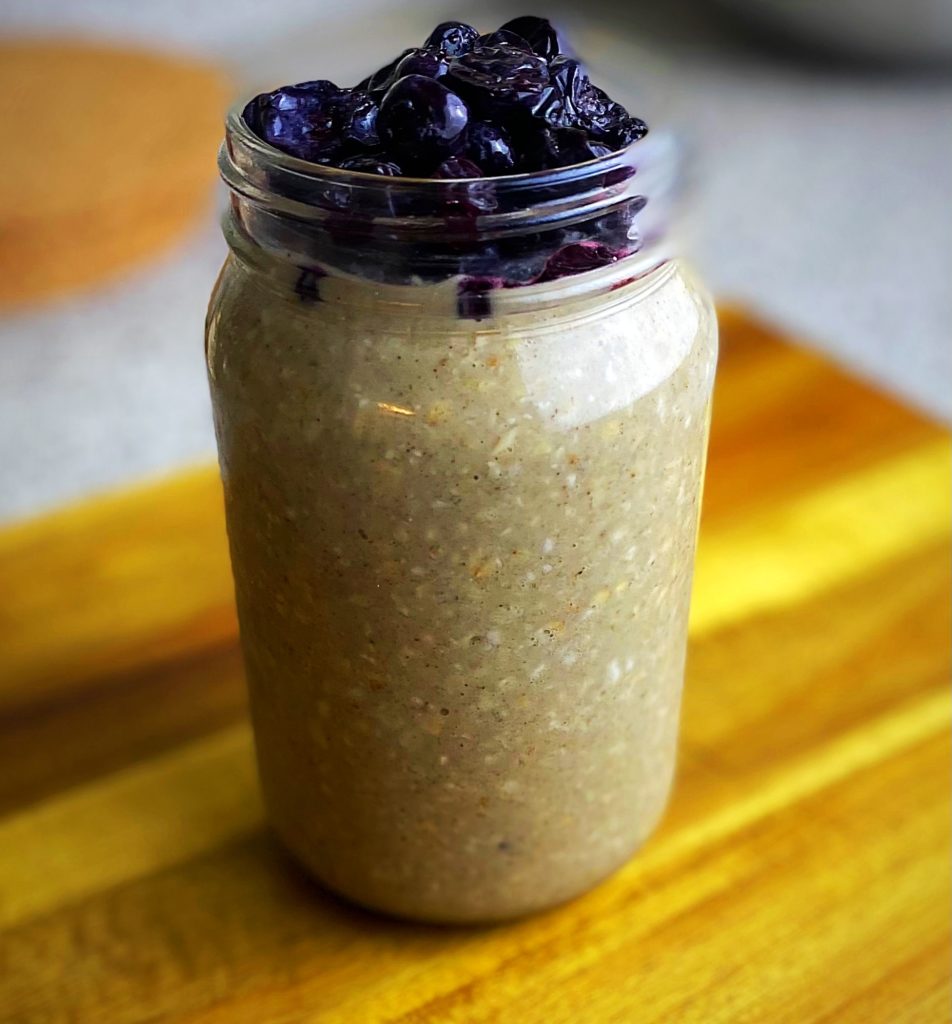 Vegan Blueberry Muffin Overnight Oats
Ingredients:
-1 cup Quick Oats
-1 1/2 cups Oat Milk
-1/4 cup Frozen Blueberries, plus additional for topping
-2 teaspoons Vanilla Extract
-2 teaspoons Cinnamon Powder
-Sweetener of choice to taste
Directions:
In an air-tight container, mix all of the ingredients together

Place the container in the fridge for at least 6 hours, although overnight is better. Serve cold.
Okay, so what Katie? Breakfast is easy. Say less.
These tostadas were super simple and ridiculously good. They also use ingredients I found solely at Dollar Tree: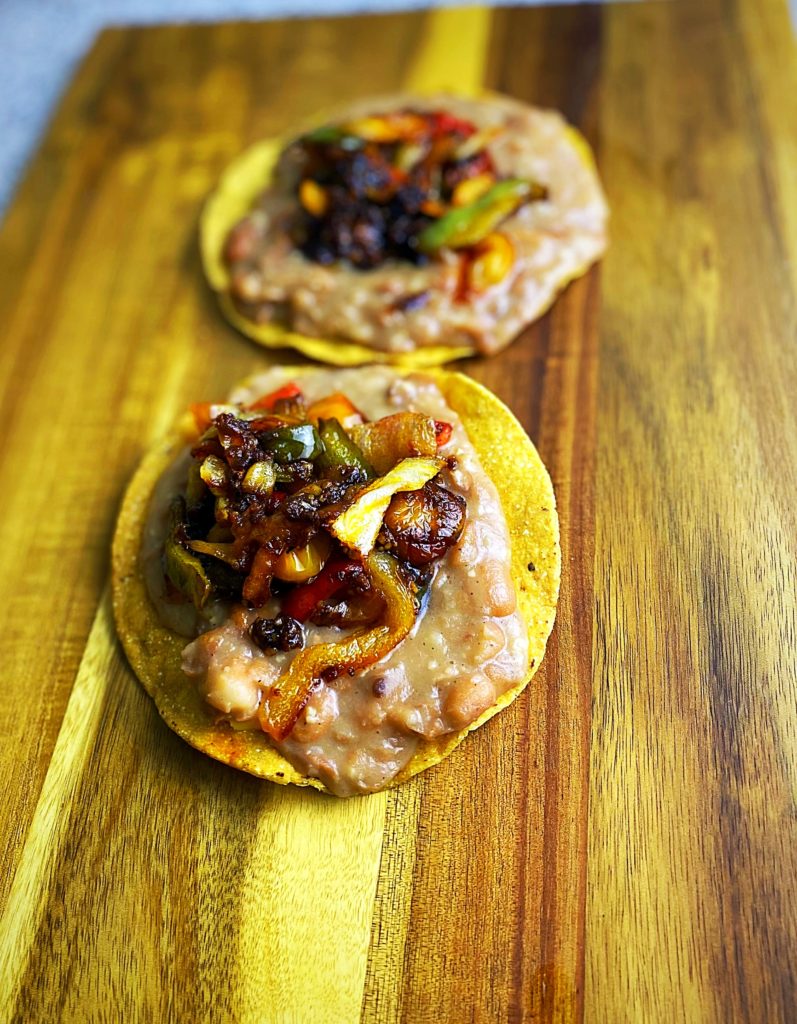 Vegan Fajita Tostadas
Ingredients:
-1 cup Frozen Pepper Stir Fry Mix
-1 tablespoon Garlic, Minced
-3-4 tablespoons Taco Seasoning
-Refried Beans (recipe below)
-Tostada Shells
-Olive Oil to Sauté
Directions:
Heat the olive oil in a skillet on medium-high heat. Add the stir fry mix to the skillet and sauté until fragrant. Then, add the garlic and cook for an additional 2 minutes, being sure to stir continuously so the garlic does not burn

Add the taco seasoning. Continue to sauté for an addition 5 minutes or until the peppers begin to brown

Preheat your oven to 400º F. Heat the tostada shells for 2-5 minutes or until they are slightly browned and crispy

Top the shells with a layer of the refried beans and the peppers. 
Refried Beans
Ingredients:
-1 15.5 oz can pinto beans
-2 tablespoons of Vegetable Oil 
-1 teaspoon "Better Than Bouillon" Vegetarian No Chicken Base (optional)
The following seasonings to taste:
-Black Pepper
-Garlic Powder
Directions:
Heat oil in a small saucepan. Add the entire can (including juices) of pinto beans to the oil. Heat beans until they start to simmer

Using a potato masher or two forks, mash the beans until smooth (you will still have pieces of the bean "skins" remaining) 

Add seasonings and the Better Than Bouillon to beans and stir to incorporate 
Finally, this Creamy Tomato Gnocchi even surprised me. It was amazing! This recipe incorporates ingredients I already had at home: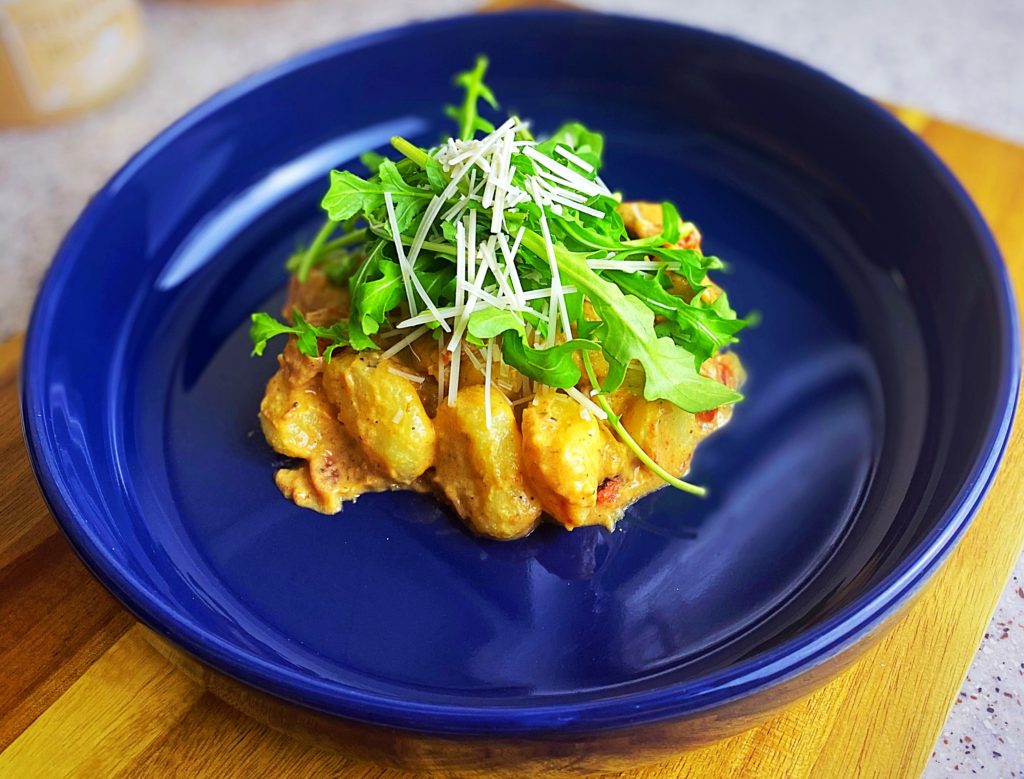 Vegan Creamy Tomato Gnocchi
Ingredients:
-1 can Hunts Fire Roasted Diced Tomatoes
-1/4 cup Sun Dried Tomatoes, sliced
-2 tablespoons Garlic, minced
-1 cup Vegetable Broth
-1/4 cup Raw Cashews
-3/4 Oat Milk
-1/4 cup Nutritional Yeast
-2/3 cup Potato Gnocchi
-2 tablespoons Olive Oil
The Following Seasonings to Taste:
-Black Pepper
-Salt
-Garlic Powder
-Onion Powder
-Ground Oregano
-Dried Thyme
-Vegan Parmesan and Arugula for topping (optional)
Directions:
Soak the cashews in hot water for 2-4 hours or until soft

In a blender, place the soaked cashews, oat milk, half of the nutritional yeast, and garlic powder, salt and pepper to taste. Blend until smooth and set aside

In a large skillet, heat the olive oil on medium-high heat and add the sun-dried tomatoes. Sauté until fragrant. Then, add the garlic and sauté for an additional 2 minutes

Add the entire can of the fire-roasted tomatoes to the pan along with the vegetable broth and the cashew cream, nutritional yeast, and seasonings to taste. Reduce the heat to a simmer and cook until the sauce thickens

Prepare the gnocchi according to the package's instructions. Top the gnocchi with creamy tomato sauce, vegan parmesan, and arugula. 
***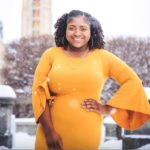 I hope I helped to change your perception of not only how easy and accessible veganism is, but also about what the Dollar Tree has to offer. There are so many great finds and hidden gems that are high in quality and can help you make the most of your weekly food budget. I would love to hear if you try any of these products, use any of my recipes, or have your favorite, go-to product that I may have overlooked! Happy shopping!
Katie Brown is a classical musician, podcaster, educator, and content creator. In addition to being a Fellow with the Memphis Symphony Orchestra and cohosting Classically Black Podcast, she curates her YouTube Channel "Katie Makes It Vegan," dedicated to making her formerly favorite foods vegan. You can also follow her on Instagram and Twitter.
All images via Katie Brown