An Exact Breakdown Of My $200 A Year Skin Care Regimen
By Emma B.
|
Thursday, July 30, 2015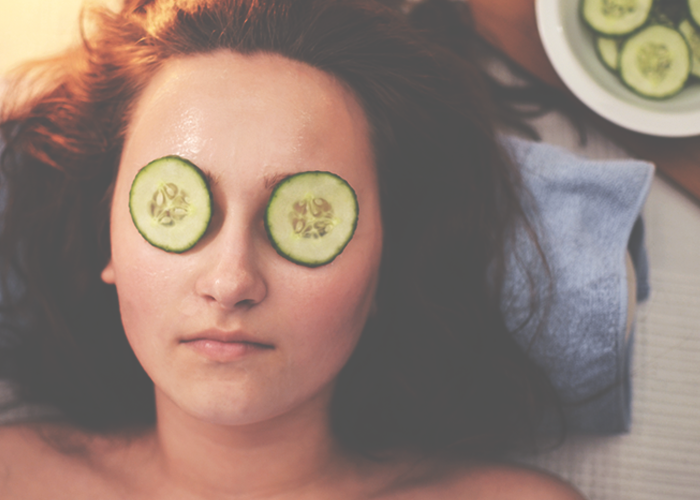 All my life, I've never spent a significant amount of money on face products and makeup. In fact, what I spend averages out to be less than $200 a year, or about $17 a month. Before I go into a little more detail as to how/why I've achieved this, let's get a couple caveats out-of-the-way.
The reason I spend so little is not because I don't use makeup. It's quite the opposite. I work in a client-facing role where women are expected to wear makeup, so I wear a full face of it every day. It's not like I don't need to wear any because I'm blessed with fabulous skin or perfect features. While I am lucky to have no scarring or dermatological conditions,  I did not ~wake up like this~, and I am absurdly self-conscious about my (once Brooke Shields-esque) eyebrows thinning due to stress/age.
One of the reasons I am able to spend so little on makeup and skincare is because I obsessively retain my products, use small amounts, and I squeeze the absolute most use out of them. Over four years ago, a friend of mine called me out on still using a lipstick she gave me for my 16th birthday, and I was like "but it's an Aveda!" I am still using that lipstick (with no ill-effects, I might add).
The reason my routine is fairly affordable is mostly because I have a very utilitarian beauty philosophy. I maintain what I got (ain't much TBH), manage imperfections, and make minimal enhancements. This philosophy stems from a mixture of my mother, Bobbi Brown's beauty book, and what my profession/lifestyle demands.
My mother and I have always worked in business environments where a woman's beauty routine is similar to her wardrobe. The goal is to look like we made an effort, but not like we (really) care about how we look, or wish to draw attention to our appearance. Less is more, and this philosophy helps you purchase what you need without going broke.
Having this kind of no-frills regime is liberating in the same way having a uniform to wear is — I simply don't have to think about it. I just go through the same old, everyday routine, using the same tried and true products, and seeing the same predictable results. On the weekends, I'll wear less makeup or none at all, because I'm too lazy or know that I will just sweat it off playing sports, working in my garden, or intensely DIY-ing. When I want to treat myself, or when I have some big event to attend, I'll get a facial (which are worth it on occasion), or do a smoky eye. It feels so much more decadent and special to me to splurge on occasion. Sticking with a very pared down utilitarian beauty routine every day means I can devote my time and money to other more important things.
I don't know if I would advocate my approach for everyone, but being this minimalist and frugal really does really work for me. Some women prefer the ritual of a longer routine, or work in more creative industries where ~cool trendy beauty looks~ are more common. But, I truly believe most women can still look like their most beautiful selves (while not breaking the bank) by using a basic beauty routine. Here are some tips on how to do it:
FACE
Every woman's skin is different, but there are a few basic things all women should do to maintain the basic health of their facial skin. If you really invest to take care of your base, you'll need to use less products to cover and treat, thus saving money.
Cleanse. Wash your face as soon as you wake up, before you apply your makeup, and before you go to bed to take off all of your makeup. The type of cleanser will depend on you and your skin. I've been digging Neutrogena's cruelty, paraben, and SLS-free one lately — it's less than $8 at a drugstore! #budgetfriendly
Sunscreen. Wear it every. damn. day. I use the Aveeno BB Cream as my go-to foundation/moisturizer. A bottle of this costs about $15, and has lasted me for almost eight months. If I'm going to play sports, I use the Neutrogena for face sports one which is ideal for being outside. It's also cheap and reliable.
Scrub. No matter how ~glowing~ your skin already is, your face can always use a bit of exfoliation, the extent to which depends entirely on your skin type. For people with very sensitive skin, this can be as gentle as a washcloth. For people with hardier skin, this can be a full on peel mask. I try to scrub mine about once or twice-a-week. Though I have yet to find my ideal scrub, I stay away from fruit pits and shells (they supposedly make little tears on the skin), and those with microbeads (which are bad for the environment), and use fruit sugar-based ones. Many people also swear by baking soda or oatmeal! These ingredients are natural and cheap.
Moisturize. Taking care of you skin and hydrating it properly will help you build a healthier base. This will allow you to use fewer products overall, and save you $$$. The Neutrogena Nourishing Cream I use is fantastic and cheap.
MAKEUP
What you use will depend on your face and skin type, but for me, my problem areas are my brows, skin, and office-job pallor. I focus on the base layer, and add enough definition and color to my eyes and cheeks to look like I have natural color. You don't need a lot of expensive products to correct any issues you might have. Take time to figure out what products work best for you, and stick to them. Here's are some of my tried-and-true favorites that I really recommend.
Base Layer. If you're lucky, you may only need foundation and/or powder. If you have blemishes you made need a concealer, and if you have oilier skin you may need a setting/mineral powder. I use a great CC under eye cream corrector that lasts forever. Invest in a good brush (that will last) for putting on any kind of concealer cream or foundation; it's gentler on your skin and will last a lifetime with proper care. Confession: I have used the same Armani mineral powder (which I got for free from an old roommate who did graphic design for beauty companies) since 2009. If you invest in nicer products that really work for you, you'll be buying less often and wasting less money.
Brows. I am really self-conscious about my thinning brows, so I paint them on everyday. I've used a pencil in the past, and have now progressed on to the Tarte Amazonian Clay Mousse that I paint on with a brush (If anyone has figured out the perfect eyebrow color that doesn't look like Groucho Marx and lasts all day, I need to know about it).
Eyes. Every woman only really needs a few eye products. Don't go nuts here, just use the stuff that works best for you. You don't need expensive ones, just find ones that work.
Mascara. I use Covergirl Lash Blast Volume ($8.99, cheap and reliable!), and it lasts for a good long while. You only need to use a tiny bit!
Eyelash Curler. I use one similar to this Maybelline brand curler, which will last a lifetime. It also comes with plastic replacement parts for when the original wears down.
Color. I use a little blush and bronzer to make sure I do not look washed out. I've been using this NARS duo one since 2010 with a sable-bristled paintbrush (which I got at an art supply store). Pro tip: A lot of makeup artists use actual paintbrushes because they are often cheaper and better quality than makeup brushes.
Lips. I swear by my Trader Johann's Lip Symphony stick which is a great investment and super reliable
Everyone has their own hang-ups about their skin (I know I do), and it can be tempting to think that a boatload of expensive products will fix that, but don't throw your money away. Play up your best features and stick with the same reliable products. Don't throw away cash you could be saving on products to deal with your crushing eyebrow insecurities. Use a combination of drugstore finds and high-end products to get the best results without breaking the bank!
Emma is an attorney who moved from NYC to Nashville for law school and decided to stay.  She will never again live North of the Mason Dixon line or pay more than 1/3 of her salary in rent. Follow her blog or her Instagram.