A Complete Breakdown Of Everything I Spent During My "No-Spending" Month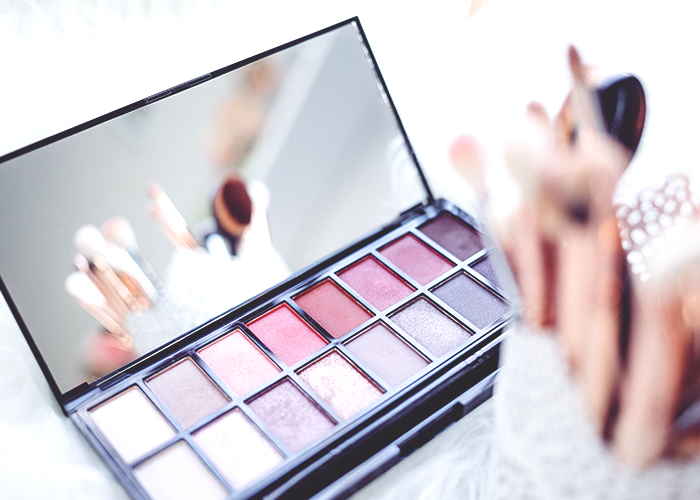 I had been toying around with the idea of a no-spending month for a while, when my March finances came in, and I realized I had shorted myself considerably for April. Between the addition of therapy costs and buying kitchen supplies after my roommate officially took an international job promotion (and thus would be taking 90% of the things in the kitchen with her), my personal minimal threshold in my checking account was …not there.
It was not pleasant to have to dip into my savings to keep a buffer in my checking account after I paid my rent for April. In light of that, I decided to see how well I could do with a no-spending challenge for the entire month of April. Only the essentials: rent, bills, gas, & groceries. (And a couple non-essential essentials, which for me, are weekly therapy appointments not covered by insurance, and a bi-weekly chiropractic appointment.)
Week One: April 2-8
I cheated by waiting to start on a Sunday, and because my Saturday (April 1st) trip to CVS turned into buying the lightbulb and allergy meds I needed, as well as two bags of Cadbury Mini Eggs because who can turn down 2/$6? Not me.
The first few days weren't that hard. This week also happened to correspond with my first delivery from Hello Fresh, which I had a discount on, so my "groceries" cost was way down. I did time my delivery poorly, though, because I had no groceries and no leftovers for my Monday lunch. So I had to venture down to my office cafeteria, which is notoriously delicious and overpriced, to buy something for lunch. +$7
Aside from this falter, going through this week only buying gas for my car and nothing else was refreshing. I did still scroll through some clothing sales (damn you, LOFT emails, you get me every time) and some Buzzfeed "buy this!" listicles (and yes, I saved some cool stuff to my wishlist for May), but I maintained my stoicism. I didn't actually need any of it, so I didn't buy it.
My next stumble came on Friday. It was a particularly crappy workweek, and my boyfriend and I were overdue for a date night. Given that both of us are doing our best to save money, we are notoriously good about splitting the bill nearly every time we go out. So we treated ourselves to a much-needed pizza and beer outing before bingeing some Netflix in my apartment. +$18
I tried hard to curb my weekend habits, and it paid off. I filled my time with a yoga class (I have a monthly contract that renews mid-month, so this is already paid for, but will unfortunately renew during Week Two of no-spending) and a walk to the public library. And a lot of Netflix. If you haven't noticed, April brought about a lot of BBC crime shows, and I highly recommend you check them out.
I did need to stop at the grocery store to stock up on some fresh fruit and veggies to tide me over between Hello Fresh meals, and that grocery run maybe included some more Easter candy. Who can blame me? Easter M&Ms are the best M&Ms. +$2
Week One superfluous costs: +$27
Week Two: April 9-15
I only cheated once on the weekend, which was to grab a cup of what felt like much-needed Starbucks on Sunday afternoon after having a particularly shitty mental health day. +$4
Going into Monday, I felt confident about the week. And then I stuffed my toes into my slightly-too-small open-toed heels that I'd been wearing since the inner lining of my favorite work flats fell apart. I walked to a lot of meetings on Monday, and after a week of wearing those shoes every day, my piggy toes were unamused. So I did some internet scouring, checked some prices, and committed to stopping at TJ Maxx on my way home from work. +$59. And then they had a purse sale, and I've been meaning to replace my work bag. +$19.
When I checked my bank account on Monday night, I did feel better after deciding to splurge for shoes. While I certainly hadn't been perfect my first week, it was nice to see only 3 charges to my debit account that I could have avoided instead of the typical 4-7 I would get when I bought lunch at work more frequently, or was a little too cavalier on the weekends. And to my very happy surprise, the only charges to my credit card for the previous week were gas and therapy, and I had paid the previous month's balance (plus a little extra to account for the Bed Bath & Beyond trip right after the billing cycle started).
Tuesday is usually our designated Date Night, because my boyfriend and I love going to the movies, and the local chain does a $5 special on Tuesday nights. (See, we're usually so frugal!) But we were both craving Thai food, and willing to spend a little extra money this week to hit our favorite spot. +$20
After a spendy Monday and Tuesday, I really needed to whip back in shape for the balance of the week and I kept myself to it. I cooked my dinners, brought leftovers for lunch, and (painfully) deleted every sale email that hit my inbox. Go me.
But then the weekend happened, and my roommate came home from her work training trip, and I got hit with the "oh crap my friend is leaving me in two weeks" Spending Fairy stick. I went to a Friday happy hour with her and some of her coworkers and managed to escape with just one drink and before everyone migrated to go out for dinner and more drinks. +$8
…and then Saturday night we were tired and lazy after starting to pack, so we ordered takeout. +$12. Whoops.
Not my best, spend-free self this week.
Week Two superfluous costs: $122
Week Three: April 16-22
I didn't end the previous week on a great no-spend note, and I didn't start this week on one, either. I had volunteered to bring a dessert to my boyfriend's family's Easter brunch, so I had to swing by the local bakery and pick up a slightly-overpriced fruit tart to feed 10 people. +$40.
I made the executive decision for this week that I was probably running around too much after work for a Hello Fresh box to be worth it, because I wouldn't have the time to cook and eat three full meals. While this was technically correct, I still negated to consider how much money that would mean I'd spend on lunches at work. Which was too much. Between those lunches and paying back for a pizza & beer night with my roommate and her coworkers, I probably spend more than I would have on a Hello Fresh box or just a regular grocery store trip. I'll ballpark my extraneous food spending for the week by deeming a solid third of it as unnecessary. +$35
Then came the weekend and my oh-so-many errands. My roommate was officially leaving for Germany on Sunday, which meant I had more Bed Bath & Beyond supplies to acquire and at least two meals out to celebrate before she left. I knew Bed Bath & Beyond was a bad idea for my spending, but I did it anyway, claiming (to no one but myself) that a hanging shower caddy, a new trash can, and drain cleaner were enough of a reason to go. So naturally, because I am an strong independent woman who don't need no man/shopping restraints, I went. And, as I always do, I spent nearly twice what I had my budget on supplies that are "useful" or "look cute" or "are totally functional even though it's as seen on tv and those never work." It's sad. I only hate myself a little bit, because I did wind up purchasing useful things I actually needed — like cutting boards and new towels. I will conservatively call half of this shopping trip unnecessary. +$80.
Friday night I had plans to grab dinner and drinks with my incoming roommate to game plan for the upcoming move and other logistics. We picked a place that was relatively cheap, but had the capacity to turn into a big bill. The incredibly stressful workweek and lure of my favorite margarita meant I spent extra money on a second cocktail and an ice cream cone after dinner. +$15.
I had already been planning ahead to spend money on dinner and drinks Saturday night for my roommate's last night in the States. What I had thought would be takeout and wine at home turned into hitting her favorite restaurant with two of her friends and my boyfriend, but we managed to stay within a very reasonable bill for five people, so I didn't classify that meal as totally extraneous. What was unnecessary was the lunch we grabbed after running errands Saturday afternoon. I stopped myself from getting a lunch beer, but still spent +$9 on a flatbread pizza at an upscale bar.
Week Three superfluous costs: $179 (Y i k e s)
Week Four: April 23-29
In the home stretch!
I didn't feel particularly great about how much money I spent during week three. I should have been way more conscious of what I was buying before swiping my card. But such is life.
Yet again, I forgot to plan Monday's lunch around my Hello Fresh delivery. But I bit the bullet on a box for the week, because I seriously regretted buying lunch at work every day of the previous week. So just buying on Monday was …okay. +$8 
The week was already exhausted by the time Tuesday rolled around, so I was more than happy to shell out the $11 for a movie ticket at the indie theater playing Their Finest by my boyfriend's house (so good, I highly recommend it!). We skipped dinner for this date night, though, so we at least saved the money cost. +$11
The balance of the week went by in a hectic, guilty blur. Work was terrible, and I was stressed. And stressed Olivia is a spendy Olivia. +$5 on caffeinated vending machine drinks at work. +$25 on a "much-needed" but still celebratory lunch on boyfriend's first Saturday not working since we started dating. +$40 on a pedicure, because I was exhausted and sad on Sunday.
Week Four superfluous costs: $89 
April's total unneeded costs: $417
Clearly, this no-spending thing was officially blown by the time I hit week three. I really didn't like feeling so absurdly guilty for spending money. It made me nauseous, to be honest. By giving myself such a hard ultimatum of "no you cannot spend any extra money this month," I had essentially stripped myself of experiences I enjoy. Because, yes, I do enjoy shopping for home goods, and I do like going to the occasional happy hour. Instead, for the balance of the month, I tried to focus on spending money efficiently and being smart about my purchases. Like acknowledging that half of what I bought at Bed Bath & Beyond probably could have been saved for later, or limiting myself to two drinks when at a restaurant/bar. I think in the future, I would choose to try no-spending weeks where my boyfriend and I do date night in, I cook for the whole week so I don't have to buy lunch at work, and turn down two invites for dinners or drinks out. Chaining myself to the month was not the ideal method, but it did make me look critically at what I spent my money, for which I am grateful.
Olivia currently works in marketing and likes to say she spends her free time doing yoga, reading, and writing, but mostly winds up obsessively checking Twitter and watching HGTV.
Image via Pexels