How To Figure Out The Most Cost-Effective Living Situation When Moving Abroad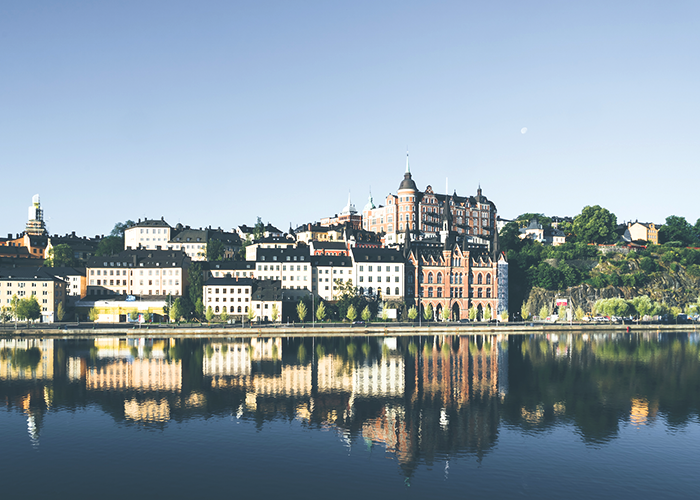 One of the most exciting, and sometimes stressful, parts of moving to a new city is finding a new home to settle into. It's especially important as an expat to have somewhere to feel comfortable and unwind at the end of a long day, particularly since being in a new country and away from friends and family can take an emotional toll on even the most resilient person. The distinction between moving to a new place and just visiting is getting more blurred, as student exchange programs, overseas internships, and digital nomadism
become increasingly common. Everyone is different, and while two to three months in a hotel might seem like bliss to some, others might be dying for a dwelling with a kitchen to call their own for any amount of time longer than a week.
As with most places, however, it can take a lot of time and money to find your own space, and there are many hidden costs associated with it. For expats that are staying an extended period of time, finding the right place to live is certainly worth the setup costs and the house hunting, but for those that are staying only for a few months, is it really worth the hassle? All countries have a different market for accommodation, and the prices for different types of dwellings can vary from what you might expect.
Searching for rental accommodation can be straightforward or a total nightmare, depending on where you're headed. The best place to start searching is on local classifieds pages (most places have their own version of Craigslist), or by looking on Facebook for the "[insert city here] expat accommodation" pages. Before moving overseas, scan the accommodation listings to get an idea of average prices, locations, and types of offerings. While it's not always a good idea to put down any money before seeing the place in real life, having an understanding of what's on the market will help you avoid being ripped off or surprised.
Setup Costs Involved In Finding a Place to Live
One of the biggest mistakes that expats make when moving abroad is failing to account for all of the setup costs involved in finding their own place. If you find yourself moving into an unfurnished house or apartment then buying everything that you need is going to cost a significant amount, even if you cut corners by finding free and secondhand furniture and appliances. Depending on where you are, the time of year, and the turnover of new expats, you might be able to resell all of those things you had to buy to someone new, although locals and expats alike will smell your desperation to sell your gear before you leave, and drive a hard bargain. This can be great for when you need to buy that bedside table, but it also means that unless you're organized, you probably won't be making all that much money back when you get rid of it, so add it into your budget.
Buying a bed may seem like a worthwhile investment when you use it for two years and it costs you $20 a month over its lifespan, but investing in a new bed (or nightstand, couch, or table and chairs set) starts to look a lot less affordable when you'll be using it for three months. Fully furnished apartments are almost always more expensive, and still come with setup costs for things like sheets, cutlery, bath towels and the extra things a home needs that few people think about (like a rubbish bin). Depending on the length of your stay (and the number of household goods that you need), a furnished apartment might still work out cheaper overall, but the "management costs" that enterprising landlords add to the price tag look fairly steep compared to the unfurnished options around. Another unavoidable cost is the deposit, which varies wildly from place to place, and can be as high as three months rent.
If you are interested in living with others in a shared house, you could always get lucky, and find a place that has almost all the things you need already set up. There are still some personal items you can't avoid buying for your room, but as long as you don't find yourself in a toxic housemate situation, then it is usually the cheapest and most homely option for a short-ish stay. Just remember, living with roommates in another country can sometimes be very different to the cultural dynamics you're used to where you live.
Living in a Hotel or Hostel
While the idea of coming home to a bleak hotel room every day for a few months may seem depressing, it can be extremely convenient to avoid the hassles of dealing with the rental market and buying household items. There are also the perks of having your room cleaned and your bed made daily, wifi, and, if you're lucky, a gym and swimming pool. The obvious downside of staying in a hotel is that you typically won't have access to a kitchen, which restricts you to eating out for every meal. If you are staying in a city where the cost of living is fairly cheap, going out for food won't affect your budget significantly, and it can be a great way to get to know the local cuisine of your new country.
If you're only in your room to sleep and watch Netflix, and you spend a lot of time out and about, staying in a hotel might be an ideal way to save money and effort on looking for an apartment. Sometimes you might even be able to find a really cheap deal if you stay for an extended period, or during low season (even cheaper than an apartment rental), so make sure you haggle with the hotel manager before you commit to a price.
For budget-conscious expats, a cheaper alternative to a hotel is staying in a backpacker hostel for the duration of your time. Although loud noise and partying are not conducive to working in the morning and getting a quality sleep, there are plenty of hostels that attract the digital nomads and short-term expats, where guests are more likely to be working on a school night than throwing up in your bed after a pub crawl. In a hostel, you won't have a lot of privacy, but for extroverts and socialites, it can be a great experience because you will always have somebody to talk to or explore with when you're off the clock. Hostels are usually located in central areas, where an apartment or hotel would be prohibitively expensive, and have the benefit of being close to fun and interesting places to within walking distance
Hotels and hostels aren't always the cheapest option, but there is also zero effort involved in setting up, and for a stay of less than two months, it can even be a cheap option. The other alternative, which falls somewhere between renting a house and staying in a hotel, is finding a place on AirBnB. While it tends to be more expensive than renting, but significantly cheaper than a hotel, it gives you a homey place to come back to every day that doesn't require searching around for a place to rent, or setting up. If you happen to be in the right place at the right time, you might even be able to find a sublet, especially if you are moving in while university students are moving out.
***
The place you call home while you're living abroad can make or break your experience, so it's important to find somewhere you can feel comfortable and safe. Do all of your research before you go, and don't assume that private rentals are always cheaper than other types of accommodation.
Gabby is a career hopping traveler who works with small businesses and startups when she's not eating or sleeping.
Image via Unsplash