Every Single Thing $60 Gets Me At Trader Joe's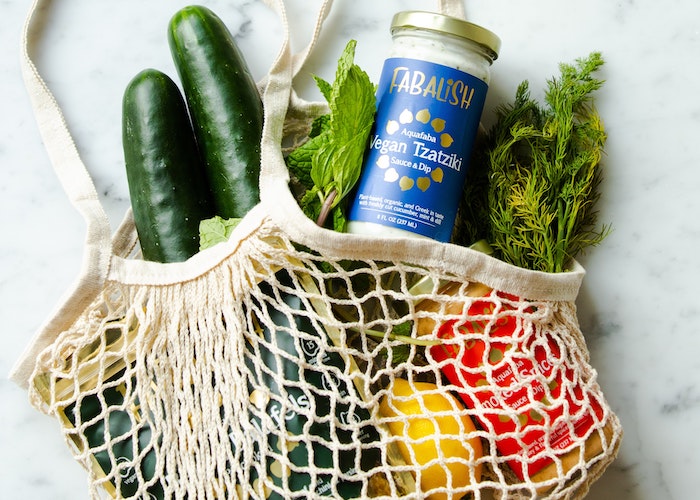 A weird hobby I've taken up recently is watching grocery store "haul" videos on YouTube. Weird? Sure. I never really saw myself giving a damn what kind of food some random person buys at her local Aldi. I love cooking, and I especially love shopping for food to cook, so it never really occurred to me to look so deep on the internet for cooking inspiration. Shopping for food and cooking is such a fun, creative process that I enjoy more than almost anything else in my personal life. I get excited to flip through cookbooks or salivate over recipes I see on Food Network show and twist them into something new and delicious, and I love wandering aisles without any rhyme, reason, or list, just grabbing whatever looks good on the shelf and coming up with recipe ideas right then and there. But recently, a lot of unfortunate life events have left me a lot busier and a lot less inspired to shop and cook than I usually am, so I found myself typing "grocery store haul" into the YouTube search bar for inspiration.
And you know what? It kind of worked.
Seeing what other people buy at the stores I shop at gave me a little creative inspiration to try new foods, and sparked ideas for meals I should cook that I might never have thought of. Sometimes, when I'm sitting there in silence with my weekly shopping list in front of me, I go totally blank on what I even like to eat, or what types of things I need to buy to create balanced, healthy, tasty meals. Copying someone else — or at least adapting their original list to suit my tastes a little better — takes the guesswork out of shopping when I don't have much time to dedicate to it, so all I really have to focus on during the less-inspired weeks is throwing the ingredients together and making them into something that can fuel us until I'm back on board dreaming up recipes again.
One of the best parts about this, also, is that a lot of these grocery haul videos talk about the price of the haul, as well as often mentioning the prices of individual items, so I can think about my budget while creating my quick list. I love seeing what someone comes out of Whole Foods with when they only brought $50 with them to spend — especially because I often find myself in a situation with a similarly tight budget, wondering how I can stretch my dollars to get enough food.
So this week, I went into Trader Joe's with $60. I figured that I would maybe want to spend more than 50, since I knew I hadn't grocery shopped in a loooong time. But I actually ended up under budget! (Woo! What a great thing, being under budget!) Below, I've listed every single item my $60 got me at Trader Joe's. I grabbed a few meal-related things, a few snacks, and a few in-betweens (i.e. things that should be snacks but I'll definitely eat them and call them a meal, like chips and salsa).
Mind you, I had my receipt with me when I began writing this and it got lost somewhere along the way, so I don't have the exact prices of all of these, but I know the number they hovered around. My total was $57.79, for what it's worth, so I ended up getting all of this food for just under $60. If you're as interested in what others buy at the grocery store as I am (and how much they spend total on their food shopping), check out my Under-$60 TJ's haul:
(Quick note: I've linked some of the products here just to show which specific store item I'm referring to, but they are wildly expensive on Amazon. A $60 Trader Joe's haul via Amazon would probably get you three or four things on this list.)
1. 1 bag of arugula
No matter what I pack myself for lunch, I always shove a small handful of this into the Tupperware and drizzle a little balsamic vinegar on it to have a baby "side salad" with whatever I'm eating that day.
2. 1 2lb bag of sweet potatoes
I dice these up (along with whatever other vegetables I happen to want that week — usually onion, cauliflower, broccoli, and carrots) season them, and roast them up.
3. 2 packages of chicken sausage
These I like to slice up and cook with veggies for a quick sort of stir-fry meal, or toss with pasta and broccoli rabe (a personal fave).
4. 1 jar of salsa
My fave thing ever, and $3 for a really good jarred salsa is good because they're often quite pricey if you go beyond the Tostito's brand.
5. 1 bag of tortilla chips
I am a huge fan of tortilla chips and very particular about the ones I eat, so these are a fave for under $2. I'm not really a sweet-snacks person, so I always keep tortilla chips with salsa, raw veggies, and some form of crackers in the house for when I need quick snacks.
6. 1 bag of green beans
I had a bunch of veg at home that we hadn't eaten yet (and surprisingly hadn't gone bad yet) from my last shopping trip over a week ago, so I just grabbed this along with the arugula because it looked good.
7. 1 package of ground turkey
I made a week's worth of burrito bowls with this immediately after getting home, and oh mah gahhhd are they good. I just fry up the ground turkey well-seasoned with diced tomatoes and some chipotle peppers, then divide it into Tupperware containers with some rice, roasted vegetables, a little buttered corn, and fresh cilantro.
8. 1 bag of almond flour
Drew avoids carbs for the most part (a decision I never love but do agree works better with his body) so we keep this stuff in stock for lower-carb cooking and baking. Trader Joe's definitely sells it cheaper than any place I've seen.
9. 2 boxes of cereal bars
One box of fig cereal bars (which are amazing, btw) and one box of apple cereal bars cost me only about $3 total, which is awesome, because the Nutri-Grain version I'd buy at Stop & Shop are a usually a full dollar more and they don't taste as good.
10. 1 bag of honey roasted peanuts
These are sooo sweet and salty and good. They're also affordable considering how damn expensive nuts tend to be, and they'll last me a few weeks since I usually only pack a tiny handful in a small container to bring to work as a snack every day.
11. 1 box of crackers
I stand by my opinion that Trader Joe's has the best crackers of all time. Their multigrain rounds are yummy enough to eat plain, and I often bring them to work to eat with almond butter or cheese of some sort.
12. 1 package of caramelized onion dip
A favorite snack of mine and raw celery and carrots dipped in this, so I like to keep all three of these things in the house. I already had celery and carrots (which I keep sliced up into smaller pieces in a big Tupperware) in my fridge, so all I needed was a dip! It is around $2-3 but I think it is worth it since it convinces me to eat vegetables as a snack.
13. 1 jar of marinara
TJ's sells this for such a good price and it actually doesn't taste like shit (which is important, because I can't do with shitty pasta sauce). We keep this on-hand mostly for making pizzas because I like making it homemade on pasta nights. Their basic roasted garlic marinara is $1.99, which is a steal, because if you get jarred sauce at any other grocery store you're almost guaranteed to get some shitty brand that tastes like tomato juice for a dollar more.
14. 1 package of frozen brown rice
I usually just cook regular uncooked rice when I wanted some for a dish I'm making, but for lunch/meal-prep purposes where it mostly serves as a side, it is so easy to just pop one of these in a pot of water or the microwave to heat up and pour it into my lunch Tupperware. I usually keep a few in the house, but don't use them too often.
15. 1 package of frozen quinoa
Same reasoning as above, but for when I want something slightly jazzier than rice. This is a little ~extra~ because it is about $4 for two packets, but this isn't a staple in my life — I only grabbed it this time because someone showed it in a video and I thought it'd be a good quick meal during these hectic weeks.
16. 1 container of chocolate chip cookies
I couldn't help myself. $3.99 for the big bin of them.
17. 2 bags of pasta
If you're not buying Trader Joe's pasta, you're doing life wrong. They're 99 cents per bag, and they're always delicious (and the cute packaging doesn't hurt). 
Final thoughts:
To be honest, every single one of these items cost more at other grocery stores, so I am always extremely happy with my result at the end of a TJ's trip. Did I get many things to make into meals? Not a ton, but more often than not I have items at home to supplement what I'm buying during my grocery store trips, so I'm never buying for x-amount of meals entirely when I'm at the store. For $60, this will get Drew and I through the week (and a lot of the snack-items will carry over for two weeks beyond this) supplemented only by things like meat in our freezer at home, eggs that we bought from BJ's wholesale, and a few veggies that didn't spoil from last week's trip.
(This article was originally published February 2018)
Image via Unsplash
Mary enjoys conversations about money and life. She writes and tweets every day for her own personal fulfillment!