Everything I Ate Trying To Build The Ideal $100 Grocery Budget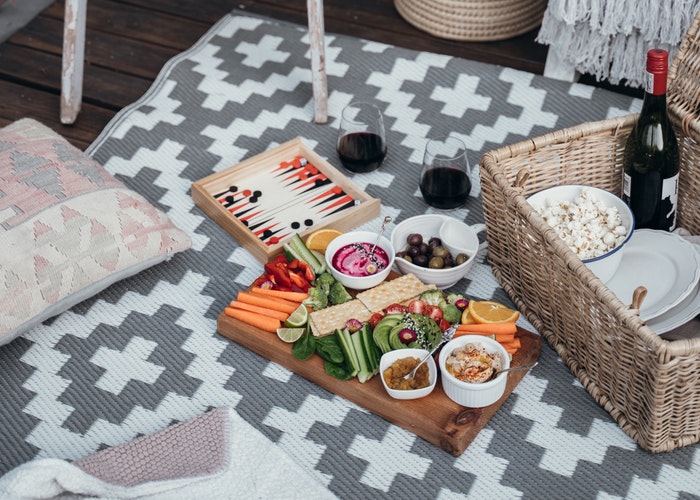 One of the most crucial things you can learn to do with your money is to learn to adapt to change. Change and money go hand in hand — income, market fluctuations, spending habits, and more. All of these changes have one thing in common, though: The unknown. 
As much as we can plan for our financial goals, we have little control over when we lose our income. COVID-19 has been a wake-up call of this in my family. Seeing co-workers, friends, and family members lose their jobs has become so common, it's hard not to assume you'll be next. 
And although you can't predict these changes, you can find other ways to take preventative measures into your own hands. 
For us, it's been learning to cut back in case the loss of one — or both — of our incomes become our reality, too. So, after looking at our spending habits in the first few months of 2020, I knew that the first and most comfortable place to save money was on groceries. 
On average, we were spending around $500 each month on groceries for our family of three. According to Mint.com, the average monthly household spending on groceries should be $251 per person.
We are already well under the suggested average for our family size, but I wanted to challenge myself to a sweet spot of $100 budgeted towards groceries each week. 
I felt like that was a manageable number if we took the time to prepare. It would also leave us with an emergency cash flow of $100 each month to do one or two take-out nights as well (if we want). If there's anything I've learned doing a no-spend challenge or decreasing spending in general, it's that you never want to cut out your favorite non-essential purchases completely. 
Three Ways We Cut Costs
I'm sure you're thinking that a $100/week (or $400 a month) budget is impossible for two people, let alone three. But, at one point, our monthly food budget was even under $300 each month! Here are a few of my favorite tactics we used to keep grocery costs low. 
1.
We eat mostly vegetarian.
In our house, we don't avoid meat altogether, but we do our best to buy a minimal amount at the grocery store because of the more expensive cost. Instead, we find more affordable protein options such as legumes, beans, and plant-based proteins. 
2.
We buy a lot of our produce frozen.
Since our daughter has started to eat more solids, her favorite foods are fresh fruits and vegetables. But, it's always been a goal of ours to buy most of our produce frozen. We do this for health benefits and longevity of freshness, but as an added benefit, the lower cost. 
3.
We meal plan each Sunday.
The key to ensuring we stay on budget with our groceries is to plan. Each Sunday, we take a look at our calendar to finalize the schedule, and from there, we discuss meal options. We have a few staple family meals and backup options on hand (like Kraft Dinner) in case the day doesn't go as planned, but otherwise, it's been a successful way to control our spending.
Overall, creating good habits that keep us organized has been a game-changer for our family grocery budget. 
Everything We Ate On A  $100 Budget 
Now that you generally know how we cut costs, there are two main questions: what do we eat, and is it enough food to keep everyone full and happy? I made sure to track one week of grocery shopping, and exactly what we ate each day to see if I could confirm those questions. First, here is our grocery list:

Ground beef – 4.66

Cheese – 7.77

Yogurt – 5.47

Granola – 2.44

Bread – 2.94

Carrots – 4.97

Apples – 5.88

Oats – 2.98

Frozen Fruit – 4.98

Macaroni pasta – 1.27

Lasagna pasta – 2.18

Rice – 2.68

Chickpeas – 2.00

Coconut milk – 1.18

Canned pineapple – 3.36

Sweet potato – 3.69

Onion – 2.04

Heavy cream – 2.07

Milk – 4.07

Peanut Butter – 4.77

Shredded Coconut – 1.98

Honey – 3.48

Spinach – 3.97

Eggs – 2.98

Bananas – 1.96

Tomato Paste – 0.55

Diced (canned) Tomato (2) – 2.00

Peppers – 3.98

Minced Garlic – 3.48

Flour – 4.26
Total: 100.04
This grocery list includes everything you'd need to recreate our week of meals and snacks. Here is a look at our scheduled meals and any links to recipes we use regularly or on a whim.
The Weekly Meal Plan We Used
Breakfasts
On Sunday, I baked some homemade three-ingredient banana-oat muffins to eat for breakfast with some apple or banana on the side. On alternating days, we would have oatmeal with frozen fruit and milk. Any oat-based breakfast helps to keep us full for longer because of the volume of protein. 
Lunches
Lunches most likely fall around plans to include leftovers for dinner from the night before. Leftovers are an easy way to prepare food ahead for busy days and keep costs (and dishes) low. On the off chance that we didn't have enough leftovers or weren't keen for whatever we had previously, the backup option would always be yogurt, granola and fruit, with a side of carrots. If we went with yogurt, we would still need a snack before dinner, which would usually come in the form of a smoothie or peanut butter toast (a classic). If you haven't noticed by now, our family has quite the sweet tooth. 
Snacks
Sunday is another great day to prepare any snacks we might eat throughout the week. The first snack I made after the breakfast muffins were some peanut butter protein balls. Aside from the protein balls, I cut up all of our remaining fruits and vegetables not used for dinners so that they were easy to grab. Apples are best sliced and covered with lemon juice to last, and carrots are another affordable and accessible option to prep. Lastly, an excellent snack for the evenings when you crave something sweet (just me?) is frozen blueberries with a dash of heavy cream. 
Dinners
The time we get most creative and look forward to something a little less obvious is always dinner. During this week, here was our plan for dinners:
Monday – Slow cooker pineapple chickpea curry
This slow cooker meal is, by far, my favorite meal to make for a few reasons. One, it tastes incredible. Two, it's elementary to make because it's as simple as throwing the cut up canned and fresh vegetables into a slow cooker. And lastly, it produces a ton of food. I'm talking eight to ten servings with rice and lasts in your fridge for up to three days. Pro-tip: the recipe calls for fresh pineapple, but canned works and tastes just as good.
Tuesday – Meatballs and rice
An easy meal we often reach for is homemade meatballs and brown rice. Not only can you top with any sauce you'd like, but a natural addition to the bowl is also some frozen vegetables with spices. There often isn't a ton of leftovers, but this week was especially the case as we had only bought enough ground beef to split between the meatballs and lasagna for the following evening.
Wednesday – Homemade lasagna and garlic bread
Although this meal takes a bit more time, it's always great to make because it comes with leftovers in tow and doesn't cost a lot to make from scratch. We also aren't super fun because we only use marble cheese to reduce costs, but trust me, it still tastes fantastic. As for garlic bread, a good piece of toast with garlic salt and butter has never steered me wrong.
Thursday – Breakfast for dinner
One of my favorite meals and a staple for our entire family is breakfast for dinner. Not only is it fast, but it's also versatile because you can choose so many different versions. Some weeks we do eggs benedict or a sausage bowl, but this week we went for the classic French toast and scrambled eggs with vegetables. 
Friday – Stovetop macaroni and cheese
To end the week with even more dairy, we decided to make our favorite macaroni and cheese recipe. Filling and always enough for leftovers, this meal has quickly become one of our top five that we make on rotation every few weeks. 
Ultimately, the one way we save money and reduce costs on our food budget is to plan and be willing to stick with one solid rotation of meals for one week at a time. Is it always easy? No. But is it still effective? Absolutely.
If you don't like leftovers or simple home-cooked meals and aren't a massive fan of having the same thing for breakfast each morning, it might not work for you. Although, I think we can all agree that a few days of oatmeal is worth the repetitiveness if it means we are saving close to $100 each month on groceries. 
We didn't need to reduce our grocery budget. But the peace of mind in knowing we can find a way to cut costs when times get tough is more than enough of a reason to continue to work with our spending and find solutions that save more money long-term.
Alyssa Davies claims she's not an expert on personal finance — which is why it's easy for her to explain financial topics without getting too intense. You can find her on her blog, Mixed Up Money, where she proves money isn't boring (and that it's also a little funny). You can also spend all day ranting with her about your finances on Twitter.
Image via Pexels
Like this story? Follow The Financial Diet on Facebook, Instagram, and Twitter for daily tips and inspiration, and sign up for our email newsletter here.