An Exact Breakdown The $2,660 I Spent On 6 Trips Last Year
By S. H.
|
Wednesday, January 04, 2017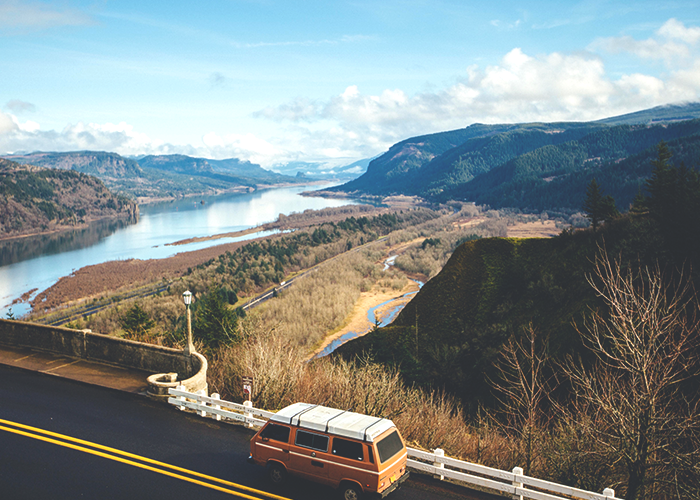 Travel is one of those things that I've always enjoyed — I love going to new places and eating new foods. I don't even really mind the air travel, to be honest, as it usually means I'm either filled with either anticipation for going somewhere, or happiness from a vacation well spent. Being a graduate student, though, means that it's not always the easiest to make travel happen. Though I get a stipend for living costs, and am lucky enough to live in low-cost Midwest city that lets me live very inexpensively, travel can get expensive pretty quickly.
Last year, I spent a total of $2,660 on six trips total. This may or may not sound like a lot, depending on how your budget breaks down, but for me, this IS a lot. This is 15% of all the money I spent in this year, and though certainly I would've spent some of this money otherwise (e.g. on food), it always seems easier to justify opening my wallet when traveling.
The six trips I took were in this order: bachelorette weekend, wedding, graduation, work conference, bachelorette weekend, wedding. Here's a breakdown of how much I spent on each trip, and where I spent the money (I rounded the cents, so keep that in mind when looking at the total cost):
Trip 1: Bachelorette weekend in Chicago (Fri-Sun) | Total cost: $470
Travel/Transport: $74
Chicago is within driving distance for me, so I decided to drive there. I had completely forgotten that the parking prices in Chicago are ridiculous, but I lucked out and found a spot two blocks from our AirBNB, which had no meter as it didn't allow parking on weekdays (until 6 PM). $45 went to gas for the trip, and an additional $29 to Uber (as it would've been more expensive to lose the spot than to Uber places).
AirBNB: $90
The maid of honor found a pretty nice place that was inexpensive when split between all the girls.
Food: $240.85
This includes two dinners, two brunches, and drinks. It was restaurant week in Chicago, which meant we ate super well, but it was pretty pricey by my normal weekend standards. We also split the cost of the bride-to-be's food.
Other: $65
We went for mani-pedis as a group, and also covered the bride-to-be's fancier mani-pedi
.
Trip 2: Wedding in LA (Fri-Mon) | Total cost: $653
Travel/Transport: $383
My flight to LA was $351, and I paid $32 at the end of my weekend for airport parking. I was lucky in that I stayed with a friend who lived there, and she drove us to the wedding and lent me her car on the following Monday (for sightseeing). My flight back Monday was a redeye.
Food: $121.55
This includes all of my meals (except the wedding dinner and rehearsal dinner). We mostly had more inexpensive meals, though I did treat my friend to dinner the last night to thank her for hosting me.
Shopping: $95.62
Though I did not plan on buying anything while in LA (souvenir or otherwise), we ended up at various stores during our weekend, and I couldn't help myself. I took advantage of being in a big city to shop at stores that are not found in my small-ish Midwest city.
Wedding Gift + card: $52.88
…can't forget this.
Trip 3: College graduation (Fri-Sun) | Total cost: $76
Travel/Transport: $20
My brother attended college in a city at a drive-able distance from me, so my boyfriend and I drove to his graduation. I chipped in $20 towards gas.
Hotel: $0
Luckily for us, my parents covered the cost of our hotel room.
Food: $53
My parents also bought food for us when we ate as a family, but my boyfriend and I also had a meal or two on our own.
Shopping: $3
Poor planning in footwear led me to have to pick up some cheap flip-flops from Target.
Trip 4: Work conference (Mon-Wed) | Total cost: $28
Travel/Transport/Hotel: $0
My flight, transport, and registration fee were covered by student travel subsidies and grants I applied for to attend the conference. I would've also submitted hotel to be reimbursed (by my boss), but at the last moment, my boss got a suite instead of a single room, so she offered the extra room in her suite for me to stay in for the two nights I was there, to help me avoid some paperwork.
Food: $28
The room in her suite also came with access to a VIP lounge where we had breakfast each day, and my boss took all of us out to dinner one of the two nights I was there. I ended up just spending $23 on food the few days I was there. I also picked up a local chocolate bar ($5) for my boyfriend.
Trip 5: Bachelorette weekend in Vegas (Fri-Mon) | Total cost: $852
Travel/Transport: $392
My flight to Vegas was $320, which was actually not bad, as it was booked on pretty short notice. I did end up flying Frontier, however, which meant I had to either pack just a personal item
or pay for a carry-on. I chose the first option, but it was pretty tight to get everything I needed for the weekend in. I paid $32 for airport parking upon getting back, and $40 for Ubers/etc. in Vegas.
Hotel: $97
This is a huge anomaly for Vegas, I know. The bride-to-be's parents are part of a hotel rewards program, and they covered the hotel for two of the three nights we were there. I paid $93 for the other night and $4 in tips to hotel staff while I was there.
Food: $171.13
We had a mix of fancier places and less fancy places, from the Bacchanal to Shake Shack (my first experience, not being on the East Coast!). Everyone paid for themselves (including the bride-to-be).
Other: $191.76
There is never a dearth of things to do in Vegas. We went to a Cirque Du Soleil
show ($88 for a discounted ticket), a day spa ($65), and the observation wheel ($28 discounted). I also ended up spending about $11 at Lush.
Trip 6: Wedding in FL (Fri-Sun) | Total cost: $581
Travel/Transport: $450
My flight was $386 — unfortunately, when Kayak suggests you wait, it's not always correct, and I ended up waiting too long to buy my ticket. I spent $15 on airport parking on the way back (smaller airport, in case you were wondering), and I spent $49 on a rental car between the rental and gas while I was there (thanks, Costco & the other bridesmaid who chipped in).
Hotel: $84
I split the hotel with 2 other bridesmaids, so it was pretty cheap for 2 nights.
Food: $27
I was fed at both the rehearsal dinner and the wedding dinner, but I got lunch on Friday and on my flight back. Saturday morning we got Starbucks, but I had money on my Starbucks card, so I used that.
Other: $20
As bridesmaids, the bride covered the cost of our hair, and gave us the option (huzzah!) of spending the money to get our makeup done professionally as well. I felt I could get the natural look she was going for on my own, so I brought my own makeup. I had to pick up foundation and false eyelashes before my trip. I don't normally wear foundation, so I went to Sephora asked for some foundation samples that matched my skin tone. We did have to tip the hairdresser ourselves, though — and I also tipped the makeup artist because she was super nice and helped me put on my false eyelashes.
Wedding Gift: $?
To be honest, I've been terrible and haven't gotten one yet. I take solace in the fact that etiquette books say you have a year, and it's only been two months. I'll probably spend ~$50-55.
That adds up to a grand total of $2,660 spent on travel last year.
There were plenty of things I learned in my year of travel:
1. It's okay to offer activity/food suggestions to help reduce costs, or to opt out of an activity if you feel like it's not in your budget. For the first bachelorette trip, the MOH asked if we had any budget restrictions, but it was my first bachelorette weekend and I had no clue what was reasonable, so I didn't reply. I ended up sitting out of a spa morning (>$100), and even so, I felt a little resentful that we spent so much at the end of the weekend. I realized later it was at least in part my fault because I hadn't spoken up.
For the second bachelorette, I was more active in suggesting things that we could do that would be low cost — I knew we would want to do some things that would be pricey, like the Cirque show, so I tried to help keep costs down elsewhere. (If we're being honest though, having two-thirds of the hotel covered was the biggest money saver that trip.)
2. Ok, I knew this one before, but — staying with friends (& family) can save you a LOT of money when traveling. I was HUGELY lucky to not have to pay for where I stayed for most of the trips I took this year. I estimate I saved $600 or more (three nights in LA + two nights for my brother's graduation + two nights in Vegas).
3. Take advantage of things that are available to help defray costs for students. All of my travel to my conference was covered by subsidies and grants — though my boss would've covered costs if needed, she did not have to, leaving me money to travel this year if I want. I also entered my presentation into a student competition, and ended up with one of the prizes for an extra $100 that I hadn't expected. Plus, that award will look good on my CV — win/win!
4. Proper packing can save you money. Packing in just a personal item for Vegas let me choose the cheaper Frontier flight and save ~$60 from the next cheapest flight. However…
5. Sometimes, it might just be worth paying more for the better flight experience. To be honest, though I'm proud that I managed to do it, packing everything for Vegas in just one personal item was a huge pain. Any time I took my laptop out of my bag I had to unpack the top third to reach it. I ended up feeling under-dressed at times, too, because I only brought one dress for the weekend. This year I also took three red-eyes. Though that was fine for me when I was a bit younger, I'm really starting to feel it when I don't get my sleep these days. I also chose the flight for the FL wedding to be at 8 AM to save some money — but no one really wants to get up at 5:30 the day after a wedding to make an 8 AM flight.
S.H. prefers to remain anonymous, but is a graduate student in a small-ish Midwestern city.
Image via Unsplash