How A Cheap Makeup Addict Found The Quality Items That Work For Her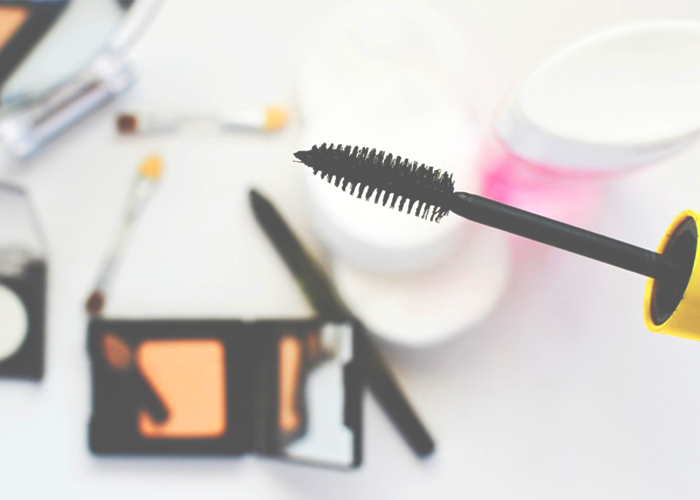 There is a constant war in my head over how to spend my money.
Spend a lot of money on a few decent, high quality things, OR spend a little bit of money, but frequently, on a high volume of cheap things of questionable quality.
For me, this happened most notably whenever I'm buying makeup.
I'm not someone who can't leave the house without makeup (not so much because I'm confident, but more because I'm lazy), but I always envy those who take the time to look put together, or those who looked like they had a blast at a MAC store before hitting the town. Me, I walked into a Sephora, look at all the pretty items with forlorn eyes, and sigh on my way out empty handed.
Instead, I'd just go to CVS and buy whatever product was on sale, filling up my makeup bag with cheap products. I had multiple brands of drugstore foundation, eyeshadow, lip gloss, anything that was cheap. It was easier to drop ten dollars in many frequent trips than it was to drop triple that on a quality product. Why spend $40 on a nice foundation when I could buy four $10 foundations at CVS? No matter if I'd break out the next day, I just got four bottles of foundation for forty bucks, dammit!
My makeup bag spilled into a spare drawer in my dresser, into the medicine cabinet, and half the cabinet under the sink in the bathroom. There was years' worth of products just creating clutter and a dusty, glittery mess. Almost all of it went untouched. I simply couldn't convince myself that dropping more money on one product, no matter how economical over the long run it might be, was worth it.
Until one day when, on a whim, I threw away all of my product. I probably tossed a few hundred dollars' (years of collection) worth of half-used, expired makeup. It was a hard decision to make in the moment, especially for someone who always convinced herself that she would put that drugstore makeup to good use. But I realized that if I was going to treat myself better, I needed to start making smart purchases of products that I would actually use, and feel good about using.
So I went to the Sephora
at the mall, and I came back with a few quality products that I knew I would use on a regular basis.
Foundation
I have very sensitive skin, and anything that I have bought at a drugstore seems to always cause breakouts and cysts. I've switched to Tarte's BB Tinted Primer. It provides a very generous amount of coverage and a pea size amount covers my entire face. It has a lovely powder finish and practically erases my (rather large) pores. With my new makeup philosophy, I try to look for one product that covers multiple steps. This is a primer, cover-up, and sunscreen in one. This is pricey for a beauty product ($36 on their website, yikes) but you only need a tiny amount and it can replace three products in your drawer. So far, it has yet to cause a breakout.
Eyeshadow
Eye primer, people. I just bought the Too Faced Shadow Insurance Primer
. It's a gorgeous, light gold liquid that provides just enough color and sparkle to wear alone, but will certainly enhance any drugstore eyeshadow and make it last longer. Really, everything to me is about multiple products in one. With a good primer, your eyeshadow, eyeliner, and highlighters will stay on longer. Alone, it will provide a subtle sheen that will help you look awake without melting off during the day.
Lips
I'm not a big lipstick person, but unless you're getting a true matte lipstick I just stick to anything that is a chubby stick, lip color, gloss, and chapstick in one. I really love the Clinique Chubby Stick Moisturizing Lip Colour Balm
. The best part is that you can also use this on your cheeks as a creamy blush. Also, I'm never without my stick of Burt's Bees
or my Jack Black Lip Balm
in Lemon & Camomile.
Eyebrows
I am all about the eyebrows way more than I am about eyelashes. I picked up the Anastasia Brow Wiz
in Dark Brown. This is optional, but I prefer a more defined, thicker brow and mine certainly need the help. This can also act as an eyeliner, but the pencil is very waxy so I prefer using a regular eyeliner pen. Also, the Benefit Gimme Brow
provides thickness and color in gel form to help keep unruly brows in place. I haven't picked this up myself yet, but my mother swears by it.
For me, personally, I prefer to use as little product as I can, and with these quality-yet-simple items, I've been able to start wearing makeup almost daily. Simplifying my makeup routine has done wonders for my work mornings, as I no longer have to scramble to find the right shadow, and everything fits and is visible in my new, clean makeup bag. My getting-ready moments are more relaxed, my skin is healthier, and at night I can just lay it on a bit thicker for a more funky, but still fresh look. Now that I have a quality base to work with, if I ever wanted to pick up a funky shadow at a drugstore, I know it will last longer on my eyes than it ever did in my medicine cabinet.
Jackie is a recovering worrier and dreams of being a freelance writer. She is on Twitter and Instagram.