How I Used "Slow Spending" To Save My First 4 Months Of New Maternity Expenses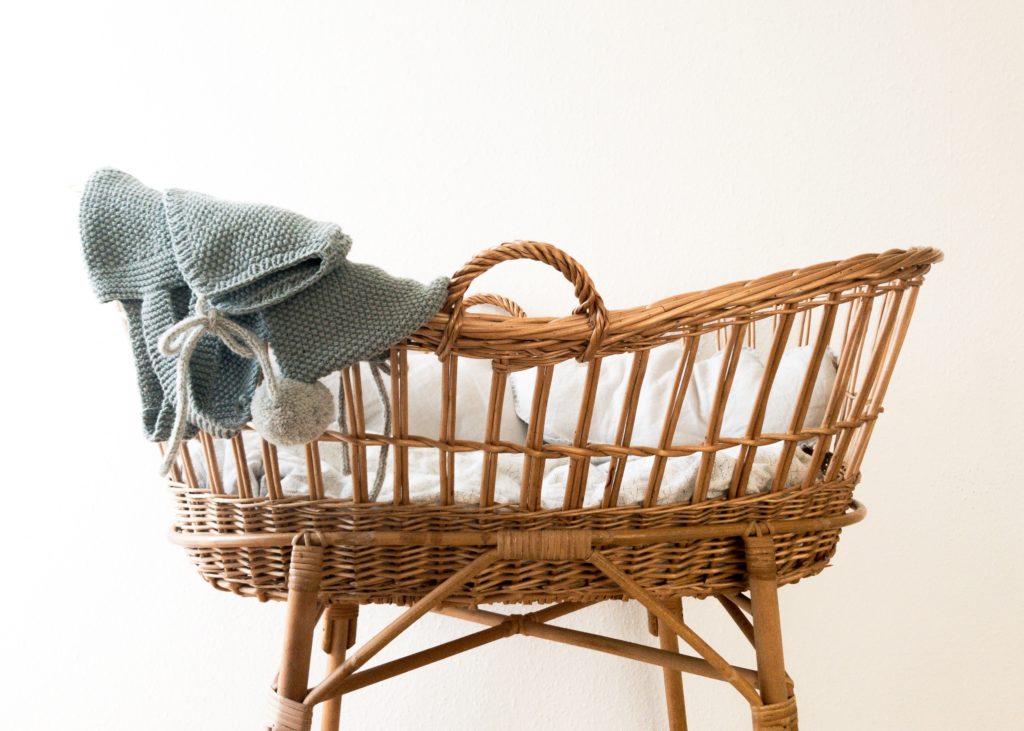 Until late 2018, I had no idea how to budget other than to write a breakdown of what I got paid at the end of the month minus each bill and calculating the total left over I could spend. I was using a system I saw my Dad use, and it was helpful, though not as empowering or effective as it could be.
Around the same time, I got married, was preparing a house move, and had a surprise pregnancy. As someone who has worked all of her adult life, some of it as the sole provider, I felt a pay cut looming. The advice "save for something specific" had never felt truer. It seems laughable when you have nothing to save for — no short breaks, holidays or big purchase buys. My brother pulls a blank face when I try and pass on that wisdom and says, "Yeah, for WHAT, though?" It wasn't till a specific thing happened — pregnancy — that I started saving. And as the months have gone on, I'm saving, tracking, and living as frugally as possible. Had I saved regularly beforehand? Well, it's obvious I would have double what I have now!
I've learned through failing, selective buying, financial resources such as this site, tracking, and mindful spending. It all works, and here's what I can share so far:
1. On failing
My biggest fail was food spending. I didn't track this in the beginning, though I know my wages often went to food on the go and grocery shopping. With my pregnancy, I began to experience cravings and food aversions that would switch every few hours or days. Hormones are the culprit of where I had little control. I did learn little tricks — buying at cheaper supermarkets when I didn't want something specifically branded, getting multi-packs instead of single items at corner shops where prices are higher. I learned to listen to what I really wanted, and I'd make my own food batches of chili, nachos, and chips rather than takeout.
2. Selective buying
The great thing was that no matter how tempting clothing was on the high street, it didn't fit and wouldn't for the foreseeable future, so it simply wasn't worth it. I was given a box of family hand-me-downs of bigger sized tops and dresses and made use of them. Overall, I got a few pairs of maternity leggings in a medium and large, as comfort is a priority, and a tight waistband feels too constricting. I also bought three maternity tops on sale, as well as maternity pajamas.
I also asked family and co-workers who have children their opinion on items, as I felt overwhelmed with options in shops. I have a quibble with vloggers sharing their baby must-have items — it's as much a money trap as it is actually helpful. I like to know what other women have used and loved, but seeing these hauls plants a seed that you need an item, and from a certain brand specifically.
However, if something has been mentioned three times over, separately, I will look into it. I've found that maternity products are easy enough to find at lower prices if you spend some time looking. For instance, baby sleep nest that fits inside your bed and allows your baby to stay snug and safe in one position can be bought in gorgeous organic material, and you could spend £120 ($159) on the best one. But if you look around, you can find both comfort and safety from a £65 ($86) one!
3. Tracking
This was a complete game-changer. I started weekly tracking through just writing the days of the week in a notebook and putting a minus or plus sign for money out and in. I quickly entered a whole new awareness of daily spending, and I worked in town at the time, so it was really easy to do.
Each Sunday, I would write out another week and could see money was coming out and none in. This made me more determined to seek out positive resources on financial mindsets and practices, something I had never explored before. Until you go out and seek it out, no one really teaches you about managing money. I now use a mindful money planner and still track daily and weekly, as it serves as a tool for awareness and responsibility. I feel joy in writing "No Spend" on days I haven't spent anything.
4. Slow spending
Spending mindfully comes from asking better questions: "Do I really need it?" "Is it on the shopping list?" "Do I need it right now?" And being still enough to listen to the honest answers that come. Something I picked up from The Year of Less by Cait Flanders was to take the emotional attachment out of shopping and see it as it is — a transaction. A the start of the month, I write a shopping list — usually with one thing I want, something I've been thinking about a while, essentials, and activities. It encourages slow spending, and buying throughout the month rather than on the days after payday.
This February, I ticked everything off my list (and bought things not on the list, too). A yearly planner, new cabinet for storing shawls, paint to redecorate, and swimming trips. They really made a difference in living better; we were able to refresh a room more quickly than planned, and I was accountable for a £5 swim each week.
A few months into the pregnancy, I was getting nudges to go and do things with husband now before two becomes three. However, how could I splurge on days out and still save for our maternity account? I couldn't find a win-win. Also, I spent the first three months sleeping during any chance I could get — five-hour naps became the norm, along with the frustration of food choices. With later months came crippling back pain, nesting and chill mode, till finally at eight months, I feel like going out and doing stuff. Although, as you can imagine at the final hurdle, I'm rather large and exhaust quickly.
We've been doing a mixture of simple things together that are mostly free, like cooking together and walking to the high street, local woods and lakes. Going to nearby temples and sightseeing in London is fun, and a great way for gravity to do its job. When staying in, we listen to podcasts and watch stand up comedy cuddled up together as another free resource to get things going is the hormone of love Oxytocin!
*****
De-cluttering my environment and mindset, daily tracking and monthly budgeting have allowed me to save at least four months to cover immediate bills. I also have a cushion of money for car maintenance, all saved within five months so far. Start small, start with any resource at all! Just start.
Taranjeet Kaur is a blogger and yoga teacher on a break. While waiting for the arrival of her baby she is discovering the art of slow living and slow spending.
Image via Unsplash
Like this story? Follow The Financial Diet on Facebook, Instagram, and Twitter for daily tips and inspiration, and sign up for our email newsletter here.