How My Partner And I Are Making Ends Meet On a Single Income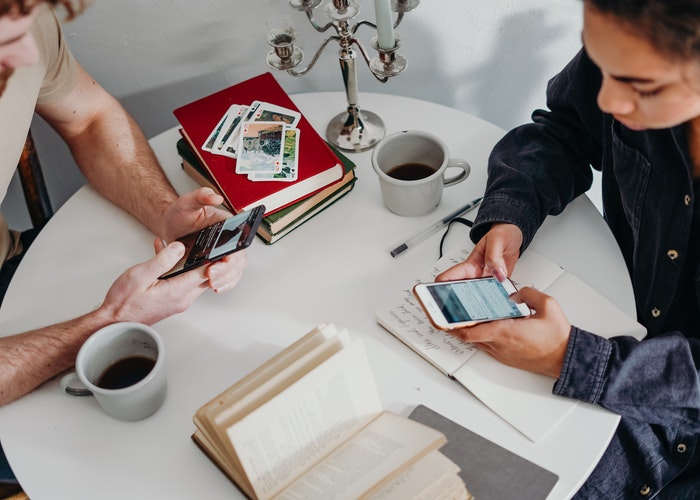 Shortly after the stay-at-home order went into effect, my husband was suddenly out of a job. We went from being a dual-income household, bringing in more than enough to cover our monthly expenses, to struggling to figure out where our money should go.
Times have changed our situation quite quickly, and with the pandemic at hand, we knew things wouldn't play in our favor. This left me feeling grateful for my job but scared of what our budget was going to look like for these upcoming paychecks. We came up with a gameplan to weather the storm. Here's what we did
We're focused on essentials.
Rent payments take priority when it comes to our fixed expenses. If we can't make upcoming payments, we at least have a roof over our heads —  a safe space to stay home during this time is important. Our apartment manager treated us well, offering waived late fees as well as many other helpful options on a case-by-case basis. We were able to split our rent payments and the waived late fee was helpful to ensure our money would go toward the lease rather than be an administrative fee. Most properties have been incredibly understanding given the current situation and it certainly doesn't hurt to inquire about waived fees if you haven't already. 
Our food budget is mostly under control, and we're still able to limit our groceries to a $50 trip per week. Truth be told, we sometimes splurge and spend $100 in order to prepare for our time inside the apartment. This includes pantry essentials like beans, flour, rice, and large cuts of meats that we can portion out for our freezer. We try to utilize everything out of the pantry and freezer before heading back out to the store. This ensures we have enough funds to support us for the next shopping haul, but also it's also just a good idea to stay at home unless absolutely necessary. 
Utilities are also crucial to a functioning household, so it was important to us to make sure that these bills are paid. Our utility companies have been gracious and informed us that late fees have been waived and that they would not be cutting off service because of the situation. Our bill as a whole (electric, gas, water) is not typically very expensive but we couldn't be more thankful for that assistance during this time. 
Transportation is our next priority. This includes both fuel costs and car insurance since I drive myself to work. My job is not that far away — about two miles away from our complex —  so fuel doesn't cost much. I refuel my car about once per month regularly, and things haven't changed much besides the decline in gas prices. Car insurance shouldn't be taken lightly considering the consequences of driving uninsured. Most importantly, however, is that you're able to cover your transportation expenses if you do have to leave home for any reason. Whether it's gas for your car, public transportation, or rideshare programs, it's important to make sure you can leave if you need to. Keep transportation funds available so you'll never have to feel stranded anywhere.  
We're being realistic about our money goals.
We had many goals we were hoping to reach before we were thrown off by this crisis. Being proactive about your finances gives you a better indication of where you stand and where you're going.  Needless to say, we've had to postpone many goals for 2020. We had plans to pay off credit cards, save money towards a vacation, and set aside extra cash to better furnish our apartment. We learned quickly that these were going to be on the backburner for a while. Our goal now is to make sure that our checking account can cover our essentials, even if we have to halve each credit card payment. 
We wanted so badly to get out of debt, but this situation threw us off that route. We decided to put our financial focus elsewhere, for the time being, meaning that our debt payments were going to have to wait it out. We'll calculate the funds we have left after securing our essential categories and making an attempt to put a certain amount from the next paycheck. Anything extra, we'll try to split between other expenses like credit cards, car notes, and entertainment services like cable, internet, and our cell phones.  
We've been fortunate in our situation that we're still able to keep an income even though it is a drastic change to our living situation. The best way to fight through this is to secure your household necessities. Contact lenders, property managers, and debt collectors to inquire about resources available for those affected by this COVID crisis.
Fun things can wait, but if you're able to account for things like ordering delivery or purchasing a movie at home within your budget, who am I to stop you? We've purchased a movie or two and eaten a reasonable amount of takeout since taking our own income hit. Finding balance is tough as our budgets have tightened, but a good balance can provide a little bit of enjoyment even during this global crisis.
Jennifer is a registered pharmacy technician and freelance writer. She loves hiking, cooking, and watching true crime shows. 
Image via Pexels
Like this story? Follow The Financial Diet on Facebook, Instagram, and Twitter for daily tips and inspiration, and sign up for our email newsletter here.